Mocha Chocolate Cake Recipe
A Mouthwatering Chocolate Cake with an Easy Swiss Meringue Buttercream Frosting!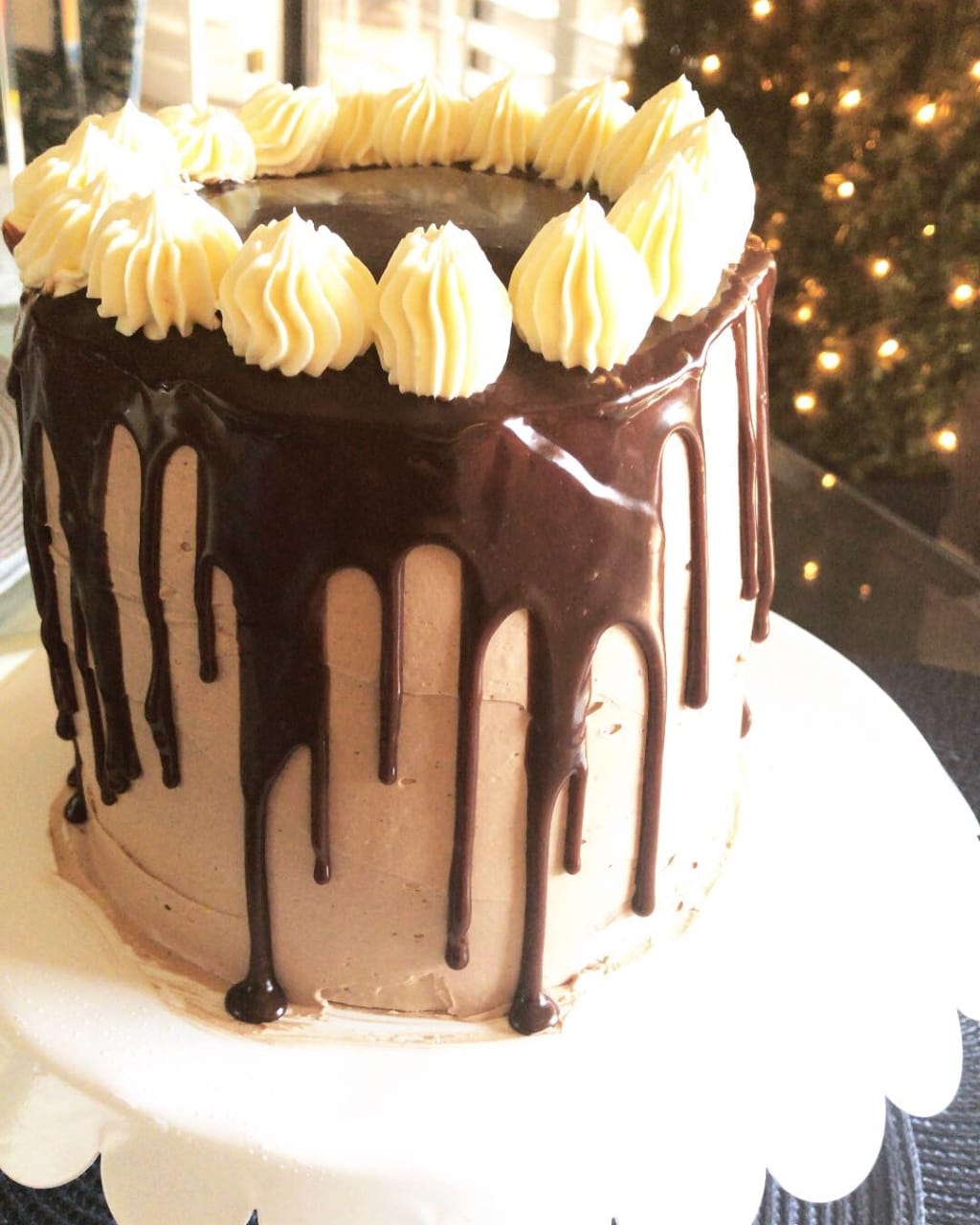 Let me just start out by saying how delicious this cake is! It is super moist, not too sweet, but very chocolatey. The mocha in the cake adds no taste, but instead highlights the chocolate flavor, which makes this my favorite chocolate cake of all time. I got this cake recipe from Preppy Kitchen! He is one of my favorite bakers, and I will leave a link to his page so you can get all the ingredients this cake requires. If you want to see how to make sweet treat for yourself, I will leave step-by-step instructions below. Thank you, and happy baking!
Ingredients
Sponge Cake
You can find everything you need to make the cake by clicking this link.
Chocolate Swiss Meringue Buttercream (halve this recipe for icing 12 cupcakes.)
8 large egg whites
600 grams of granulated sugar (Superfine sugar preferred, but not necessary)
800 grams cubed unsalted butter, SOFT (Soft is very important, I left mine out overnight)
1 tsp good quality vanilla extract
A couple pinches of salt
3 tbsp good quality cocoa powder
Chocolate Ganache
1/2 cup chopped chocolate (I used milk chocolate chocolate chips, but feel free to use dark chocolate)
1/4 cup heavy whipping cream
Let's Get Baking!
Cake
Preheat oven to 350F.
Sift together ALL dry ingredients into the bowl of a stand mixer, or a medium bowl, and whisk together.
Combine all wet ingredients into a large bowl and whisk together.
Add the wet ingredients to the dry ingredients and whisk to combine.
Mix together on low speed until fully combined.
Distribute evenly between cake pans (I got about 400 ml in each six inch cake pan)
Bake for 30-35 minutes, until the edge of the cake is just starting to separate from the pan and a toothpick in the center comes out clean.
Let the cakes sit in the pan for ten minutes, then remove and place cake on cooling rack until completely cooled.
Chocolate Swiss Meringue Buttercream
You first want to make a double boiler. For that, you want a small to medium pot, and a small to medium bowl (I used the bowl to my stand mixer) that can sit in the pot without touching the bottom. Once you have both of those, you want to fill the pot with a little bit of water. When you place the bowl in the pot, the water mustn't touch the bottom of the bowl. This is to prevent the egg white from cooking.
In the double boiler you want to add the egg whites and sugar. On low/medium heat, dissolve the sugar into the egg whites. It takes about five minutes, and you can check the sugar is dissolved by running your fingers through the mixture. You shouldn't feel any grains if it is fully dissolved.
With your stand mixer, whip the eggs and sugar on medium speed until egg whites are thick and fluffy (about 10-15 minutes)
With the stand mixer on low/medium speed, SLOWLY add about 1 tbsp of butter at a time, until all butter is gone (Please be patient with this step. At first, the frosting will look like it isn't coming together. Keep adding the butter, and I promise you it will come together at the end.)
Add a couple pinches of salt, and vanilla extract, mix together for about two minutes on the same speed. I reserved a little bit of this vanilla frosting for the dollops on top of the cake.
Add three tbsp of cocoa powder, and mix until all is combined.
Chocolate Ganache
In a small microwave safe bowl, heat up heavy whipping cream.
Pour over chocolate and let sit for a few minutes
Mix together until melted. If there is some chocolate not melted, heat in microwave for 10 seconds until it is melted. Before drizzling your cake with ganache, make sure it has cooled down to prevent the frosting from melting.
Assembly
I think cake assembly should be in the hands of your imagination. There are so many ways you can make this cake beautiful! Use your creativity to try different things. You can add ganache in between each cake layer, drizzle it on the sides of the cake, really anything! Have fun with this and don't be afraid to try something new!
recipe

FatN Flour
Hi everyone, this is Natalie from FatNFlour. I started this blog to share my baking with anyone who is looking for great recipes, fun cake decorating, or just browsing around looking for something fun to read! Visit my instagram @fatnflour
See all posts by FatN Flour →