MISSOURI FOREVER
Missouri's Most-Iconic Dishes Everyone Must Try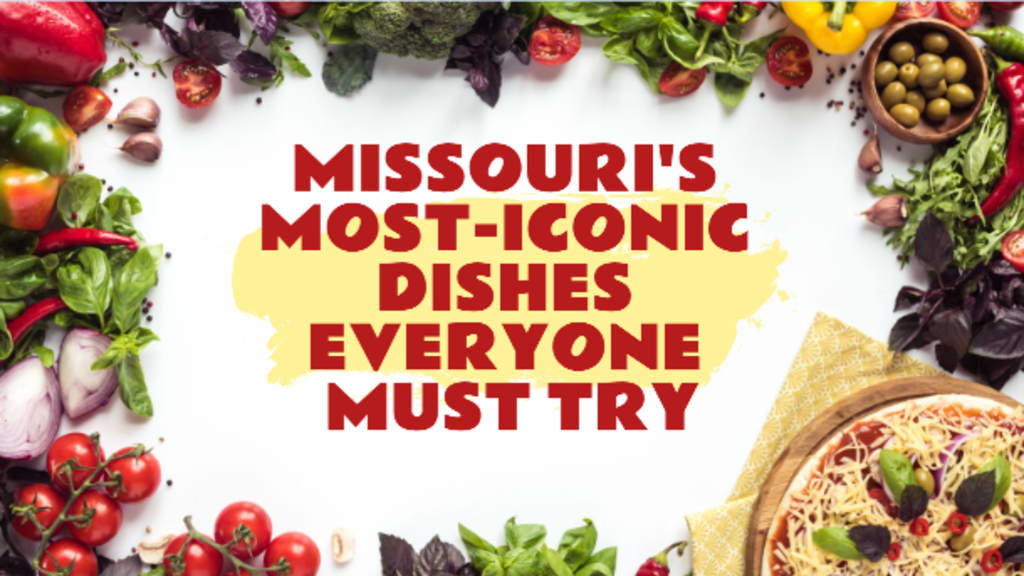 Missouri may be known for toasted ravioli, provel cheese, and BBQ, but the Show Me State is much more than that. Nearly 200 years of German, French, and Italian influence combined with incredible local meat and produce means award winning charcuterie, beer, and pastries.
Hot Salami Sandwich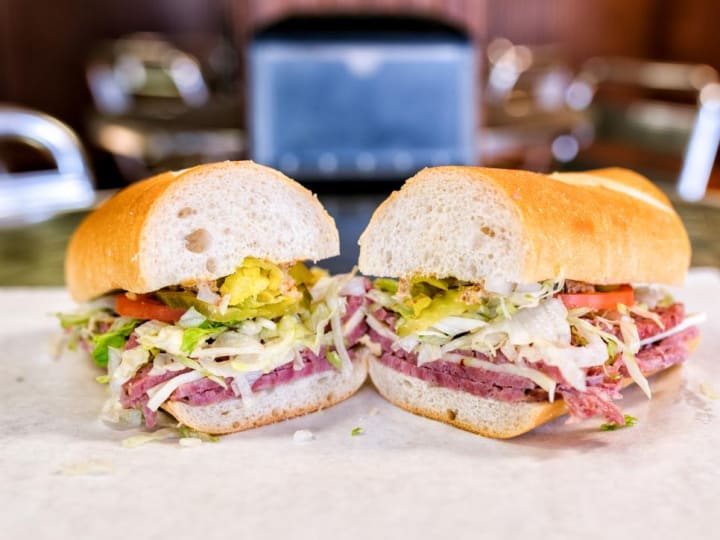 There are plenty of pork dishes throughout the state, but few have the longevity and outspoken popularity of the Hot Salami Sandwich. In 1918, Gioia's Deli opened in the heart of The Hill, St. Louis' Italian neighborhood, and with it came their salam de testa — now known as hot salami. A mixture of pig shoulder and head meats, the result is more like a terrine than your typical salami. Sliced thick and served warm (hence the 'hot'), it's impossible to resist, especially when you get it on their garlic-cheese bread with a hearty helping of giardiniera. There's a reason it's been named best sandwich in St. Louis year after year.
Burnt Ends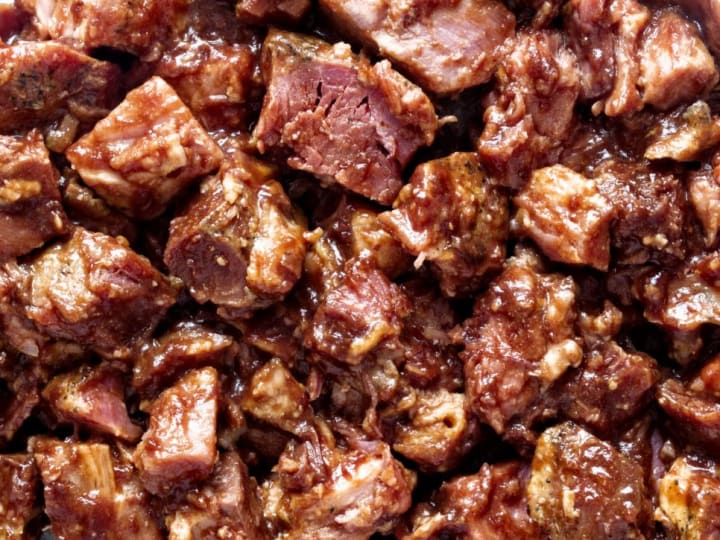 Burnt Ends are golden nuggets of brisket that are a Kansas City rite of passage. Typically, the fattier part of the brisket point takes longer, so is returned to the smoker once the rest of the meat is done, which allows it to cook into a caramelized, extra-smoky hunk of meat. The resulting burnt ends are then chopped into cubes and served over buttered toast or plain white bread. Everyone does their burnt ends differently, but Arthur Bryant's has this Kansas City specialty nailed.
Related: Unique Gifts For People Who Are Craving For Missouri's Iconic Foods
St. Louis-Style Pizza
St. Louis-style pizza is kind of like the opposite of Neapolitan pizza: it's got a cracker-thin, unleavened crust and it's topped with Provel, a processed cheese. The pizza is almost always cut into squares, rather than slices, hence the slogan for Imo's Pizza: The Square Beyond Compare. You simply cannot visit St. Louis without trying it, though. Pop into any Imo's and go for the eight-inch lunch special. If you like it, you can always get more.
Provel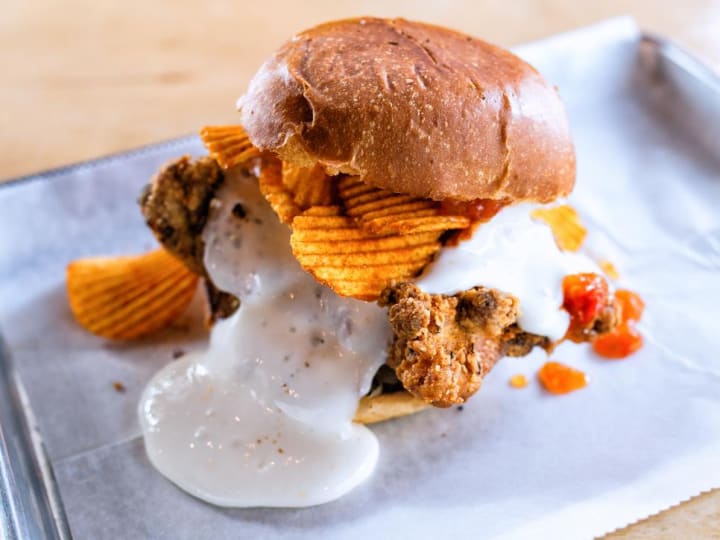 Provel cheese is easily St. Louis' most controversial food. The processed cheese became famous thanks to local St. Louis-style pizza chain Imo's, and is often loved by locals and shunned by visitors. The chefs at Byrd & Barrel see it as more than just a pizza cheese, though: they make a classic bechamel, add in a mountain of provel, then use an iSi whipper to create Provel whiz! The whiz tops their signature Mother Clucker sandwich, composed of a massive fried chicken thigh, caramelized onions, red pepper jelly and Red Hot Riplets, a spicy local potato chip.
Heart Stopping BLT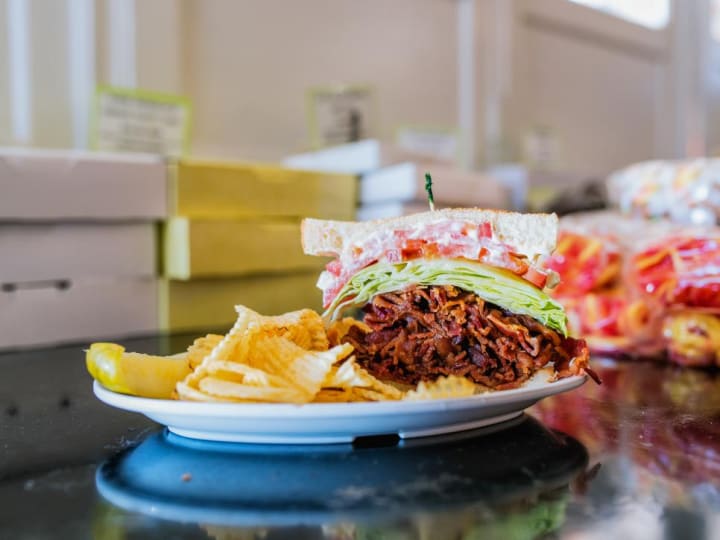 Open since 1913, Crown Candy Kitchen is a St. Louis institution known for three things: candy, milkshakes and a BLT the size of a mountain (or seemingly close to it). The average sandwich has 14 slices of bacon on it — the kitchen goes through nearly 200 pounds a day. The crisped bacon strips are sandwiched between two slices of Wonder Bread, along with lettuce, tomato, and Miracle Whip. It's a Midwestern-size version of the summertime classic.
The Darkness Croissant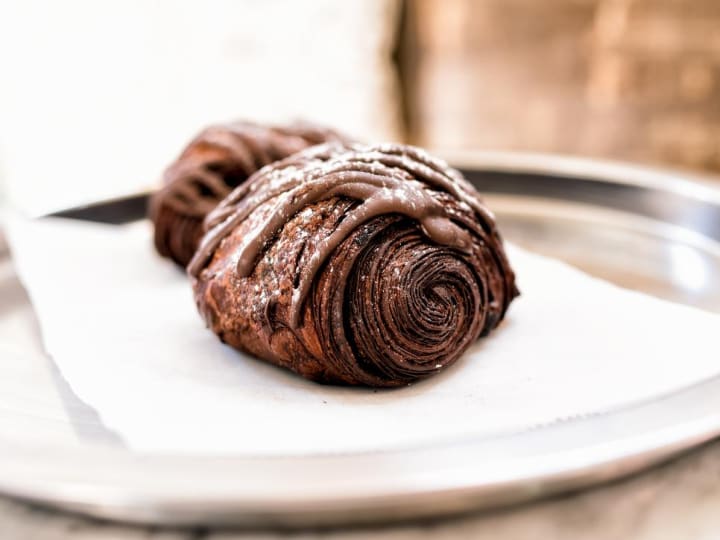 Considering the French origins of the name St. Louis, the city owes it to its people to have some better-than-average pastries. The Darkness Croissant at La Patisserie Chouquette is the perfect balance of butter and chocolate, good and evil. The bakery starts by making a chocolate butter — yes, that exists — then creating a labor-intensive chocolate laminated dough. The dough is filled with two dark-chocolate batons (one is never enough), then, once baked, laden with ribbons of melted dark chocolate and a sprinkling of pink Himalayan sea salt. Consider your chocolate cravings satisfied with this cacao grenade.
Ribs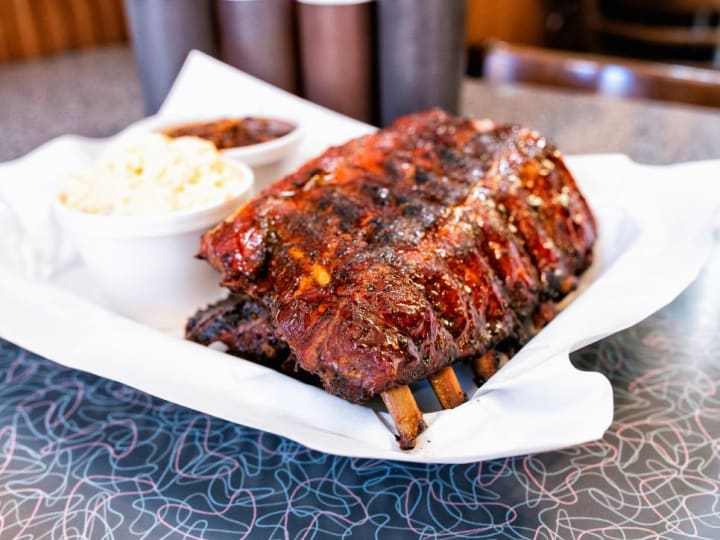 What makes the ribs at Bogart's Smokehouse so good? It's probably their top-secret rub. Or maybe it's the four hours they spend sitting in the cherry wood-fueled smoker. If not those, perhaps it's the post-smoking apricot glaze that's brushed on, then caramelized using an industrial blowtorch. Whatever it is, it's working. The ribs are a beautiful mix of heat and sweet, pepper and sugar. Don't even bother with a half slab: You'll want the whole thing.
Slinger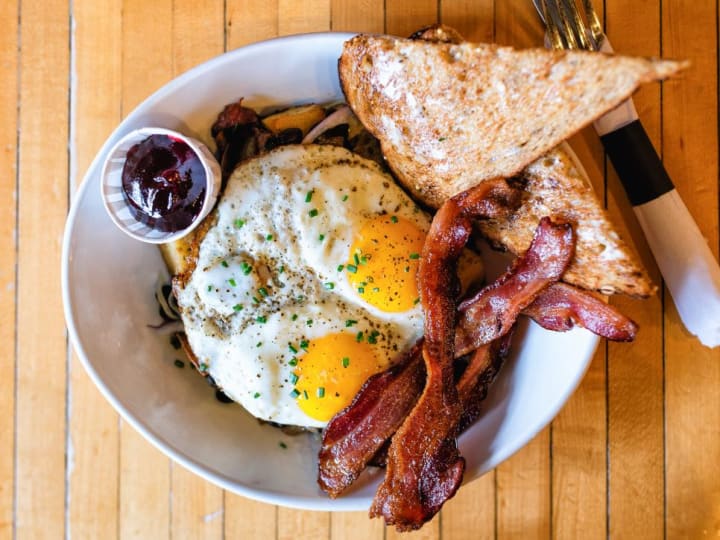 The Slinger is not for the weak: This breakfast mountain typically consists of hashbrowns topped with a hamburger patty that topped with eggs that are topped with chili, cheese and onions. The Mud House does things a little differently, using roasted potatoes and vegetarian black bean chili to class it up a bit, but that doesn't make their Slinger any less delicious. Make sure to add a side of bacon to compensate for the lack of hamburger. This is the breakfast of champions. Or the hungover.
Campfire S'mores Ice Cream
If Willy Wonka had an ice cream shop, it would be Ices Plain & Fancy. Diners gawk while Chef-Owner Max Crask uses liquid nitrogen, Kitchenaid mixers and a blowtorch to make ice cream to order. Their seasonal specials (which are available in one size: gigantic) like the Campfire S'mores are impossible to resist. Ices takes toasted marshmallow ice cream and tops it with Hershey squares, hot fudge and graham crackers. To create the full campfire experience, they fill the plastic top with hickory smoke.
Pork Steak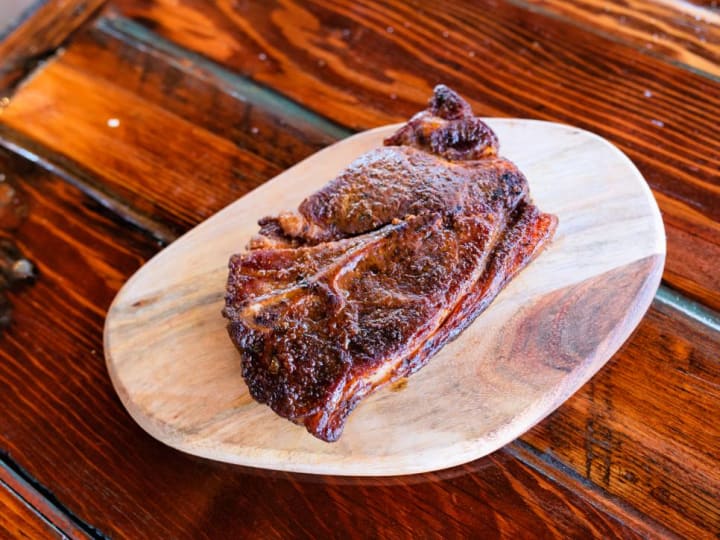 Pork steaks have been a St. Louis staple since the 1950's, when a local grocery chain began selling pork shoulder, thinly sliced, to rival beef steaks. What once was commonly an overcooked, over-sauced barbecue item has reemerged as something much tastier, especially at Bolyard's Meat & Provisions. Their inch-thick steaks are brined overnight, rubbed with blend of paprika, garlic, brown sugar and assorted other spices, then smoked over cherry wood for five hours. Bring them to your friend's next barbecue and claim you made them.
Read more about Missouri's culinary influences