Mississippi Venison Pot Roast
A savory crock-pot roast that will make you feel warm inside.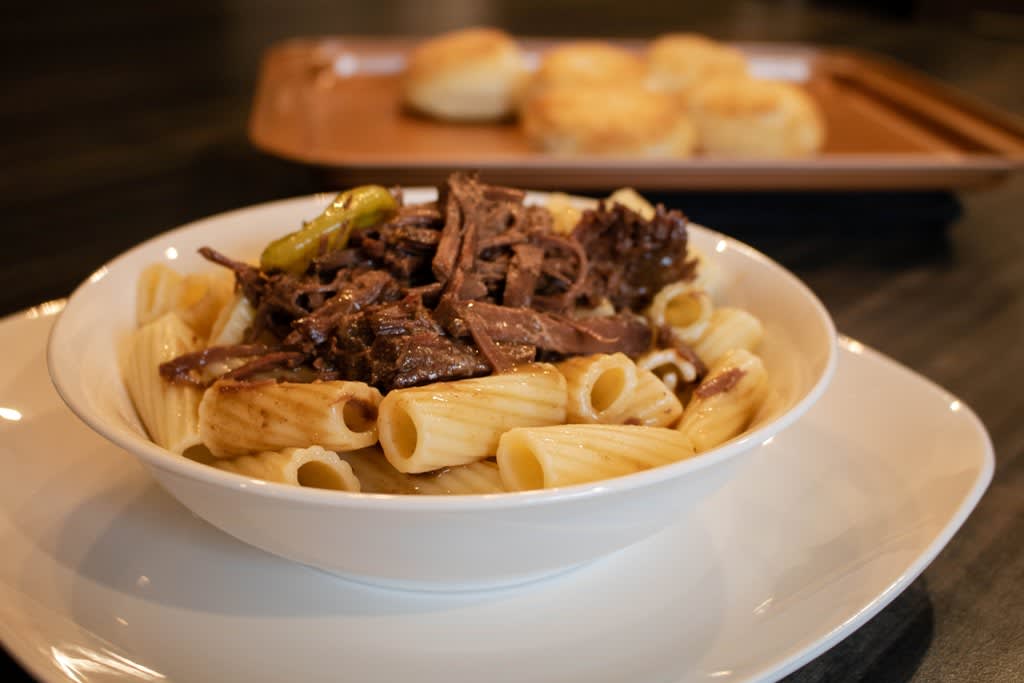 Mississippi Venison Pot Roast by Amanda Payne
Mississippi Venison Pot Roast is a simple but savory crock-pot meal made with only five ingredients; venison, ranch seasonings, au jus gravy, butter, and pepperoncini peppers. The aroma will make the house smell heavenly. I guarantee you will be hungry all day until dinner is ready.
This recipe can be served in many ways. I love it with pasta or rice, but it is also delicious served with mashed potatoes, other veggies, and rolls. You can also make a sandwich out of it by putting it on a hamburger bun and adding coleslaw. It is scrumptious!
Prep Time: 2 Minutes
Cook Time: 8 Hours
Serves: 8
Serving Size: 1/8 of the Mississippi Venison Pot Roast, including gravy (liquids)
Calories: 263
Fat: 9 g
Carbohydrates: 4 g
If you are on a diet and nutrition information is important, remember to recalculate the nutritional information provided above if you make any changes to the recipe. MyFitnessPal is a free resource for calculating nutritional information, but there's nothing wrong with using pencil and paper.
Mississippi Venison Pot Roast Recipe
Ingredients:
3 pounds of venison roast
1 pack of Hidden Valley Original Ranch Salad Dressing Mix
1 packet of McCormick Au Jus Gravy Mix
4 tablespoons of butter
7 pepperoncini peppers
Getting It Done:
Place the venison roast in the slow cooker or crock-pot and sprinkle the ranch dressing mix and the au jus mix over as much of the roast as you can.
Add in the pepperoncini peppers and butter to the roast.
Cook for 8 hours on low heat.
Remove the peppers if you wish, and pull the roast apart using tongs.
Serve hot with pasta, rice, mashed potatoes, or on a bun.
Mississippi Venison Pot Roast video...
For the roast, you can use any cut of venison that you prefer. I used a few cuts from ham this time, but sometimes I use shoulder pieces or shanks. If you don't have venison, that's ok. You can make this recipe using beef instead.
Do not add water to the pot. The venison will make its own liquid as it cooks.
Some like to pick the pepperoncini peppers out before serving. The choice is yours! I think it is good either way, but I love the added flavor of the peppers. You can even add more if you would like.
To mix things up a bit, you can add some veggies during the last couple of hours of cooking. It is great with potatoes and onions. You can even add a variety of peppers to make it spicier.
Store leftovers in a freezer-safe container or bag and serve later. To thaw, remove the container from the freezer and place it in the refrigerator to defrost naturally. Then heat in a pot or the microwave when ready to serve.
Sharing is caring. Please share my recipe if you enjoy it. I appreciate your support very much.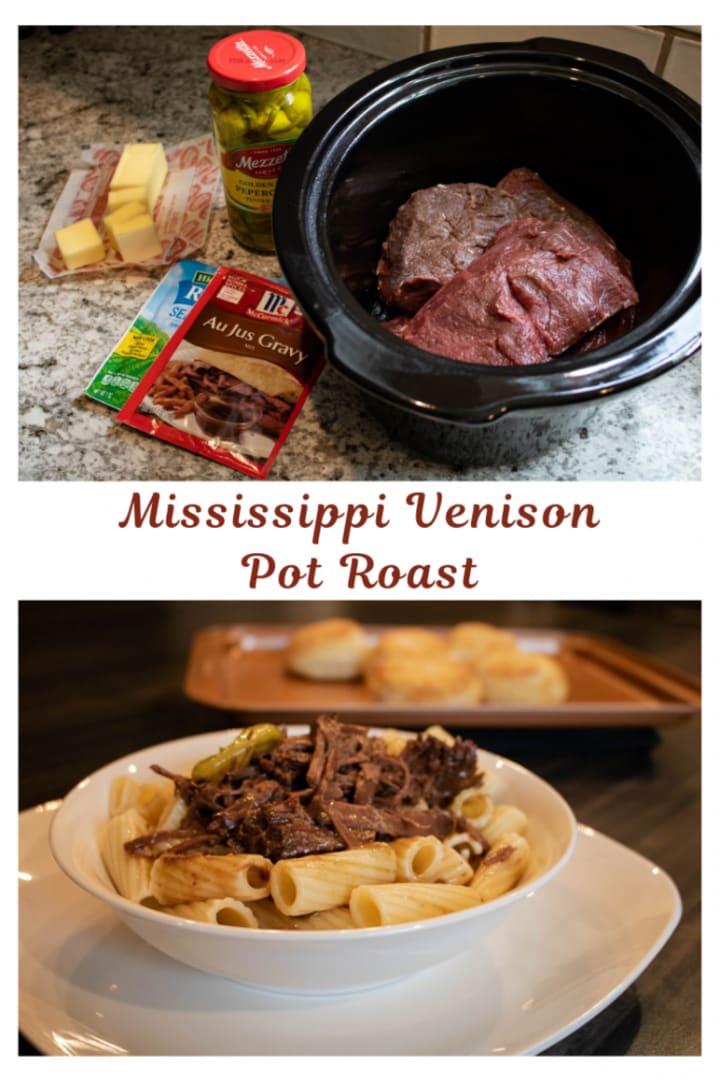 Would you like more delicious recipes? Take a look at my Venison Potato Soup or my Venison and Barley Soup recipe below.
Maybe you have a sweet tooth and need something sweet. Try my No-Bake Oatmeal Candy recipe.
This Mississippi Venison Pot Roast recipe was originally published at deerrecipes.online. I am the owner of that recipe website. I am in the process of moving all of my recipes to Vocal.Media. Please bear with me during this transfer. I appreciate my readers more than I can express.
Check out my author profile on Vocal.Media if you are looking for more recipes. Please consider subscribing to me, Amanda Payne. It's free! I will be posting many more recipes in the future.
Likes, pledges, and tips are welcomed and appreciated but not necessary. You can also find me on Pinterest and Rumble.