Miso Almond Chocolate Chunk Cookies
The Accidentally Vegan Sweet + Savory Cookie Recipe That Might Just Change Your Life...
I think this is a perfect recipe for a cookie swap because it's easy to make, unique, memorable, and tastes better than anything you can get from the store! Plus it's just fun to say "Miso Almond Chocolate Chunk Cookies"!
This recipe was formed as a result of Quarantine boredom. It was kind of an experiment, to be honest. What's the phase people say? "Greatness Comes From Boredom." ?? Okay, maybe I just made that up, but I think it's true!
My whole family and everyone I've shared this recipe with has been blown away! It's not your average cookie! It's sweet, savory, nutty, warm, soft in the center, and crispy around the edges!
The unique flavor is thanks to the miso paste, toasted nuts, and spices! The texture is perfect because of the overnight dough rest, and the baking time! I'm practically drooling while writing this.
Not to mention...
I save so much money on candles by baking. These cookies are so aromatic, I bet the neighbors will open their windows just so they can smell it too!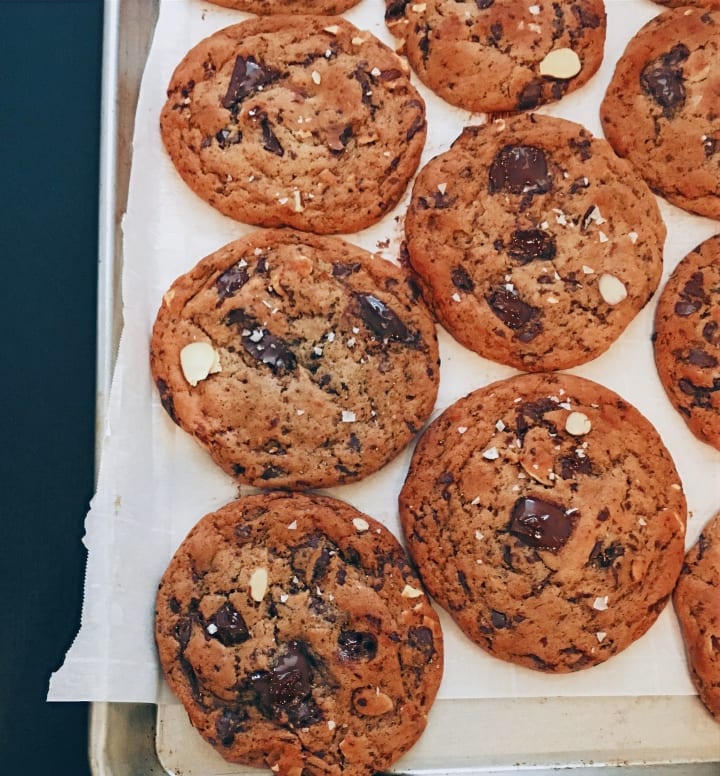 Without further ado, here is the recipe:
Time: 15 hours
Yield: 12-15 large cookies OR 24 standard-sized cookies
Ingredients:
1/4 cup soy milk
1 tsp vanilla extract
1/3 cup neutral oil
1/4 cup white sugar
1/2 cup packed dark brown sugar
3 Tbsp white miso paste + 2 Tbsp water, mix until smooth
½ tsp ginger paste or finely minced ginger (can leave out if you don't like ginger)
2 cups all-purpose flour
¼ tsp cinnamon
1 teaspoon baking powder
3/4 teaspoon baking soda
½ tsp ground ginger
1 cup dark chocolate, chopped or chips
½ cup sliced almonds, toasted @350* for 5 minutes and cooled
Flaky Sea Salt (optional)
Directions:
In a medium-sized bowl, combine your wet ingredients and sugar. Mix until smooth.
Combine miso paste and water, then add that to your sugar mixture, followed by the ginger paste.
Add all of your dry ingredients to your sugary miso mix, use a spatula or large wooden spoon to combine. (don't use a whisk, it will get clumpy and thick!)
Last, fold in dark chocolate and toasted almonds. Then cover your dough with plastic wrap and chill it in the fridge overnight. This step is annoying but it makes a HUGE difference in the taste and texture of your cookies.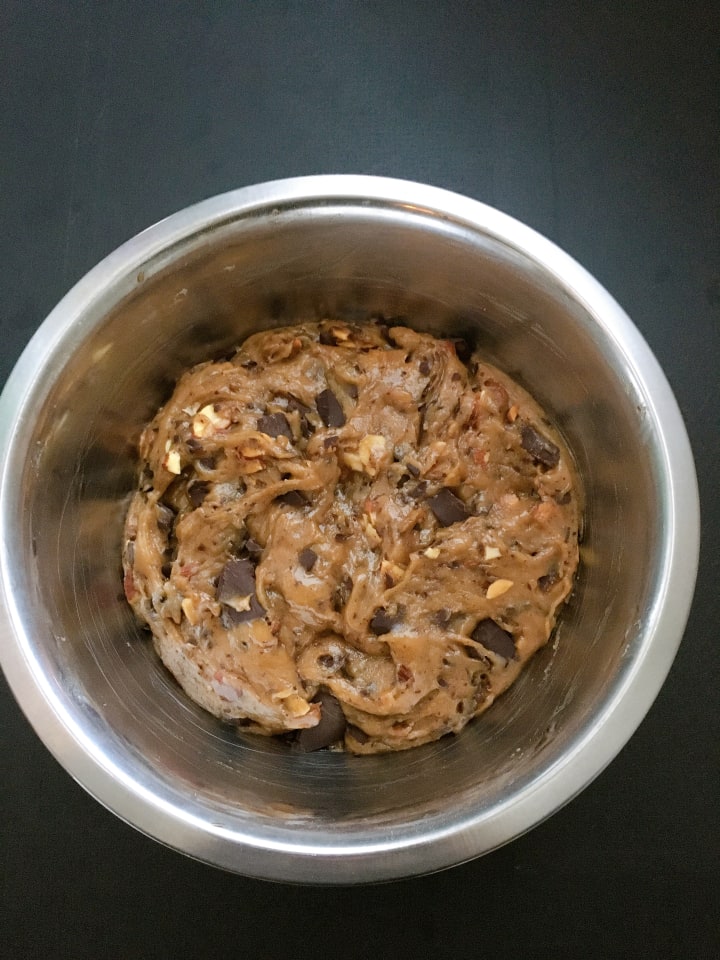 After 8-14 hours, preheat your oven to 350*F. Scoop 1/4 cup sized balls of dough and roll them into a circle. Place them on a parchment-lined cookie sheet at least 3 inches apart.
Give them a light press and bake for 14-20 minutes. Baking time depends on your oven and how soft or crispy you want your cookies to be. (For the photos above, I baked mine for 17 minutes to achieve that soft, chewy center with a crispy edge! FOR NORMAL SIZED COOKIES, Bake for 9-11 minutes.)
Allow them to cool for at least 15 minutes before you eat them. Partially to save your tongue, but also to give the cookies time to relax and finish developing that chewy texture we all know and love.
ENJOY! Share these cookies or this recipe with your friends and neighbors! These cookies make a great gift or stocking stuffer too!!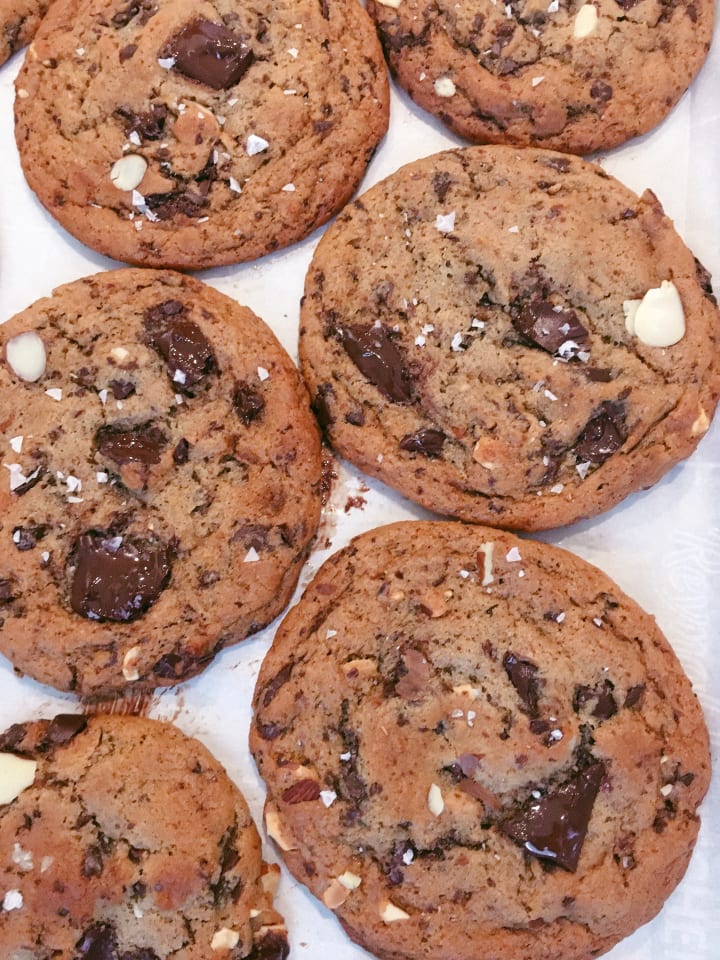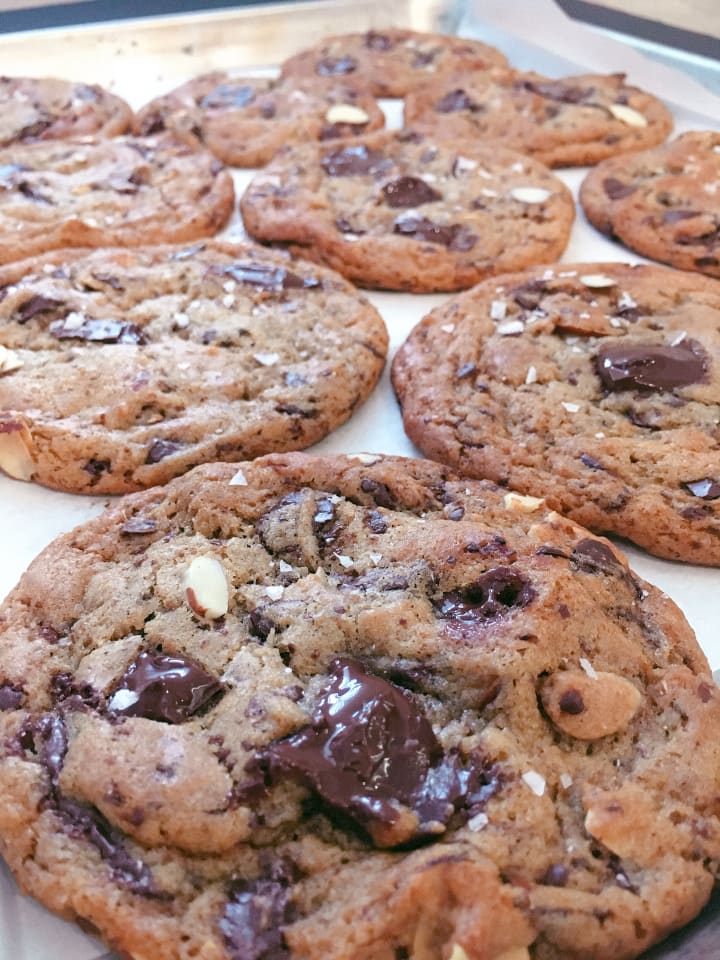 Store leftover cookies in an airtight container for 5 days.
Leftover dough can go in the fridge for 5 days or you can freeze pre-scooped balls for up to 6 weeks for a fresh baked, sweet, and savory treat at any time!!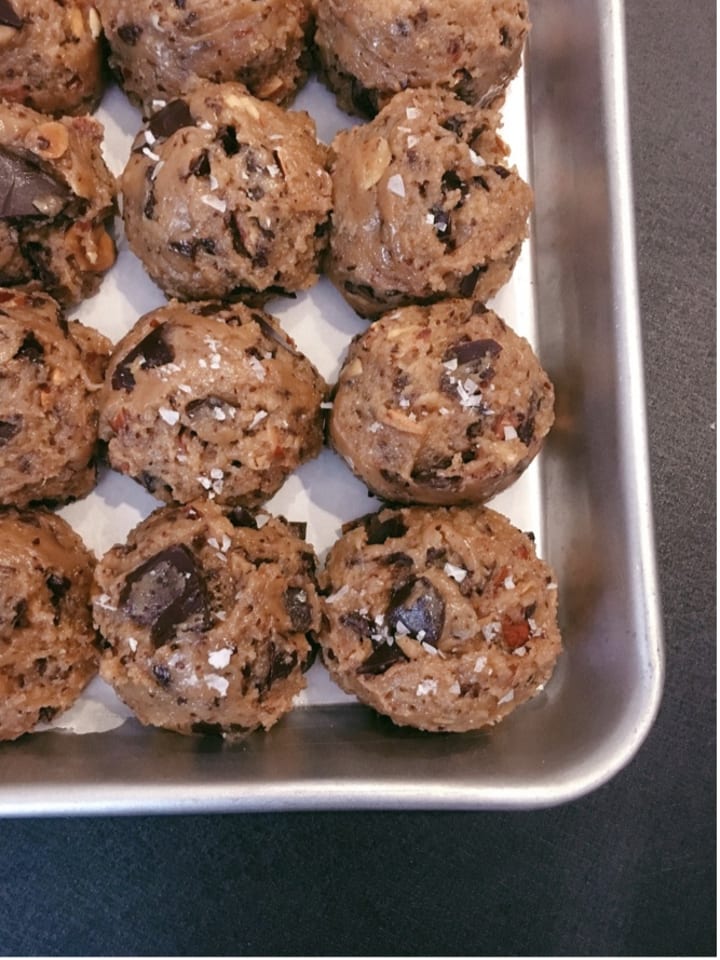 THANKS FOR BAKING WITH ME!! <3
-Destinee