Meat Lovers Goodness
Simple, Flavorful & Perfect for Date Night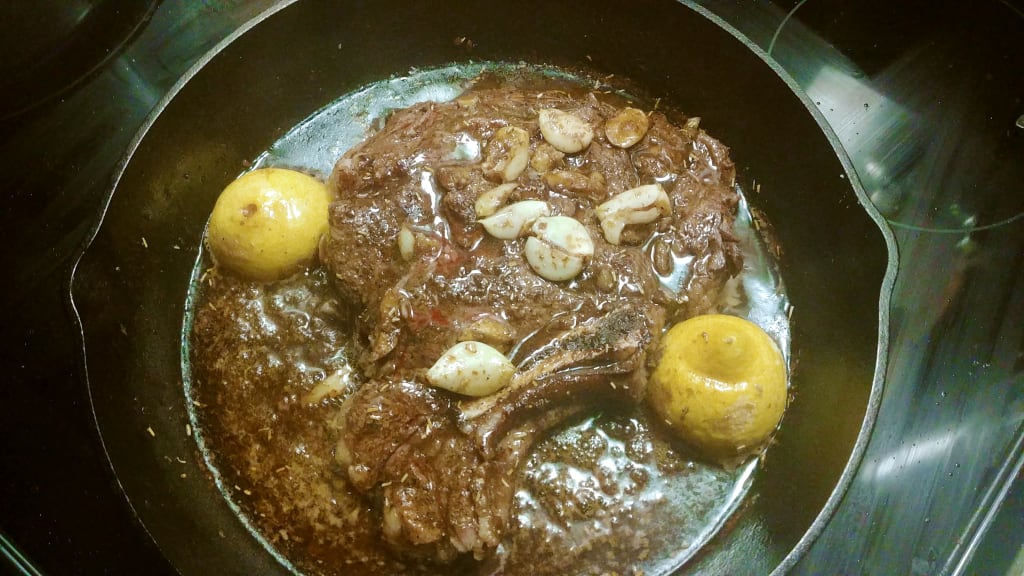 This recipe is the definition of mouth watering. The smells in the house when you make this will engross you faster than any hugs or welcomes. I suggest ribeye if you like a fattier piece of meat, but any meat is okay, we don't judge here! This meal is perfect for impressing loved ones or a date night indoors. The flavors really marry beautifully, so save this recipe for a special occasion!
Cast iron skillets are preferred for this cooking process because you really want to braise everything together. At this point, if your mouth isn't watering then I'll cut to the chase,
This recipe feeds two to three people, and maybe the dog if you're nice enough. Let's begin.
What You'll Need
Time: 20 to 30 minutes
Prep Time: 5 to 10 minutes
Total Time: 30 to 40 minutes
1 Ribeye Steak (Bone-In) Any size is welcome!
1 Lemon (Just one, you got the lemon pepper y'all)
1/2 Cup of Butter (maybe more if you're like me)
Salt (to taste, sea salt shouldn't be any different)
Lemon Pepper (shake over the entire steak (Front & Back) with this, then to taste)
6 to 8 Garlic Cloves (if you think this is to much, then lessin it)
A-1 Sauce or Whistershire
1 Sprig of Rosemary (1/2 to 1 Tblsp dried or fresh, whatever's your preference)
Garlic Salt (cover outside of steak lightly)
Cast iron Skillet
Spoon or baster
1. Get Your Sh*T Together!
Peal your garlic cloves. It's going to smell, but will smell like stinky heaven. Once those are set up, grab your lemons and roll them, starting on your palms and working up to your elbows. This will loosen up the fibers and make those juices flow! If you have fresh rosemary, just leave the sucker whole, but remember to not eat it when serving. If you have dried rosemary, then just pour it in that butta! Take the lemon(s) and cut them in half down the middle.
2. Turn up the Heat!
Ignite your lovely stove or range on medium heat and allow the cast iron skillet to warm up. Once the pan is heating up, throw some butter in that thang. I start with 2 big tablespoons to melt down the flavors in the pan. While that's melting, grab your seasonings and start flavoring that meat. Use the salt, lemon pepper, garlic salt and rosemary and coat the steak front to back. Not too much of each unless you really love the flavors and salt (like me). That pan should be hot by now.
3. Let's Cook It!
I like to put my veggies in first, and then my meat. Get your lemon, garlic and rosemary ready (if you have fresh rosemary only, if you have dried use it for seasoning). Place the peeled garlic cloves in the skillet, then place the lemons flesh-down. Throw the fresh rosemary in the pan as well, just lay it in nicely. We love our food!
Place the steak down, choose your side to start with. Once the heat starts warming the meat up, put more butter in there. Enough to puddle it, cuddle it, you want the butter and the steak to love each other. I cook my steak to a juicy medium-rare (pink in the middle with the edges cooked, some blood coming out, mmm). Flip the sucker over when the bottom gets brown. Once flipped, stab some holes in it with a knife, nothing too stabby though. Grab a spoon or baster to suck up that yummy lemon rosemary butter goodness and pour it on top of the meat. Continue this process even when serving because the drippings are the best thing ever. Once your steak is cooked, allow it to rest for five to ten minutes and cut to size.
I hope y'all enjoy this recipe as much as I do! This is my go-to for a night in. I recommend making sides such as mashed potatoes or crispy salad. Check out my other recipes for more sides and delicious eats!