Make a Meal In One Dish
Casseroles from different European countries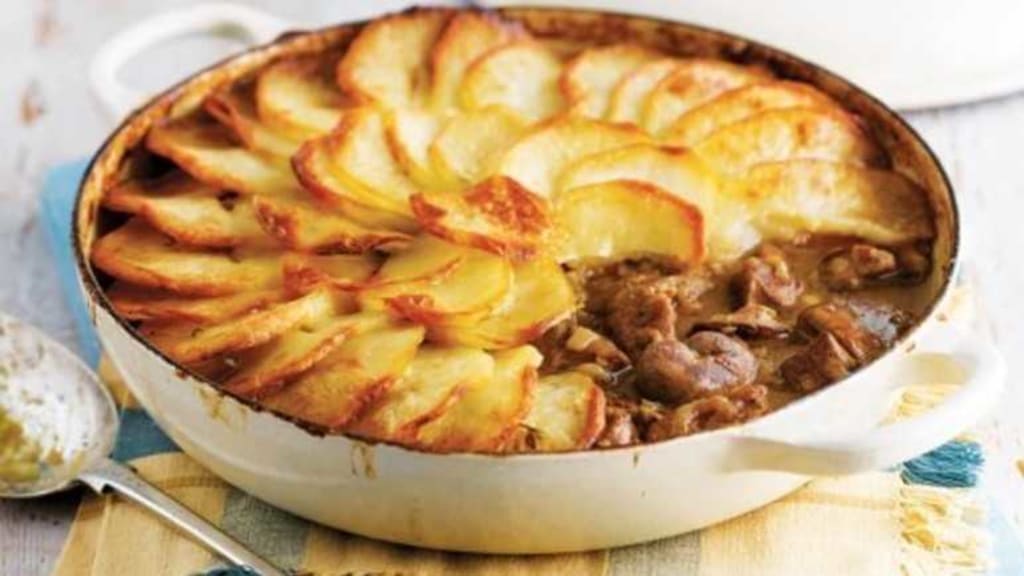 England
Lancashire Hotpot comes from Lancashire county in England. This is a slow-cooked casserole that was named after the tall, straight-sided pot it is baked in. The dish is prepared with lamb and onions that are topped with thinly sliced potatoes and baked in the oven, The vegetables included can be carrots and turnips and the most common seasonings are parsley, thyme, and bay leaf. The lamb cuts should be a mix of three - neck, shoulder, and shin.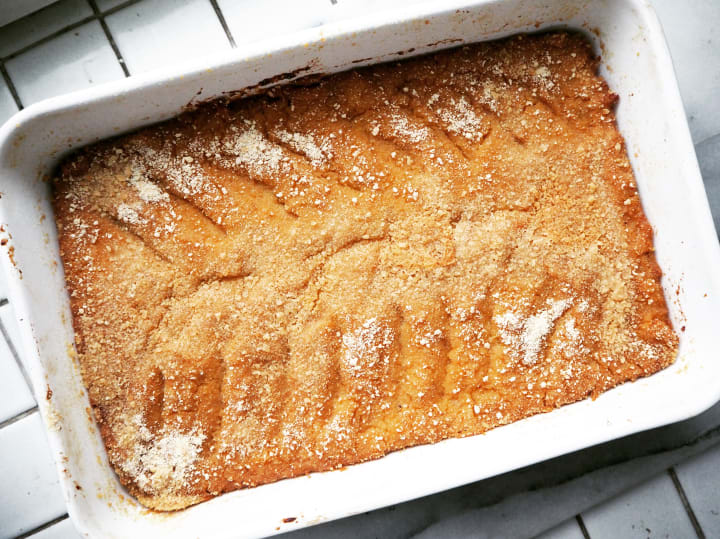 Finland
In Finland, lanttulaatikko is traditionally made at Christmas. The casserole consists of mashed rutabaga (also called yellow turnip), mixed with eggs, breadcrumbs, butter, or cream. Many spices are added like nutmeg, ginger, and cinnamon. After baking the casserole is crispy on top. It is served with different main courses.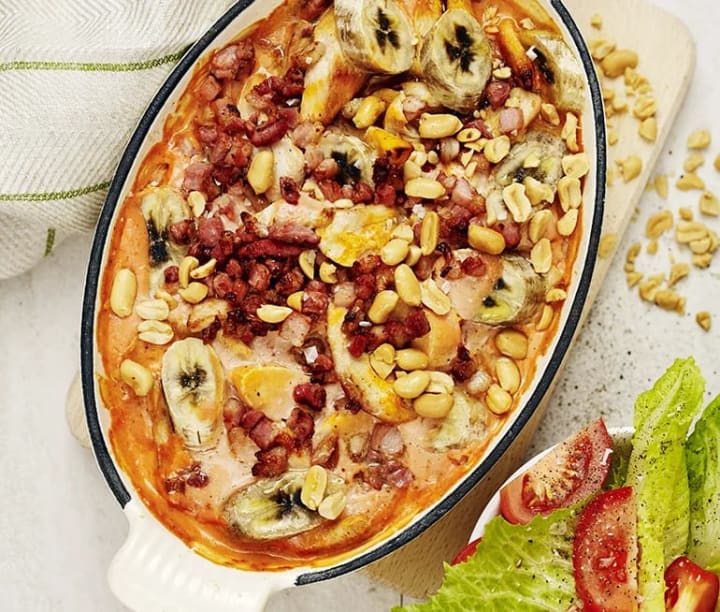 Sweden
Flygande Jakob or Flying Jacob is a casserole that combines chicken, chilli sauce, bananas, bacon, cream and roasted peanuts, Then baked in the oven and served with rice and a green salad on the side.
This is an unusual casserole invented by Ove Jakobsson, who worked in the air freight industry and thereby, named it as a flying casserole. The original recipe was published in the Swedish cooking magazine Allt om mat in 1976. At this time the chicken was seasoned with Italian salad seasoning. Variations came along and the casserole became popular because it was easy and quick to prepare.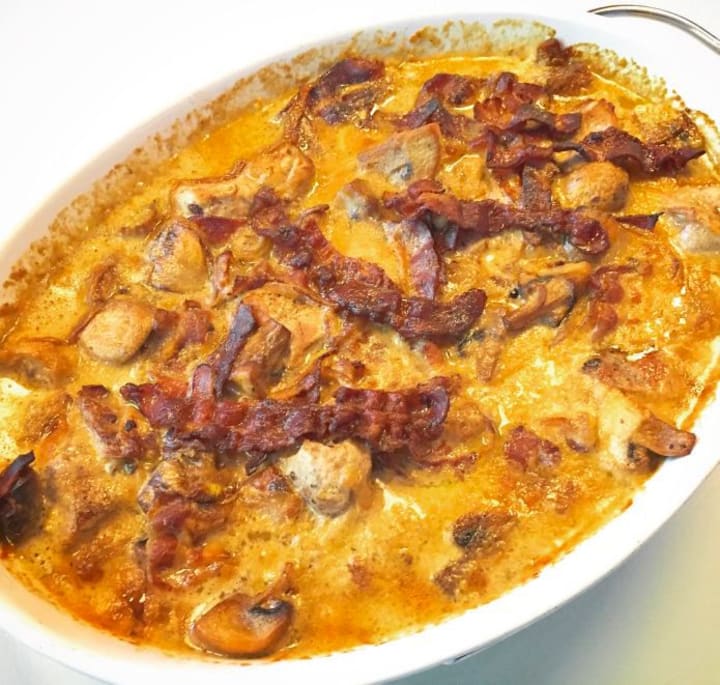 Denmark
Mørbradbøffer i flødesovs is a delicious Danish casserole made with pork tenderloin accompanied by lots of onions and topped with creamy sauce, It is baked in a casserole with mushrooms or crispy bacon bits added. This delectable dish is served with potatoes, rice, and pickles.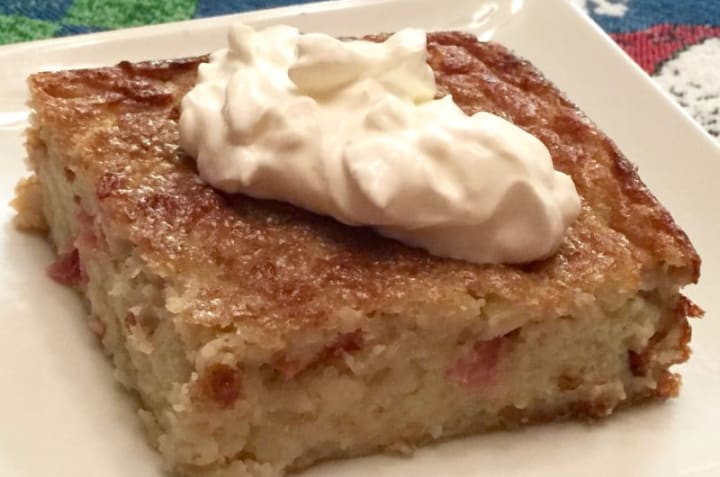 Lithuania
Kugelis or bulvių plokštainis translating to "flat potato" is a Lithuanian national dish. You can find this delectable potato pudding on restaurant menus throughout the country.
Kugelis consists of potatoes, onions, milk, bacon, and eggs baked in the oven. It is among the most traditional Christmas dishes and served alongside sour cream and chopped scallions.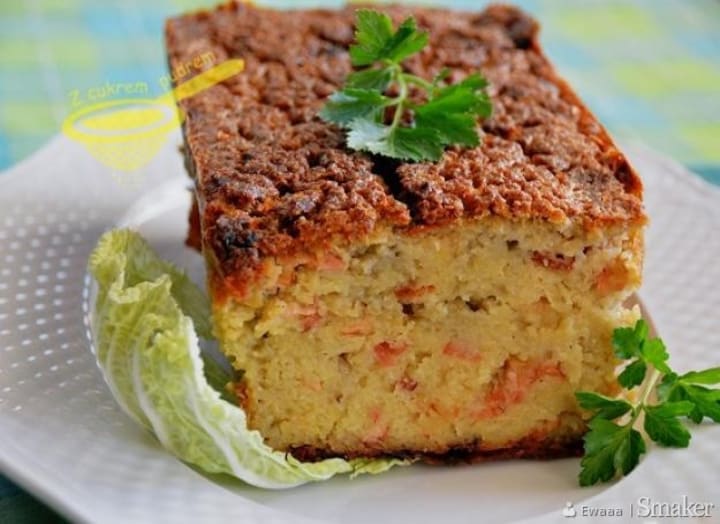 Poland
Babka ziemniaczana is a delicious potato casserole that supposedly originated from the well-known Jewish kugel. The casserole is made with seasoned grated potatoes mixed with eggs and baked until golden and crispy. Today there are many variations of this casserole and sometimes crispy fried onions or bacon are added, It is usually served sliced as a light main course or as a snack.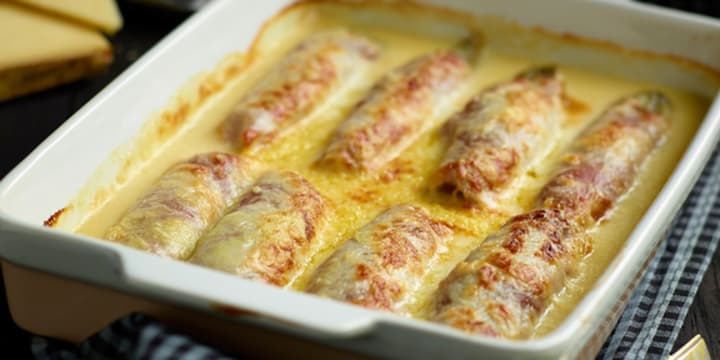 Belgium
Chicon au gratin is a classic Belgian dish that is a combination of braised endives rolled in ham slices and covered with Gruyere cheese and white sauce, It is basically a comfort food make during the cold months of winter. The casserole is traditionally served with mashed potatoes on the side.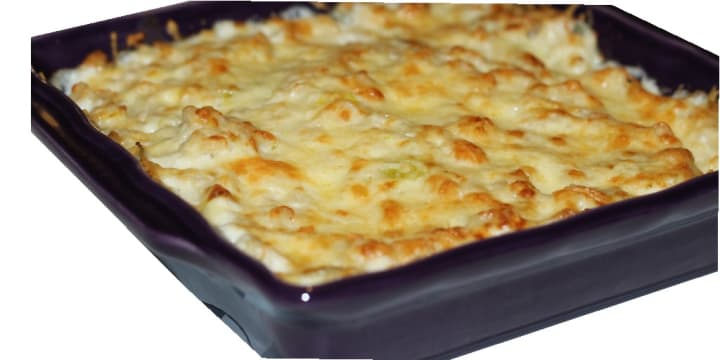 France
Gratin de crozets is a traditional French casserole that originated in the Savoie region, It is made with onions, lardons (bacon), creme fraiche, chicken stock, grated cheese (Gruyere, Comte, or Beaufort), and crozets (a traditional local pasta that is made from buckwheat), eggs, salt, and water.
The pasta is cooked in chicken stock while the onions are fried with bacon in a pan. Then the pasta, onions, and bacon are combined with creme fraiche and topped with grated cheese and baked until golden brown and the cheese is melted.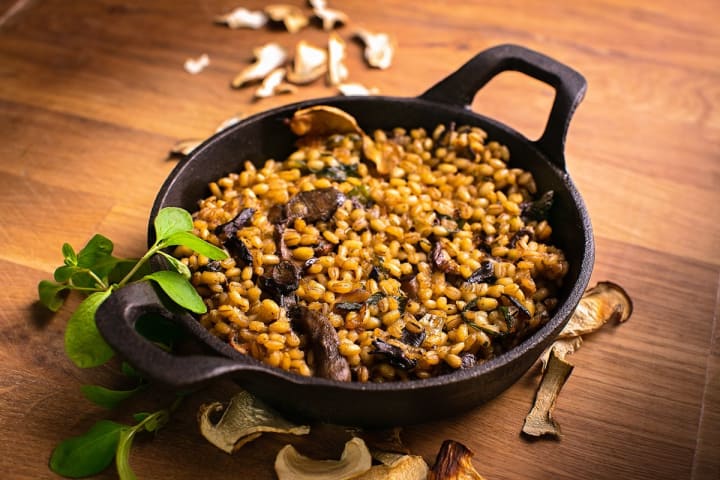 Czech Republic
Houboby kuba is a casserole that is traditionally made at Christmas. The dish is a combination of pre-cooked barley and different kinds of dried forest mushrooms. It is seasoned with caraway and marjoram and baked until crispy. It is usually served as a side dish with traditional Christmas dinners.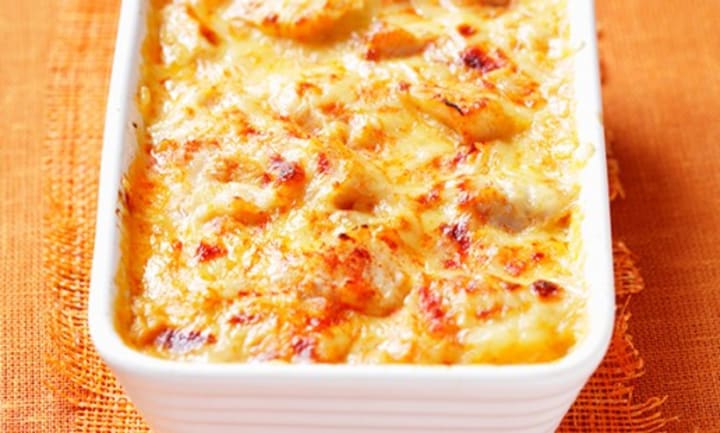 Portugal
Bacalhau espiritual is a Portuguese casserole that is made with salt cod, bread, carrots, and béchamel sauce. Before baking, it is topped with grated cheese. Other ingredients mixed in include onions, garlic, milk, and oil. It is served on its own or accompanied by sauteed green beans, broccoli rabe or a salad. The name of this dish means spiritual cod and dates back to 1947 when it was created by restaurant owner, chef Almeida Araujo.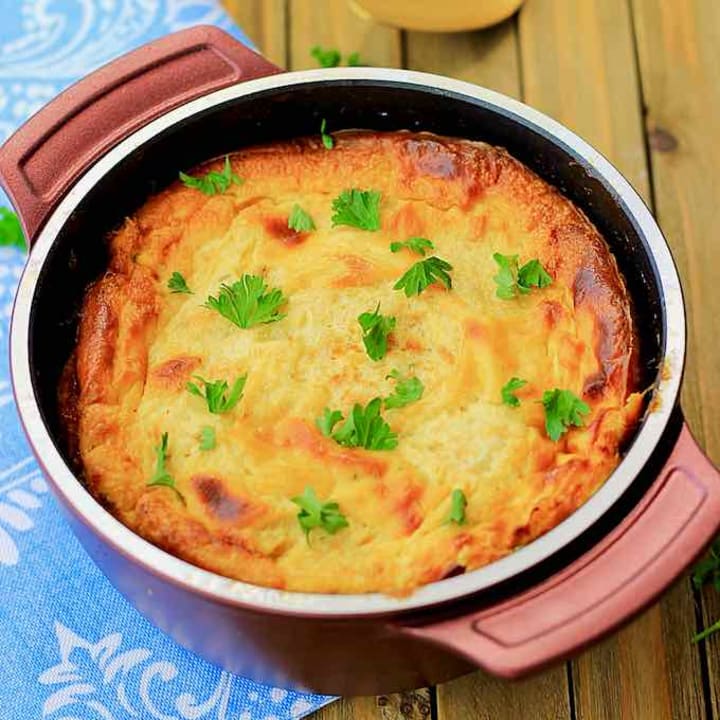 Albania
Tavë kosi is known as the unofficial national dish of Albania. The casserole is prepared with lamb and rice that has been seasoned and topped with kos, soured milk made from goat's or ewe's milk.
This casserole dates back to the 15th century, originating from the town of Elbasani. It is enjoyed all over Albanis and Kosovo, as well as Turkey, where it is called Elbasan tava and topped with bechamel instead of kos.
A modified version of this dish is topped with a sauce made of eggs and yogurt instead of soured milk and another version used chicken instead of lamb.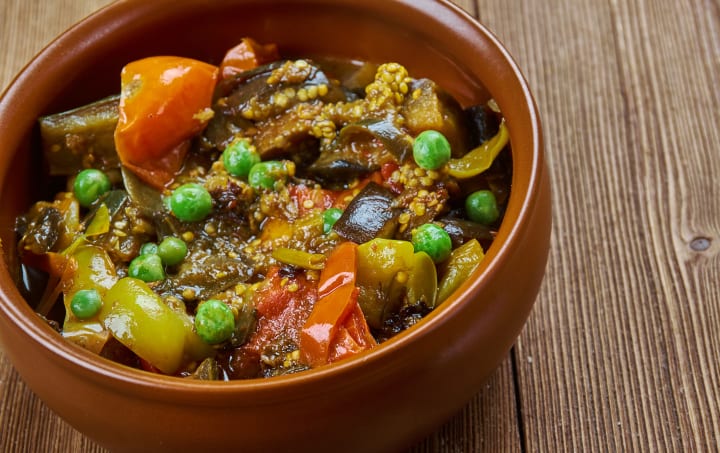 Bulgaria
Guvech is a traditional casserole that is typical of Balkan cuisine. Its name is taken from the earthenware pot in which it is traditionally prepared -guvech. The casserole is prepared with a variety of seasonal vegetables, meat, spices, and herbs. The usual vegetables used are potatoes, eggplant, peppers, tomatoes, onions, carrots, zucchini, peas, and okra. Among the herbs and spices are pepper, paprika, mint, parsley, and garlic.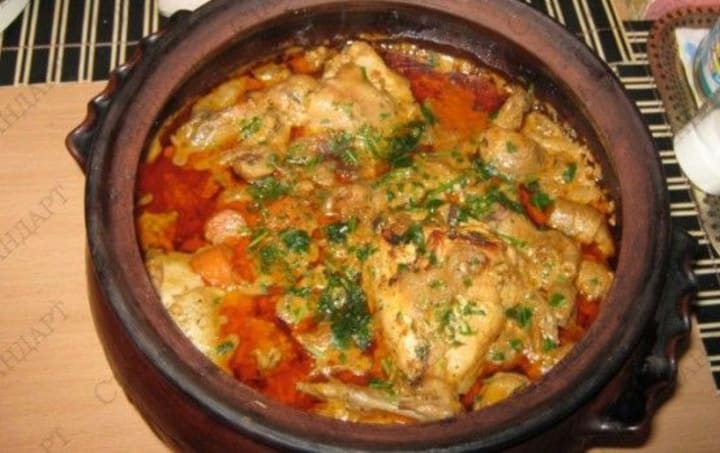 Kapama is a typical Bulgarian dish that is usually prepared in the region of Bansko and Razlog. The main ingredients are sauerkraut and various meats like chicken, veal, pork, and rabbit. Both rice and sausages can be added. In other variations plums, potatoes, and beets as included. Among the spices added to the dish are pepper, bay leaves, and paprika. The dish is made in layers and baked in the oven for about four hours at low temperature, in a clay pot that has been sealed with dough.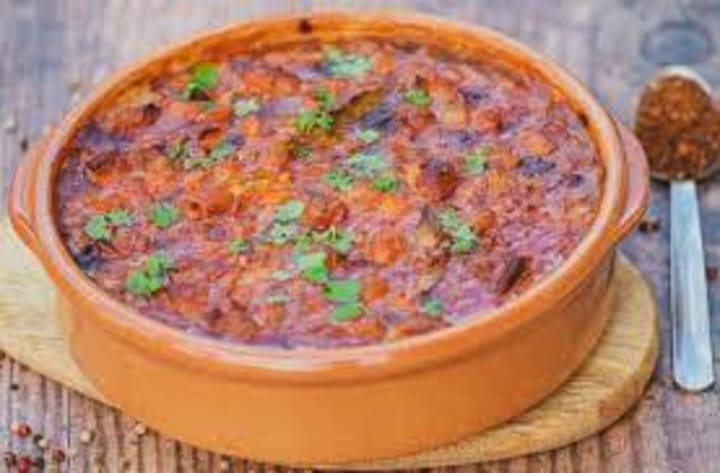 Serbia
Prebranac is a Serbian dish consisting of beans baked with onions and Hungarian powdered paprika, along with oil and water. The final result shouldn't be soupy, but slightly dry, with onion-coated beans developing a creamy texture. Originally, prebranac was made by farmers during the cold winter days.
Today, the dish is traditionally served as an accompaniment to main dishes, although it can also be consumed on its own, preferably paired with a slice of crusty bread on the side.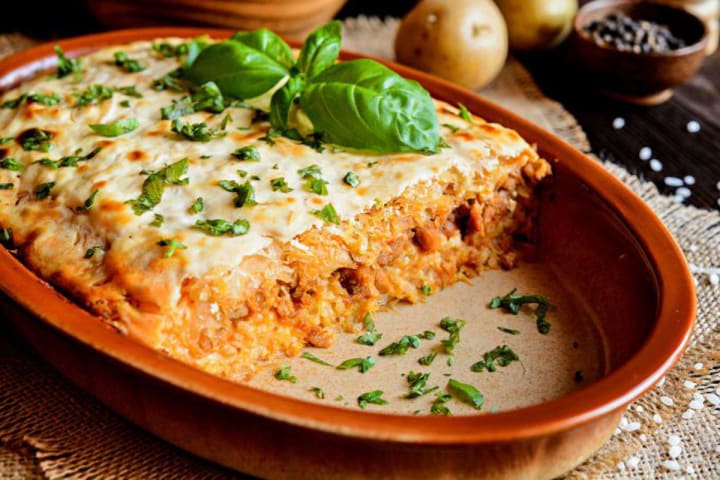 Romania
Varză a la Cluj is an authentic Translyvania dish. It is made with a combination of sauerkraut, minced meat, and rice. The sauerkraut is first prepared and then the minced meat, onions, and rice are added in layers. It is usually topped with a mix of sour cream and milk and at times flavored with tomato sauce between the layers.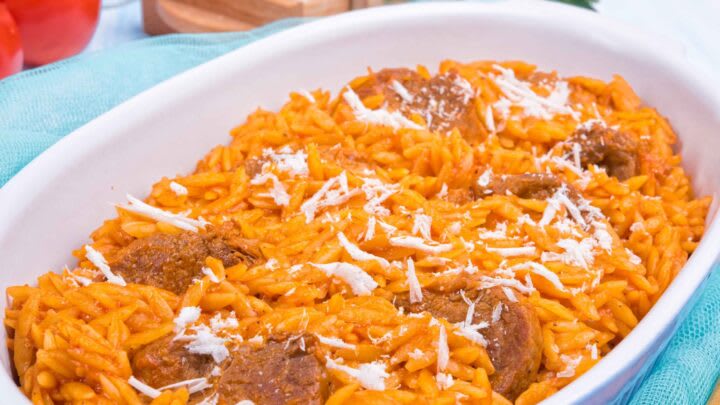 Greece
Giouvetsi is a classic Greek casserole that is a mix of pasta and tomato-braised meat prepared in a one-pot baking dish. The traditional choice of meat is veal but other meats can be used. The rich tomato sauce is seasoned with cinnamon, allspice, red wine, cloves, and bay leaves.
Traditionally two kinds of pasta are used small-sized orzo or square-shaped hiopites. The casserole is topped with a layer of grated cheese. The name of this casserole giouvetsi is a term meaning Turkish earthenware.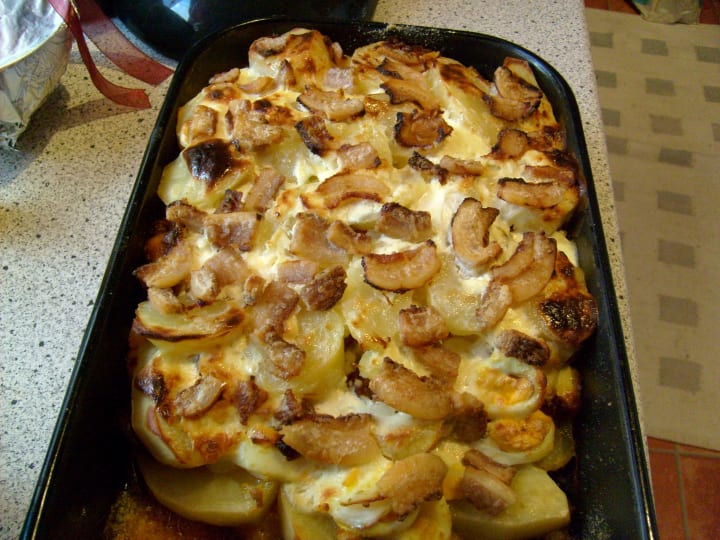 Hungary
Rakott Krumpli is a traditional Hungarian casserole and comfort food. It has become one of the most popular dishes in Hungary. The casserole usually consists of many layers of sliced potatoes, fried bacon, or csabai sausage with a creamy mixture of eggs and sour cream between the layers. It is baked until golden brown on top and accompanies by different pickled salads.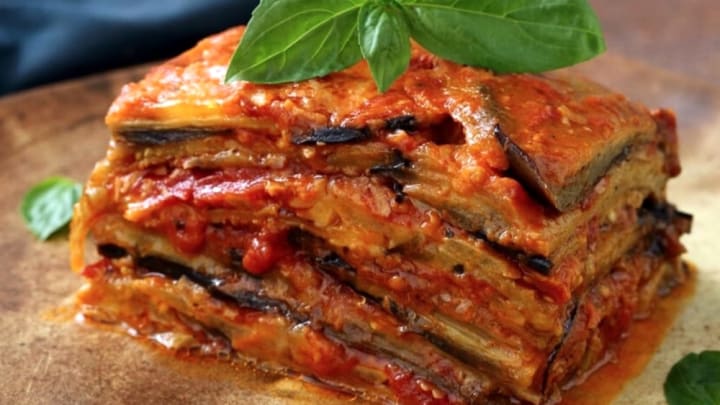 Italy
Parmigiana Campania is a version of eggplant parmigiana that is most popular outside of Italy. It originates from Campania. The casserole is a combination of eggplant, olive oil, onions, basil, tomatoes, mozzarella or flor di latte cheese and grated Parmigiano-Reggiano.
The eggplants are peeled, sliced and quickly fried before being placed in a baking dish, Then tomato sauce is spread over them along with cheese, basil leaves, and grated Parmigiano-Reggiano. The layers of eggplant and tomato sauce are repeated along with the cheese and the top layer should be tomato sauce and grated cheese.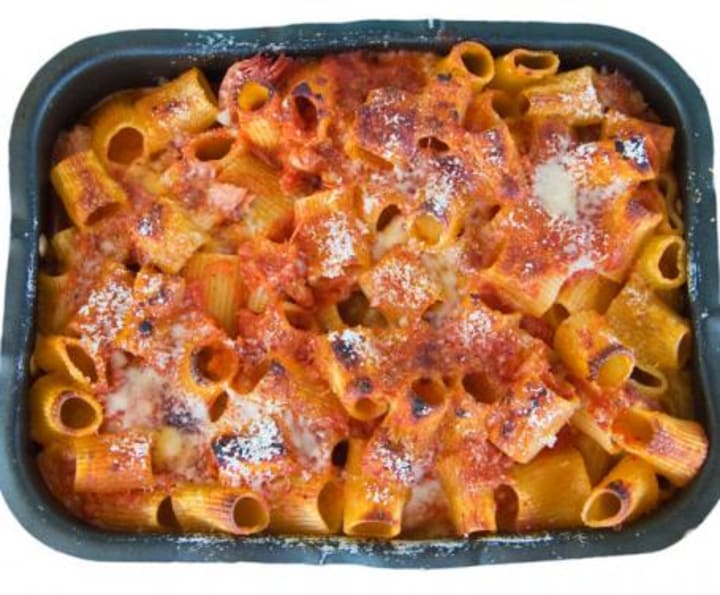 Timballo is an authentic Italian dish that includes a casserole made with layers of pasta, sausage, meat sauce, bechamel sauce, different vegetables, cheese and the top layer being pasta and sauce. It is baked in the oven.
The name timballo was derived from the French word meaning kettle drum. It refers to the drum-like baking dish. Today there are many variations like the addition of peas, eggs, game meat, or gnocchi.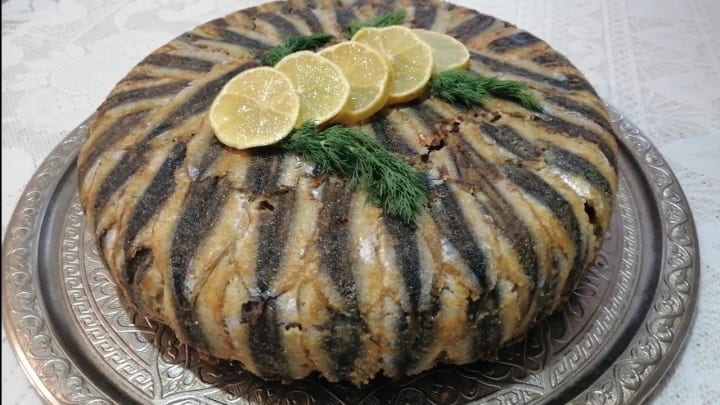 Turkey
Hamsili pilav is a Turskish casserole with anchovies. The pilaf is made with long-grain rice, onions, raisins, pine nuts, mint, lemon juice, and spices. The baking dish is brushed with butter and then layered with anchovies making sure the fish fills the bowl. The pilaf is placed over the anchovies and the ends of the anchovies are folded towards the center so that the pilaf is encased in anchovies, After baking the dish is turned over and served garnished with dill sprigs and lemon slices.