Low Calorie Homemade Spicy Beef Tacos
Using Only Healthy Ingredients!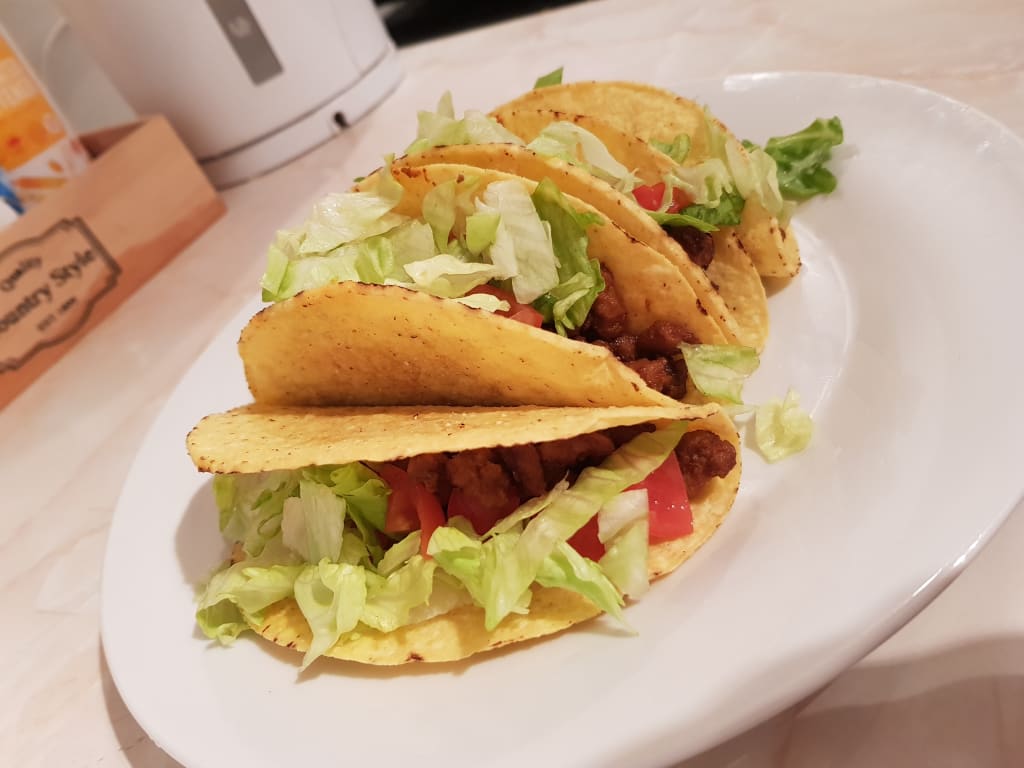 You may have previously seen my last recipe, Garlic and Parmesan Chicken; if not then please do so. It's a very tasty dish!
This week we're all about the Mexican favourite, Tacos!!
Now you may see tacos as being a very greasy, fattening and unhealthy dish but I'm going to show you how to make it a lot more clean, healthy, and almost from scratch!
Since being on my diet I have definitely missed eating these more fatty foods so I decided to keep them within my diet but make them a lot cleaner and with a lot less guilt!
What I've come to realise is that if you come from eating sugary, fatty foods all the time to just eating healthy foods constantly, then you will crash and burn. It becomes a real struggle after the first month and no matter how hard you try, you find yourself with a giant spoon and a tub of nutella, eating more calories in one sitting than you have in the whole week!! So allow yourself a couple of treats a week! You deserve it!
If this sounds like something you would enjoy then please give the recipe a go and see for yourself just how tasty they can be!
Ingredients for the Taco seasoning:
1 TBSP Chilli powder
1/4 TSP Garlic powder
1/4 TSP Onion powder
1/4 TSP Red pepper flakes
1/4 TSP Oregano
1/2 TSP Paprika
1 1/2 TSP Cumin
1 Tsp Salt
1 TSP Pepper
Other ingredients:
500g Lean Beef mince (less than 5 percent fat)
Wholemeal tortilla wraps or corn shells
Lettuce
Tomatoes
Cucumber
Instructions:
In a small bowl, mix together the chilli powder, garlic powder, onion powder, red pepper flakes, oregano, paprika, cumin, salt and pepper and then store in an airtight container. Feel free to double or triple the mixture for further use next time.
Cook the mince on a medium heat in a non stick frying pan or if you don't have a non stick pan, then use a few pumps of low calorie spray before cooking. As this is lean mince, you may not need to get rid of any excess fat but of you find some then definitely drain it out. Cook the mince until browned.
Whilst the mince is cooking prep your salad items: lettuce, tomatoes and cucumber. You want to cut the lettuce in to small strips and dice the tomatoes and cucumber in to tiny little pieces.
Add the seasoning and gently stir in 100ml of water to your cooked mince. Lower the heat slightly and leave to simmer stirring occasionally to coat all of the mince.
If you're using corn shells then place in to a preheated oven (160°c Fan or 180°C standard) for a few minutes until all the shells are hot. You will see them slightly bubbling. This is when to take them out. Be very careful that they don't burn so check on them frequently. Oven baking the shells crisps them up and prevents them from being slightly chewy which gives them a bit of a stale taste. If you're using tortilla wraps, then ignore this step and go to number 6.
Simply fill each shell or wrap with your cooked taco meat and layer on the salad.
Serve.
It's so simple and only takes around 20 minutes to make! The longest part is filling each taco!
If you would like it a bit spicier then add extra chilli powder or flakes. Feel free to add extra toppings too such as cheese, sour cream, salsa and guacamole for that authentic Mexican taste but remember this increases the fat and calorie count so don't forget to use low calorie and low fat items.
If you liked this recipe then please feel free to pin it to your Pinterest boards or share it with your friends on your social media platforms.
Thank you so much for taking the time out to read this and don't forget to check out our other healthy recipes too!