Low-Calorie Greek Turkey Meatball Gyros Recipe
These gyros are the perfect healthy dinner option for the family and only 429 calories!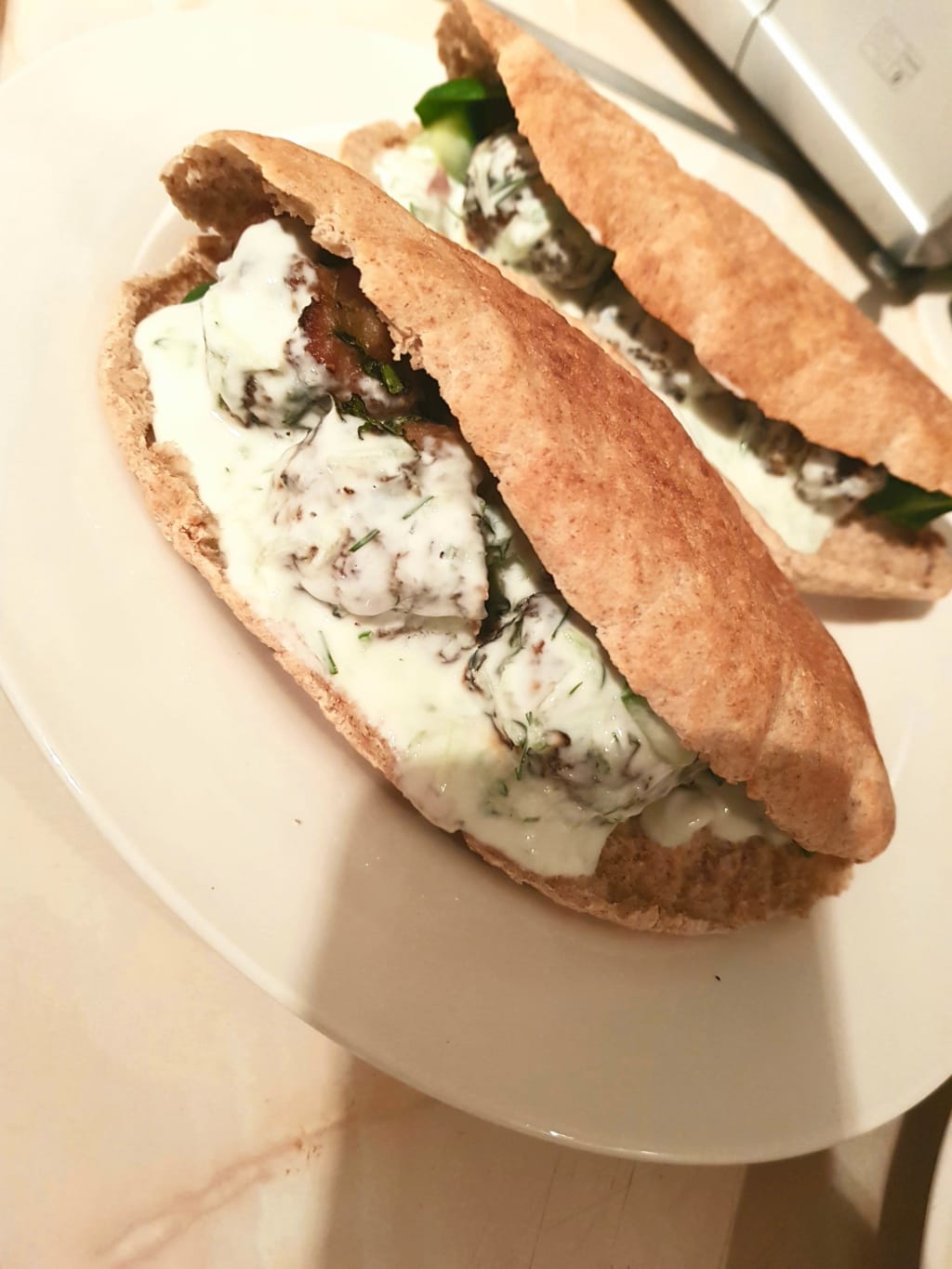 GREEK TURKEY MEATBALL GYROS
It's only Tuesday today and I'm having a bad week already! Does anybody else have constant nagging thoughts in their head? My mum passed away almost two years ago now and I'm starting to really struggle without her. When she was alive people walked all over her because she was such a giving and loving person and I feel a lot of the time that she's still being disrespected in death. I suppose the only way I'm going to feel better is to express and share these feelings with the people involved but to top these thoughts off, my kids keep playing a game of who can out scream each other! If anybody has a headache, you can guarantee it is me!
So before I depress you all, I'll let you know that this week has already called for such a delicious and comforting meal! I found this recipe on Pinterest and have decided to tweak it ever so slightly to suit my family and my diet. It's made with all fresh ingredients, takes less than 30 minutes to make and finishes off at 429 calories a serving with 28 grams of protein! All the flavour with hardly any of the calories!
Ingredients:
Turkey Meatballs:
1 lb. ground lean turkey minced
¼ cup of finely diced red onion
2 minced garlic cloves
1 teaspoon of oregano
1 cup of chopped fresh spinach
Salt and pepper to season
Low-calorie olive oil spray
Tzatziki Sauce:
½ a cup of plain greek yogurt
¼ cup of grated cucumber
½ a teaspoon of smoked paprika
2 tablespoons of lemon juice
½ a teaspoon of dry dill
½ a teaspoon of garlic powder
Salt to taste
Extras:
½ a cup of thinly sliced red onion
1 cup of diced tomato
1 cup of diced cucumber
1 cup of fresh spinach leaves
4 whole wheat pita breads
Method:
Add your ground lean turkey mince, diced red onion, minced garlic, oregano, fresh spinach, salt and pepper to a large mixing bowl. Using your hands, mix all of the ingredients together until the meat forms a ball and sticks together.
Then using your hands, form the meat mixture into 1" balls. (you should be able to get about 12 meatballs). Although you can try making smaller or larger balls depending on your preference. Remember larger balls will make less balls and smaller balls will obviously make more.
Heat a large frying pan to a medium to high heat. Add the low-calorie olive oil spray to the pan and then add the meatballs. Cook each side for 3-4 minutes or until they have browned on all sides. Remove from the pan and let rest.
Whilst the meatballs are resting, grab another mixing bowl and add the greek yogurt, smoked paprika, grated cucumber, lemon juice, dill, garlic powder, and salt to taste. Mix it all together until everything has been combined. Feel free to double the mixture for extra servings!
Toast your pitas for 1 or 2 minutes until they're pliable enough to be open up and fill. Be very careful though as the middle will be VERY hot when sliced open. Slice around one side of the pita until it is open enough to fill.
Assemble the gyros by adding 3 meatballs to each pitta, sliced red onion, tomato, spinach leaves and cucumber. Then top with tzatziki sauce.
It is so simple and only takes around 25-30 minutes to make so great for those busy school nights or if you're working late! You can also make extra meatballs and freeze them for next time!
If you make this recipe or want to share other ideas then make sure you snap a picture and use the hashtag #EATHEALTHYWITHME.
I love seeing what you guys make!
WANT MORE HEALTHY DINNER IDEAS?
Make sure you check out my other articles!
DON'T MISS A RECIPE ->
Follow us on PINTEREST