Loaded Potato Soup
Easy and delicious!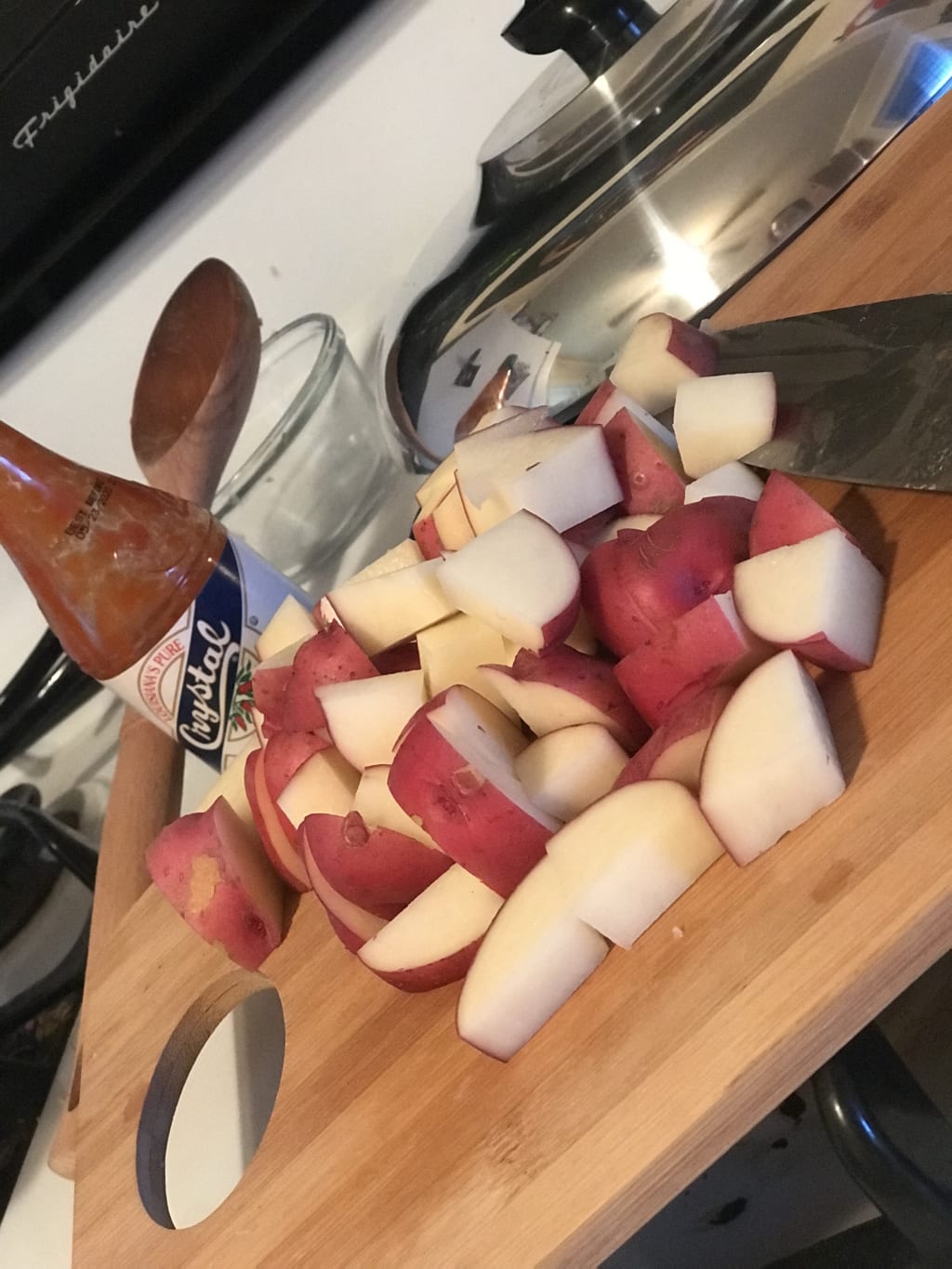 This is my favorite potato soup ever. So easy to make. I make a large pot all at once. Everyone says to do this and freeze the leftovers for the future. I love this stuff so much that I just eat it until it's gone. One pot of this lasts me several days. However, if you're not into leftovers, this freezes easily and you can pop it out of the freezer and heat up in a hurry.
Ingredients
3 lbs. red potatoes
1 yellow onion
garlic (I use several cloves, but I LOVE garlic)
ham or bacon
beer (optional)
cheese (also, optional)
salt, pepper, hot sauce
That's it. Seriously. This stuff is cheap and so tasty. As with everything, change up whatever recipes you find to suit you and your tastes. I don't measure much and I constantly tweak recipes. I'm a particular eater so I rarely stick to a recipe. If you don't like hot sauce, skip it. If you love it, dump a ton in there. If you're not a meat eater, don't toss in the pig. Make it your own. But this is a good jumping off point.
If you're using bacon, go ahead and cook it before you start with the soup. If you're using pre-cooked ham, we'll get to that later.
Sauté onion and garlic in olive oil (or add it to some of the bacon grease, if you're going that route) in a stock pot or dutch oven. After they're sautéed, pour half a can of your beer of choice in there and turn it up to medium-high. Let it get to a boil and then cook down the onions. I love onion flavor, but don't care for the texture. I cook mine down to translucent. You can skip this part if you like more of a crunch to your onions. Add in some hot sauce while they're sweating.
While those are sweating, I start chopping up my potatoes. I leave the skin on. I like the flavor, it's better for you, and (most importantly) I just don't like peeling potatoes. I usually chop them into cubes/chunks rather than strips. But that's just a personal preference.
Throw your potatoes into the stock pot with the onions and garlic and fill it with enough water to cover the potatoes (usually, recipes say to bring to a boil and add potatoes, but I find this is quicker, easier, and you don't have to guess how much water you need) and bring to a rapid boil. Be VERY liberal with your salt and pepper. It's a big pot and a lot of potatoes.
Let the potatoes boil until they're tender. If you're using pre-cooked ham, go ahead and add it now (if you add it too early, it becomes tough) or add in your bacon now, if you went that route. Toss in the other half of that beer (if you didn't drink it already) and you're almost done.
Set the burner to low and add in your cheese. I usually use about 16 ounces of shredded cheese. I always have a sharp cheddar in there, and usually mix in some others. This is, again, up to personal taste. I will add in some, stir to let it melt, then add in more. Then just let it simmer and develop the flavors. (If you find the soup isn't thick enough, mix up some cornstarch and cold water and add it to the soup slowly to achieve desired consistency).
Serve it topped with shredded cheese, some sour cream, and green onions on top. Or, do like I do, and throw it in a mug and eat it sitting on the couch. We don't always have to be fancy.