Loaded Chicken & Potato Casserole
Probably Unhealthy, Definitely Delicious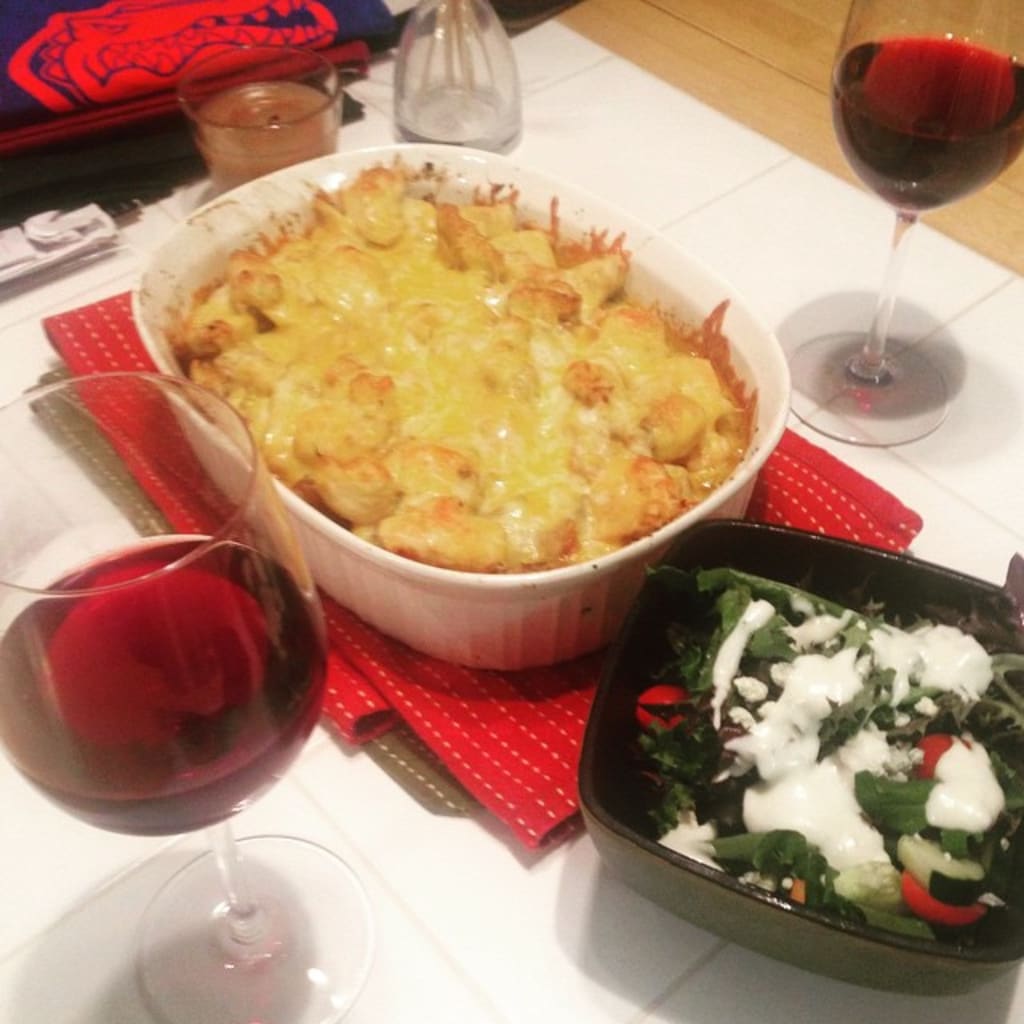 Before you start the main dish, make some bacon and set to the side to cool. I used eight slices or so. It really just depends on how much you love bacon (which should be a whole lot). I usually cook my bacon in a cast iron skillet. Great flavor, it doesn't stick, and you get to save all the leftover fat to cook other delicious things in. However, prepare it whatever way works best for you!
Preheat your oven to 400-450 degrees. Cube the potatoes to an inch or so. I like to cut them into non-uniform pieces so the texture is different in each bit. I kept the skin on and I used just regular russet potatoes. (And there's a lot of nutrients in the skin, too!) I prefer red potatoes, but the store was out. Russet works in a pinch. I used four or five medium size potatoes in this one. The amount you'll need just depends on whatever size your casserole dish is.
In your mixing bowl, whisk the following (my measurements are always "ish." Everything can be adjusted to individual spice levels):
1/2 cup(ish) olive oil
1 or 2 Tbsp Paprika
1 or 2 Tbsp Garlic Powder (or use actual garlic after you've sauteed it)
Salt and pepper to taste
4 or so Tbsp Hot Sauce (obviously more or less depending on your heat preferences.) I like the flavor of Crystal Hot Sauce. It has heat but isn't overpowering.
Toss the potatoes in the sauce. Crumble up about 1/2 of your bacon and toss it with the potatoes and sauce. Then take the potatoes out (leaving the sauce in the bowl) and put them in a casserole dish. Cover the potates with aluminum foil. Throw those babies into the oven for around 30 - 45 minutes at 400 - 450 degrees (or until they're crispy outside and done on inside). I stirred them a couple times to make sure they weren't sticking.
While those are cooking, cube chicken breasts (I used two. Again, it depends on how much you're making. You're smart. Use your judgment). Toss the chicken into the leftover sauce from the potatoes. I sauteed some onions and garlic and the rest of the crumbled bacon in a pan on the stove and put the chicken in there to cook. This took about seven minutes or so.
When the potatoes are done, remove them from the oven, and put the chicken on top of them. Put some shredded cheese on top (I used an entire bag because I like them cheesy). Put the dish back into the oven uncovered until the cheese melts. (This took about five minutes). You can broil on high (keep an eye on it) for a few minutes if you like your cheese to brown. Top with parsley or green onions.
Also, the salad is just field greens, cucumbers, blue cheese crumbles, tomatoes and some lemon juice mixed all together. I know everyone knows how to make a salad. But the lemon juice is the kicker. The dressing was a simple balsamic and olive oil mix. I use two parts extra virgin olive oil to one part balsamic vinegar. If that's too much of a bite, you can cut it back to three parts olive oil and one part balsamic. Happy eating!
Just in case anyone was wondering, my wine I chose was Leese + Fitch Pinot Noir. It's light enough to go well with the chicken, but also earthy enough to not get drowned by all the bacon and cheese. It's about $10 at your local store and just a really solid wine that goes with so much.