List Of Indian Breakfast Dishes | Indian Breakfast
Breakfast is often said to be the most important meal of the day. It helps with concentration and maintaining a healthy metabolism and weight.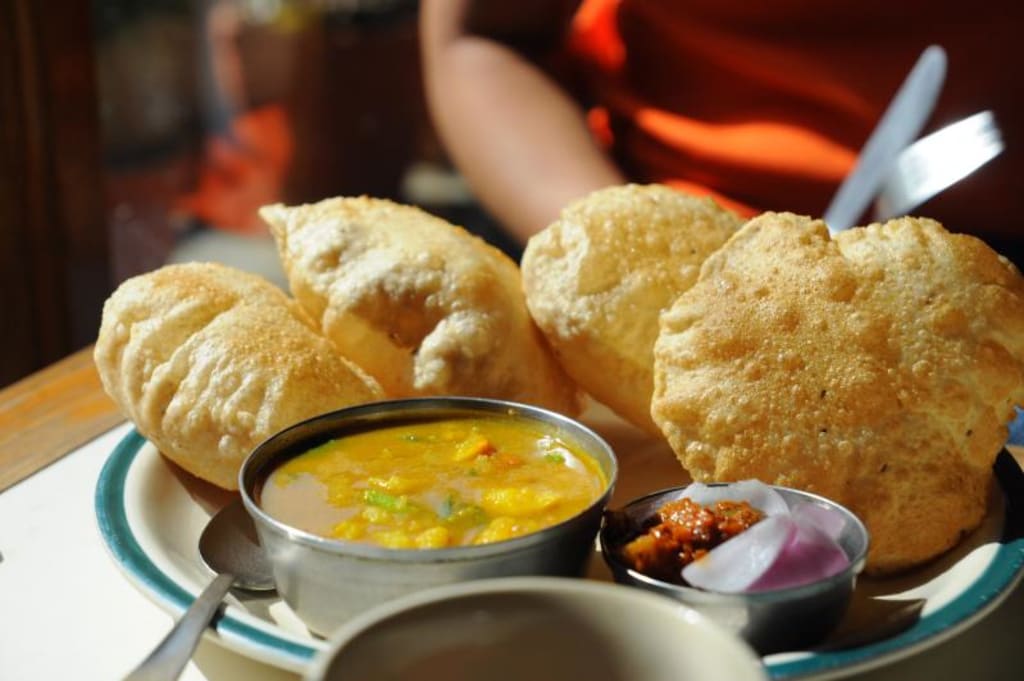 Image - they called me Lily
Breakfast is often said to be the most important meal of the day. It helps with concentration and maintaining a healthy metabolism and weight. The name is derived from the fact that the body has fasted for 6-9 hours that it has (hopefully) slept through the night. So, when you engage in a meal the next morning, you have broken that fast. To westerners, Breakfast is the first meal of the day taken after a night's rest. It can also mean a meal that is made up of traditional breakfasts foods such as eggs, bacon, pancakes, etc.
List Of Indian Breakfast Dishes
1. Indian Pancakes
India has many different variates of pancakes, and there are numerous variations on each model. Poodas (Cheelas) are perhaps the most well-known pancake, and they range from thick to thin and from sweet to salty. The method and batter used to cook Poodas is similar to those used by westerners. Meetha Poodas, however, are sweet pancakes served with chutney and pickles, and is native to the Punjab region in North India.
Recommended Pooda/Cheela recipes include:
Banana Sesame
Corn
Moongdal Cheela
Rice, Semolina
and Spinach and Cheese
(The Spicy Moongdal Waffle is also worthy of consideration.)
2. Dosa
In Southern India, Dosas are widely popular. Dosas are crepes made using black lentils and rice batter. It is a healthy pancake, being gluten-free and containing no saturated fats, salt or sugar (though sugar can be added as a treat for little ones, or those us with an insatiable sweet-tooth!).
It is also very rich in carbohydrates and protein. Dosas can be stuffed with vegetables and sauces to provide more flavor. It is, in fact, commonly served with coconut chutney, curd, and Indian pickles.
Variations differ widely between regions and can contain anything from cheese to egg to chilli powder.
Recommended Dosa recipes:
Brown Rice Dosa
Butter Dosa
Chilli Dosa
Green Dosa
Masala Dosa
Nachni, Oats Mutter, and Onion Dosa.
3. Appams
Also native to South India are Appams. While being similar to the Dosa in many ways, they are made from ground soaked rice- fermented in Kall- and coconut milk.
In Indian literature, Appams were often offered to Hindu deities as a form of appeasement. In fact, Appams are heavily featured in the Hindu festivals Janmashatami and Karthikai which honor the Hindu gods Ganesh and Krishna.
Like the Dosa, Appams have many variations ranging from plain to egg to honey flavored. Neyyappam for instance, is made of rice flour, jaggery and clarified butter.
Mashed plantain is added to the batter to make Uni Appams. Coconut lovers should be sure to try the Vattayappam, which combines coconut, sugar and rice-flour.
Recommended Appam Recipes:
Plain
Pulse Appe
Rice Appe
Neyyappam and Vattayappam
4. Uttapams
Unlike the Dosa and Appam, Uttapams are thicker and more like a traditional pancake, although the method of cooking is very similar to how a Dosa and Appam are prepared. Uttapams are unique in the sense that their toppings are cooked straight into the batter.
In fact, they are often considered the Indian Pizza despite being a common breakfast dish. Popular toppings include cabbage, capsicum, chilies, onions and tomatoes.
A plain Uttapam is made from combining rice (which should be a culmination of Basmatti and the boiled variety) with urad dal, a black bean which is indigenous to South Asia. Then grounding and fermenting them. Uttapams are often served with Sumbar and Chutney.
Recommended Uttapam Recipes:
Masala Uttapam
Mix Vegetable Uttapam
Tomato Uttapam
5. Thalipeeth
Thalipeeth is a multi-grain pancake native to West India. Special flour is used in the preparation and is made from black gram, Bengal gram, coriander, cumin, rice and wheat. It is usually served with butter made from the milk of a water buffalo, ghee, or curd.
Recommended Recipe:
Jowar Bajra Besan Thalipeeth
6. Parathas
Parathas are the Indian flat bread made by pan frying wheat-dough on a tava. Unlike pancakes, Parathas can be heptagonal, round, square, or cut into triangles and are often stuffed with all sorts of yummy veggies. They can be eaten as is or rolled into a tube and dipped in tea or coffee.
Recommended Paratha Recipes:
Aloo Paratha
Muli Paratha
Gobi Paratha
Paneer Paratha
More Breakfast Dishes
For those of us who want to walk on the wild side a little. After all, one of the benefits of being an adult means you and only you get to have the power to decide for yourself what will and will not occupy your stomach in the morning. That's real power! So without further adieu let me introduce some new dishes to your culture-starved palates.
7. Dhoklas
Dhoklas are a traditional vegetarian dish native to West India made from the combination of rice and fermented chickpea batter. Many recipes suggest soaking the ingredients overnight for the best results.
Recommended Dohkla Recipes: Buckwheat, Chala Dal, Green Pea, Paneer Palak, and Rasawala.
8. Poha
Poha is more commonly known as flattened rice. I know what you're thinking: Rice? For Breakfast? Not as mad as it seems, I assure you and do remember we're trying to be adventurous! Besides, I bet you didn't know that raw rice is easy to digest and therefore marvelous for one's early-morning stomach. Well, the important thing is that you do now. You're welcome.
Recommended Poha Recipes: Aloo (Potato), Batata, and Power.
9. Idli and Sambar
Sambar is basically tamarind and pigeon pea broth loaded with veggies to make a stew and is a very common dish in South India. When served as a breakfast, it is often served with dosas, idlis and vada.