Let's take this opportunity to change our eating habits
COVID-19 - getting ready for a national lockdown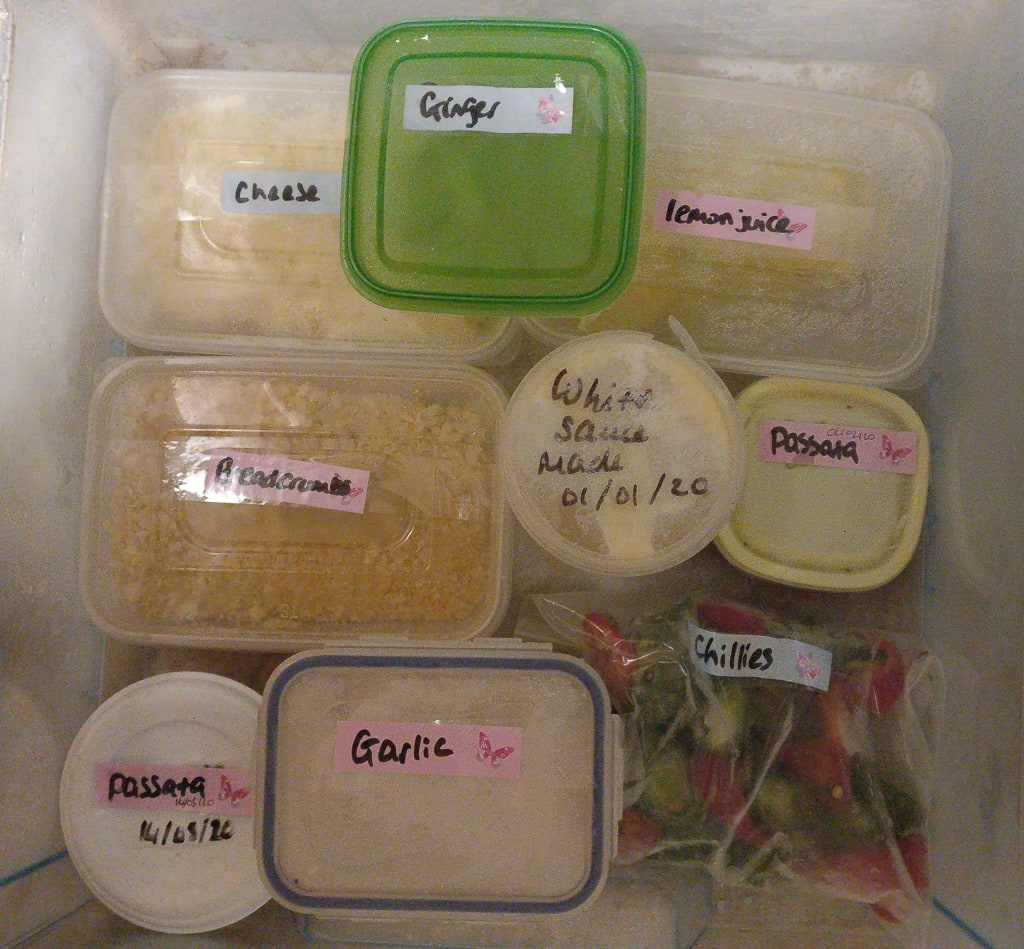 As we continue to empty our shelves at the supermarkets, grabbing all the hand wash, pasta and toilet rolls, we don't really need to panic buy - we just need to know how to arrange our lives a bit more effectively whilst we await the news of a national lockdown.

There's no reason why you can't make your fresh vegetables last longer
Be honest, how much food do you waste a week?  If you're true to yourself you'd admit it was quite a bit - perhaps more than you'd like to admit. 


Same here.


I've been experimenting a while but it's only really recently that I've started taking it seriously.  I made a promise to myself that I wouldn't allow any further food wastage.

It is possible, but it's all in the preparation.  And shopping in moderation.  Here's how I do it:


You don't need to throw away another slice of bread - ever!


Freeze a sliced loaf but shake the bag first to ensure the slices don't freeze together. If you'd prefer to split the bag, dispense half the loaf into a freezer bag then you take half a loaf out at a time.
Even if I managed to get to the end of a loaf, the crusts would always go in the bin.  Now I use the entire loaf.  I really don't like that ammonia smell that bread gets when it's over a week old and you know it's only got about another 24 hours before it gets thrown out. 

Break up the unused slices and blitz in a food processor.  Mix up with some garlic, paprika, salt, pepper, chicken stock cubes and any herb (fresh or dried) that you fancy.  Now you have tasty breadcrumbs for chicken, pork or anything else you want to crumb - cheese perhaps.  What's more, if you toast the breadcrumbs you get a crunchier bite.  And if you need another reason - you can freeze the breadcrumbs until you're ready to use them.
When life hands you lemons – clean your microwave!
If you're anything like me, you'll buy more of something because it makes more economic sense, but then you often end up with more than you need.  If this means you end up wasting it because it goes off, just find another use for it.
Either halve or quarter your lemon and place in a bowl with some water.  Place in the microwave for 30-60 seconds.  The steam will then soften whatever is cooked on the walls of your microwave.  Then take the lemon and wipe it over all the surfaces of the inside of the microwave, including the window.  The dirt will miraculously disappear.  Take a damp cloth and remove the lemon juice.
You can also use a lemon and lemon juice on this inside of your oven (try adding some white vinegar and baking powder for more stubborn stains).  Place a half a lemon in your dishwasher for sparkling clean glasses and a fresh smell.  You can also use a lemon inside your fridge for a fresh smell.
Clean your fridge as well!
For any leftover lemons, simply squeeze the juice out and keep in a jar for your best recipes.  Try freezing in ice cube trays for portioned juice in the future.  Once frozen you can transfer to freezer bags or freezable containers
You can add a small amount of lemon juice to your washing up water for a sparkling finish.
Remember to keep the pips for growing new plants.
Know your onions!
Did you know onions can be used for removing smells from a freshly painted room? Placing a few onions in a bowl of water can really help take the strong smells out of the atmosphere relatively quickly. You can also use them as a great way to remove smells, such as particularly pongy cheeses, from your fridge. Place half an onion, cut edge up, on the top shelf or door shelf in your fridge for a few days. It's important that onions used for these purposes are then not consumed as they will have absorbed certain toxins.
If you're certain you can't use the fruit or vegetables for anything else, place in your compost bin.
Weekly lunches are so easy
Did you realise how easy it is to prepare your lunches for work without either breaking the bank or taking up your valuable time cooking?
Despite the fears, rice can be safely and easily cooked and stored in readiness for heating later.  Make sure it is cooled properly before putting in the fridge.  If you want to store over a longer period of time place into small portion sized tubs, press down until the rice holds its shape and you can freeze in these portions, allowing you to take out of the freezer in individual portions when needed.  Make sure you defrost and reheat properly, make sure it is piping hot throughout and stir thoroughly before eating.
You can use your pre-portioned rice, or a portion of dried rice vermicelli noodles, thin egg noodles or pre-cooked pasta into a plastic takeaway dish with any of the following:
Thinly sliced chicken, beef, pork, lamb turkey, sausage, meatball, bacon, chorizo, mince, tofu or whatever protein you like.
Add to this any herbs, either fresh or dried, spices, chillies, a sauce (freshly made or bottled) or a stock cube.
You can prepare this the night before or in batches for the whole week, varying the ingredients so every meal is different.
Many people don't know how much you can freeze
The freezer can be the containment area for more than you realise and because of this the meals you can prepare in record time can be almost as diverse as any menu in your favourite restaurant. It's all about portion control and you need to know what your own habits are, how big your family is and how often you will need these foods. Here's what I freeze:
Onions - peeled and sliced. Place in an old ice cream container. You can take out as much as you need and you can use as sliced or dice further if needed
Cheese - grate first
Herbs - fresh leaf herbs such as parsley, mint, coriander, basil. Place the leaves in a freezer bag or container
Garlic - separate the cloves but leave the paper skins on so they will not freeze tgether
Ginger - peel and cut into smaller portions
Tomatoes - freeze whole tomatoes to use in sauces, soups, curries and bolognese later
Tomato sauces - passata and tomato purée. Freeze in portions
Bread - sliced bread - shake the loaf before freezing so the slices don't stick together. For whole loaves, slice first and place in a freezer bag
Bananas - slice banana before freezing (see recipe for ice cream below)
Apples - either cook as an apple sauce to accompany your roast pork or simply slice and freeze
Chillies - slice first
Sauces - any sauces can be frozen in batches - curry, bolognese, marinara, sweet and sour, white sauce, cheese sauce - preferably without meat.
It's important to store these foods loosely. Do not compact down otherwise they will freeze in a block and you will not be able to take small amounts out. Once frozen, shake the contents to make sure they are loose, then you simply take out as much as you need. You can also add to the contents at any stage with more stock.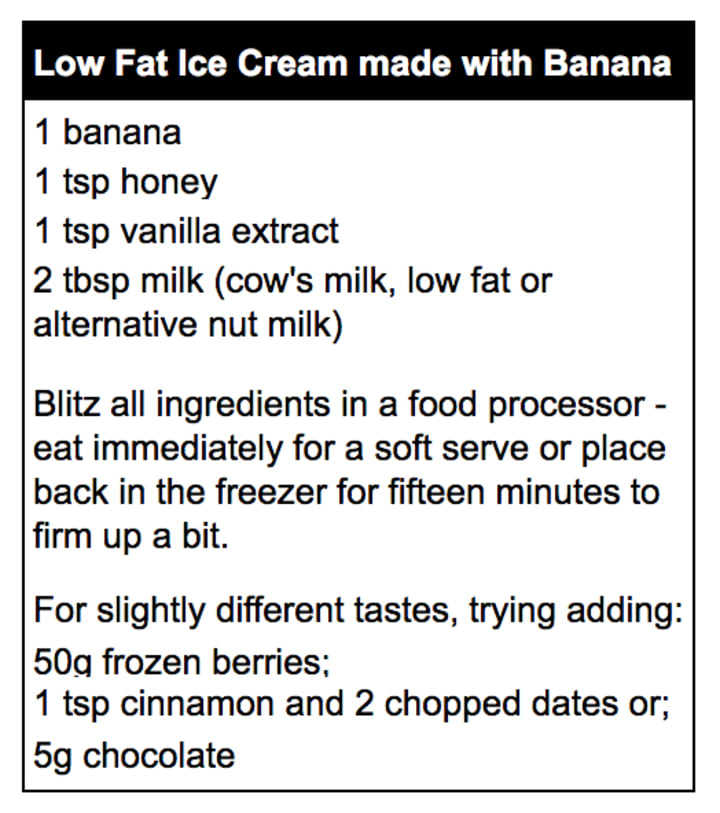 If I've given you some inspiration please feel free to share and perhaps leave a tip. This is my gift to you - the gift that keeps on giving!