Let's learn about apples
Apple facts, tips, tricks, and recipes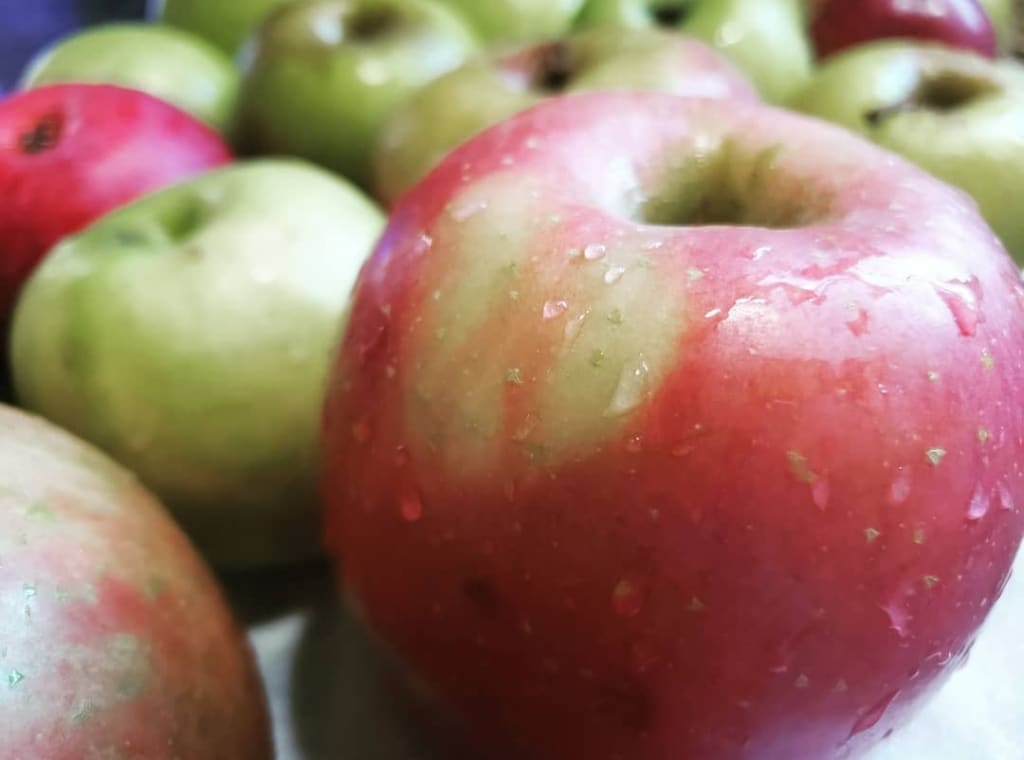 Let's learn about apples
As September approaches, we will start to hear and see more things pertaining to apples.
It is a good time to learn about this juicy, sweet fruit and be ready for when apple season is in full swing.
First, let's take a look at how to choose the perfect apple:
Check for a firm apple.
You can check to make sure that the apple is firm by holding it and pressing gently on the skin. If you feel soft spots, this will not be the ideal apple for eating. However, if you have a bunch of apples at your house that you are planning to bake with, you can still use the apples with soft spots in your baking. You can also use them to make juice, applesauce, or in a smoothie.
Learn about the different varieties of apples.
There are many varieties of apples, and certain ones are best for baking and others are best for eating. If you are looking for the ideal apple for baking, try Golden Delicious. If you are looking to eat your apples raw, try Honeycrisp apples. I love two varieties for both baking and eating, Pink Lady and Fuji. If you choose your apples accordingly, you will have the best experience.
Color matters.
When apples are covered with deep, vibrant hues, it is an indicator that they have absorbed the most sunlight, which will allow for a great-tasting apple. If an apple does not have a deep or vibrant color, it does not mean that it can not be used. These are perfect for cooking!
Does it smell good?
Apples should have a pleasing scent. Some have stronger fragrances than others, but every apple should smell fresh and pleasant.
Apple tips: Did you know?
You can use apples to keep your baked goods moist. Add an apple wedge or two into a sealed container with your cakes, sweetbreads, or chewy cookies, and they will keep them from going stale.
You can make pancakes out of apples. Core and peel an apple. Slice into rings about 1/4 of an inch thick. Dip them into a prepared pancake mix to coat. Cook as you would your pancakes and serve with syrup.
You can use the peels for air freshener. Add your apple peels into a crockpot along with ground cinnamon or cinnamon sticks and whole cloves. Set on low and allow it to fill the house with a delightful fragrance.
You can prevent your apples from browning. After slicing, soak them in salt water for about ten minutes. Try 1/2 teaspoon of salt per one cup of water. Store in the fridge until you are ready to use them. Rinse before using to remove salt water.
Use your fresh apple juice for the following fruity apple punch recipe. If you are not a fan of pineapple, you can omit the pineapple juice from the recipe and use two bottles of apple juice.
Not a fan of orange soda? Try using ginger ale or Sprite for the recipe. As always, I recommend you customize the recipe to accommodate your taste.
Fruity Apple Punch
1 bottle of apple juice
1 can pineapple juice, sweetened
1 liter of orange soda
1 box strawberry Jello
Prior to making the punch, place juices and sods in the refrigerator overnight.
Mix all ingredients and stir to combine.
Tips: You can purchase an extra bottle or can of juice and make ice cubes in ice cube trays with the extra liquid. Place juice cubes into punch after combining ingredients and before serving.
You can also add vanilla ice cream or sherbet to the punch just before serving.
About the Creator
I am an author, blogger, foodie / baker, copy editor, photographer, and social media manager. When I am not writing I enjoy running, watching the Food Network, sleeping, coffee, chocolate, and hugs.
You can find my books on Amazon!
Reader insights
Be the first to share your insights about this piece.
Add your insights