July 4th red, white, and blue shortbread recipe
holiday shortbread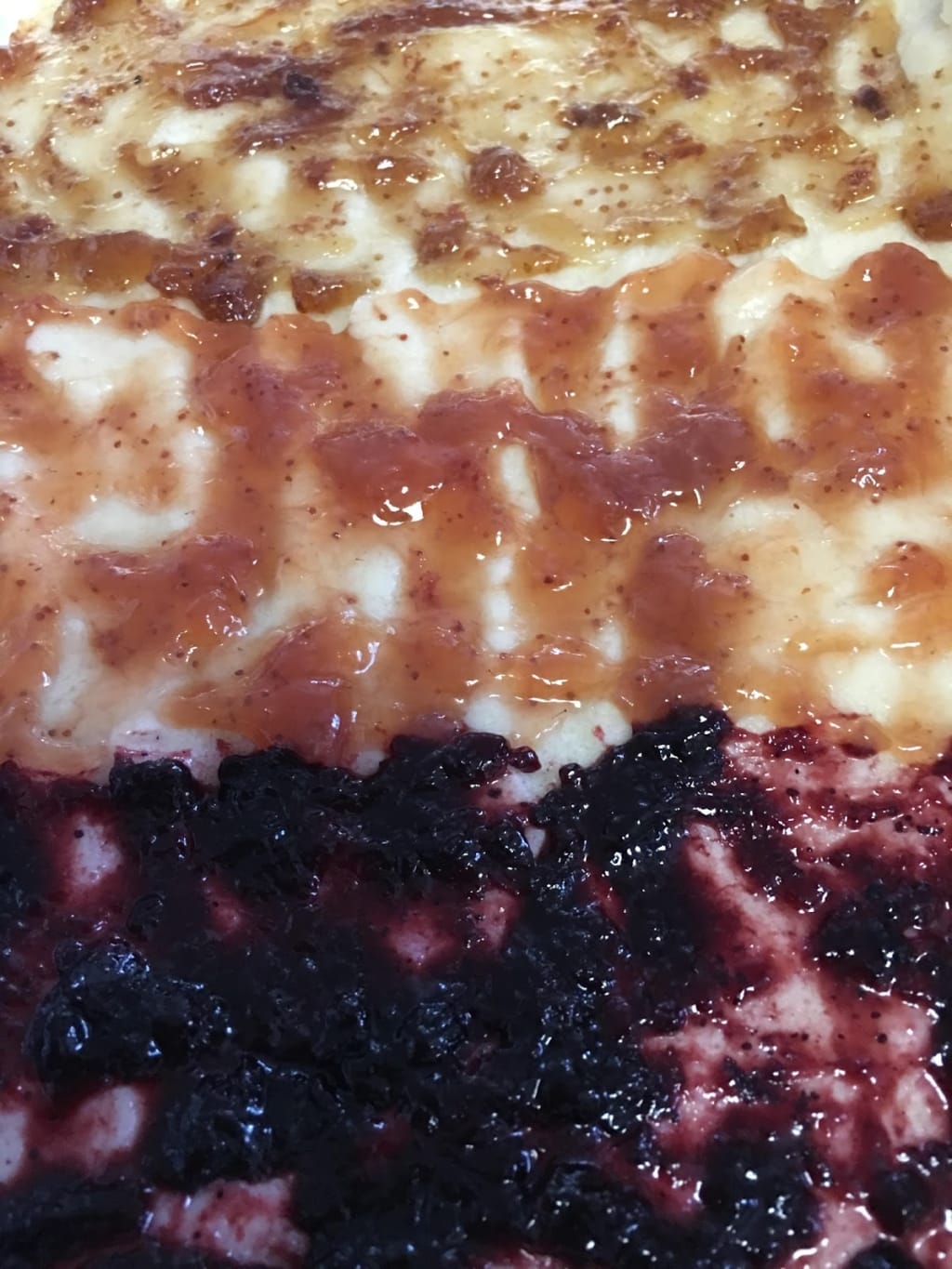 red, white, and blue shortbread
I have a yearly tradition of making red, white, and blue shortbread bars for July 4th. This year is no exception. The only thing that is different this year is that I am going to share my recipe with you!
I have a Cottage bakery, and my clients have always enjoyed my shortbread bars. I came up with this recipe one year after seeing picture after picture of the yellow cake with whipped topping covered with strawberries and blueberries to create the look of the American flag.
Don't get me wrong, I love the look of that cake, but I wanted to create something different for dessert using the red, white, and blue colors for the July 4th holiday.
Red, White, and Blue Shortbread Recipe
2 sticks butter, salted and softened
1/2 cup plus 2 Tbsp. sugar
2 cups flour
1/4 cup strawberry jam
1/4 cup blueberry jam
1/4 cup fig jam
1/4 cup blueberries, fresh or frozen (I use frozen)
Preheat oven to 350 degrees.
Line 9x13 baking dish with no-stick foil.
Cream the butter and sugar.
Add flour and mix well.
The mixture will be crumbly.
Reserve about 1/4 cup of mixture, set aside.
Press remaining dough into prepared dish.
The dough will only cover 3/4 of the dish.
Spread jam onto the dough in three equal sections. (see photo)
Sprinkle with blueberries over the blueberry jam.
Top with the remaining dough by dropping small pieces over fruit.
Bake for 30 minutes.
Allow cooling on stovetop.
Remove by lifting foil out of the baking dish.
Place in fridge to harden.
Cut into bars with a knife and store air-tight for up to 4 days.
Red, White, and Blue shortbread tips:
Typically, margarine and butter are not interchangeable. They are definitely not interchangeable in this recipe. Be sure to use butter!
You can use one variety of jam instead of three. I used three to create the look of red, white, and blue.
All oven temperatures will vary. Check for doneness after 30 minutes. If the shortbread is not fully baked through, put it back into the oven for 5-minute increments until it is.
The shortbread will bake a little bit more after it is removed from the oven.
Do not remove the shortbread from the baking dish until it is completely cool, or it will fall apart.
You can slice the bars into 1 by 1-inch bites or 1 by 2-inch bars.
Shortbread bars can be made the day before you need them and stored in an air-tight container. They can also be stored in the refrigerator.
Shortbread can be frozen. Place them flat into a plastic zip-top bag and place them into the freezer. Ensure the bag is sealed properly, and the bars are placed in a single layer inside the bag.
Lining the baking dish with no-stick foil serves two purposes. It will prevent the shortbread from sticking to the baking dish, and it allows you to easily remove the shortbread from the dish after it has cooled.
You can also use parchment paper or parchment paper sheets to line the baking dish.
You can always omit the jam and make plain shortbread. If you do, do not reserve any of the dough. Place it all into the bottom of the pan before baking.
If you like coffee, prepare the shortbread recipe and add a tablespoon or more of instant coffee granules. If you do, omit the jam and add all of the dough to the prepared baking dish, bake time will be the same.
I always encourage bakers to get creative with their baking and prepare recipes that they and their family and friends will enjoy.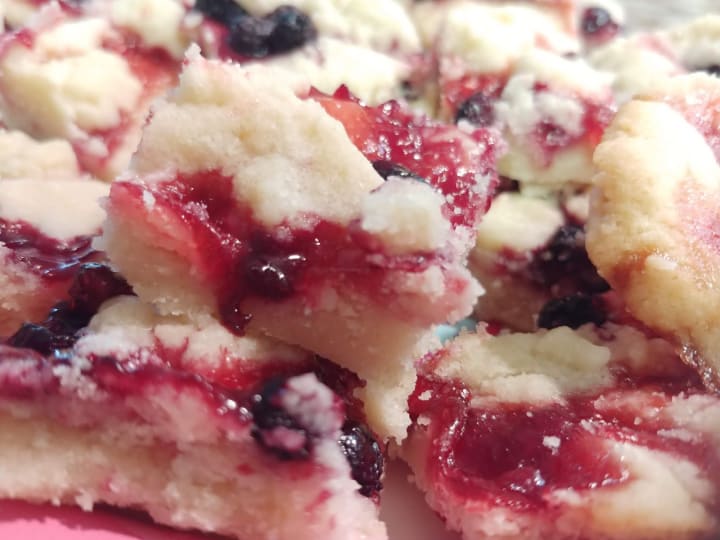 About the Creator
I am an author, blogger, foodie / baker, copy editor, photographer, and social media manager. When I am not writing I enjoy running, watching the Food Network, sleeping, coffee, chocolate, and hugs.
You can find my books on Amazon!
Reader insights
Be the first to share your insights about this piece.
Add your insights