Jamaican Curry Goat Recipe: The Best Jamaican Dish You'll Ever Taste
The Jamaican curry goat recipe is an authentic Jamaican dish that will make you feel like you are eating a bit of paradise. Get this authentic Jamaican recipe today and try it out.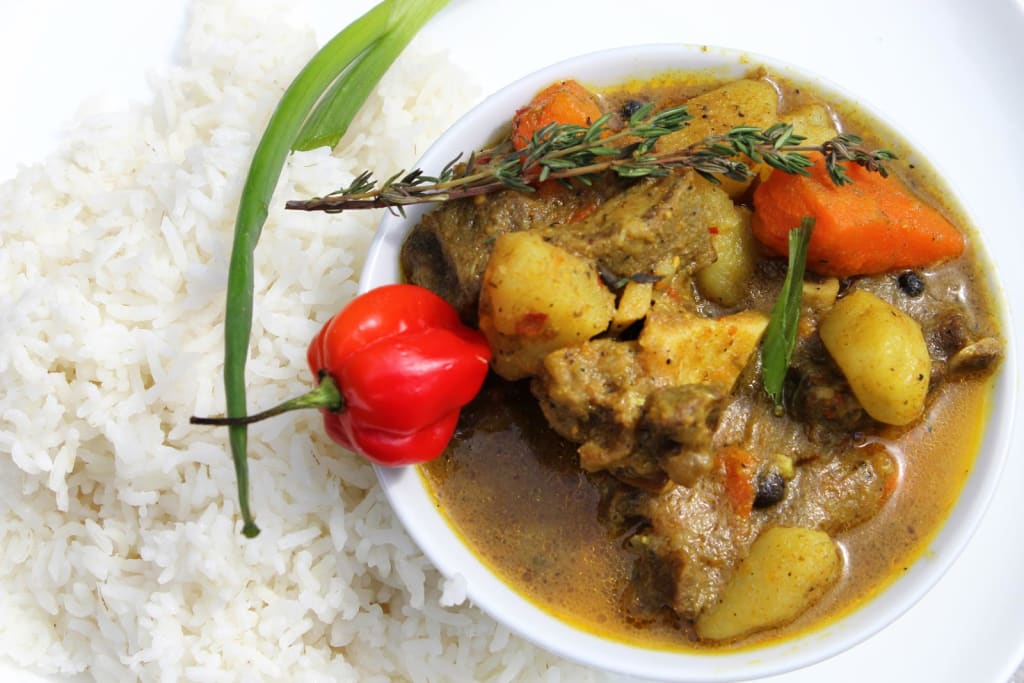 Everyone has their own special way of preparing traditional Jamaican food. Each household has its own secrets and personal touches when it comes to making a wholesome pot of curry goat. Curry goat is a popular dish in Jamaica, especially on Fridays or "cut up" days as locals call them. Although the origins of this dish can be traced back to South Asia, the preparation is distinctly Jamaican with a blend of spices that are indigenous to our island. You might be wondering what makes Jamaican curry goat so different from its Indian counterpart? In short, it's the use of local herbs such as allspice and sorrel along with other native spices like ginger, cinnamon, and cloves which gives the dish a Jamaican twist.
The traditional way of making curry goat
Curry goat is traditionally served with doubles, a popular Jamaican breakfast dish of fried bread in a pattie (fried flatbread) along with coconut water, ackee and saltfish. This is also a popular dish for a Sunday afternoon lunch with family, or as part of a home-cooked Caribbean dinner. Curry goat is traditionally marinated with a blend of spices and herbs before being slowly braised or stewed in a cast iron pot with a little bit of water. The longer you cook it, the more tender and flavourful the meat becomes. This is, of course, the traditional method of preparing curry goat, but this recipe will give you a more modern version of the dish with a few twists.
Preparing the goat
The most important step in making a great goat curry is to use a good quality goat meat, preferably from your local butcher. While a younger goat will yield a more tender meat, older goats are great for cooking curries as they have a stronger flavour. As with any meat, the quality of your goat will make a huge difference to your curry. You can use mutton (sheep meat) if you can't find good quality goat meat. For the best results, marinate the goat in a blend of herbs and spices for at least 4 hours before cooking. This will help tenderize the meat and infuse it with flavour. For the marinade, blend together: 1 tsp garlic powder 1 tsp pepper 1 tbsp salt 1 tbsp cayenne pepper 3 tbsp curry powder 1 tsp allspice 1 tbsp dried thyme 1 tsp ginger 1 tbsp cinnamon 1 tbsp cloves 1 tbsp ground nutmeg 1/2 tbsp ground coriander 1/2 tbsp ground cumin 1/2 tbsp soy sauce 1 tbsp oil
Final steps and enjoy!
Once the goat has been marinated, place it in a cast iron pot with the oil and the remaining marinade. Add water until the meat is barely covered. Bring to a boil, then reduce heat and simmer for about 3 hours until the meat is tender. Once done, season with salt and pepper to taste and serve with some rice and peas or rice and beans. For a traditional Jamaican twist, serve with some coleslaw and a side of fried dumplings or "bakes". For a more authentic Jamaican curry goat recipe, try adding some of our homegrown ingredients like sorrel and allspice. These spices give the dish a unique, local flavour that will have you coming back for more.
Jamaican curry goat recipe: A step by step guide
For the marinade: 1. In a blender or food processor, blend together all the ingredients for the curry marinade until smooth. 2. Place the goat in a large bowl and pour the marinade over it. Cover and refrigerate for at least 4 hours. For the curry goat: 3. Place the goat along with the marinade in a cast iron pot and add just enough water to cover the goat. 4. Bring to a boil, reduce heat, cover, and simmer until the meat is tender. 5. Season with salt and pepper to taste. 6. Serve with rice and peas or rice and beans for a truly authentic Jamaican dish.
Conclusion
Jamaican curry goat is a hearty and flavourful stew that's perfect for cold winter evenings. It's great as a main meal or served as an appetizer with some roti or fried dumplings. While it's not the healthiest meal, it's one of those rare treats you can't eat often, but once in a while, it's worth indulging in. Making curry goat at home is a great way to celebrate our culture and heritage. It's also a wonderful way to spend quality time with family and friends. Whether you're making it for a special occasion or just for dinner, it's best to prepare in advance to give the flavours time to meld together and intensify.
recipe
About the author
Hey, I am a great writer. I know how to write in different genres, from fiction to non-fiction. I am a quick learner and can easily pick up new skills and techniques. Writing is my life and I can't imagine doing anything else.
Reader insights
Be the first to share your insights about this piece.
Add your insights