Is anyone else in love with vintage recipes?
4 vintage recipes you will love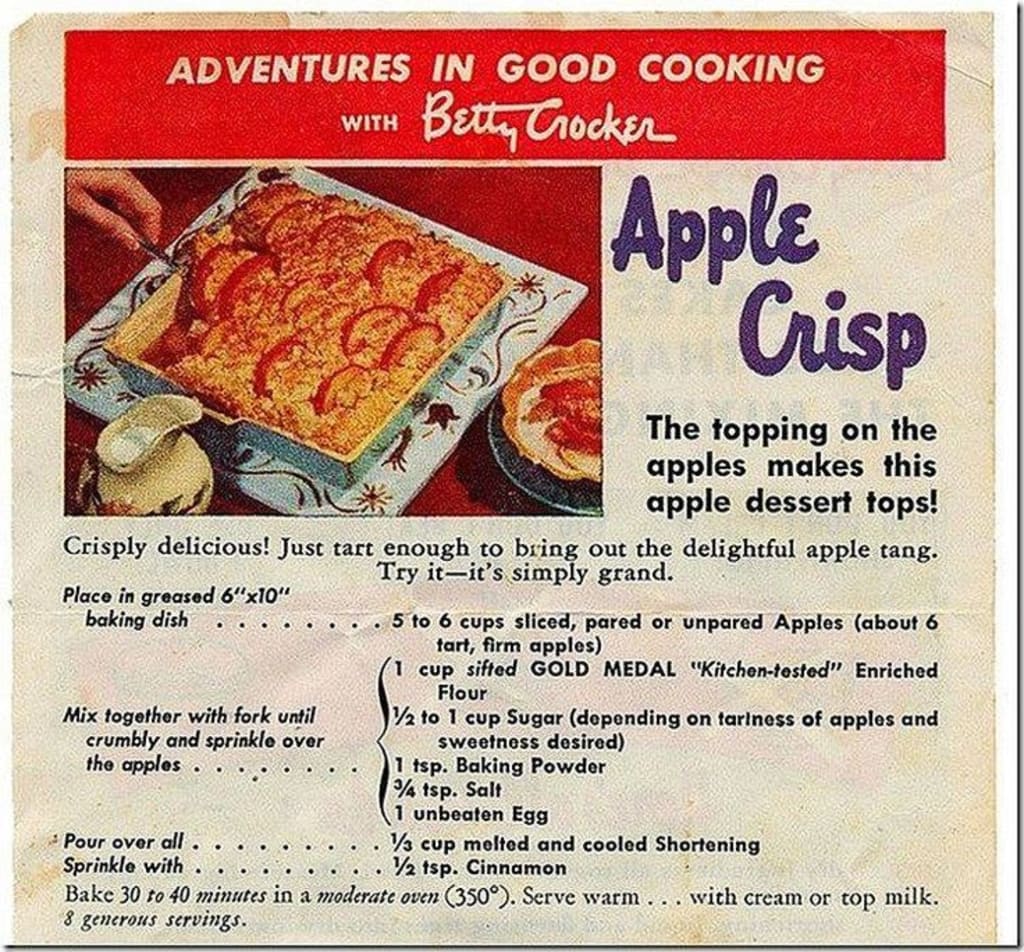 vintage recipe clipping
Is anyone else fascinated with vintage recipes?
The following recipes came out of an old Duke Energy cookbook which was compiled from recipes right here in North Carolina! I got the cookbook for free in a big box that was placed outside of a local book shop.
I don't know about you, but it's like a major score any time I get anything for free! When I can get my hands on free cookbooks, it's a double major score.
The cookbook I scored is so old, and it doesn't have the year of publication listed on or inside of the book.
The number one reason I am in love with vintage recipes is because most of them are simple, simple, simple. They do not require hard-to-get ingredients or ingredients no one has ever heard of. I hope you enjoy the following four vintage recipes.
Fancy fruit dip
1 cup sour cream
3-4 tbsp fruit preserves, the flavor of your choice
½ cup shredded coconut
Mix all ingredients together.
Refrigerate until ready to serve.
Serve with melon, strawberries, pineapple chunks, apples, and any other fruit of your choice.
This "fancy dip" can also serve as a cookie dip.
Try serving with large marshmallows, graham crackers, and/or vanilla wafers in addition to or in place of your fruit.
Tip:
I used sweetened shredded coconut in this recipe.
You can also use any variety of crunchy cookies for dipping.
Fruity punch
1 bottle of apple juice
1 can pineapple juice, sweetened
1 liter of orange soda
1 box strawberry Jello
Prior to making the punch, place juices and sods in the refrigerator overnight.
Mix all ingredients and stir to combine.
Tips:
You can purchase an extra bottle or can of juice and make ice cubes in ice cube trays with the extra juice. Place juice cubes into punch after combining ingredients and prior to serving.
You can also add vanilla ice cream or sherbet to the punch just before serving.
Easy raisin bread
2 cups flour
4 tsp baking powder
½ tsp salt
1 -2 tsp cinnamon
1 cup raisins
1/3 cup butter
½ cup sugar
2 eggs
¾ cup milk
cooking spray and cinnamon sugar
Preheat the oven to 350 degrees.
Spray a loaf pan with cooking spray and thinly coat with cinnamon sugar.
In a large bowl, mix together: flour, baking powder, salt, and cinnamon.
Set aside.
In a mixer, cream butter and sugar.
Add eggs and beat well.
Take turns mixing flour mixture and milk into creamed mixture in the mixer.
Add raisins.
Pour into prepared loaf pan.
Sprinkle cinnamon sugar over the top of the loaf/loaves.
Bake for 40 minutes and test for doneness by inserting a butter knife into the center of the loaf. If it comes out clean, it is ready to take out. If it comes out with unbaked batter on it, bake in increments of 5 minutes until inserted knife comes out clean.
Tip:
You can also use two loaf pans for smaller loaves of bread.
Orange muffins
2 tbsp butter
½ cup sugar
1 egg
2 tbsp grated orange rind
¼ cup orange juice
¼ cup milk
1 cup flour
1 ½ tsp baking powder
¼ tsp salt
Preheat oven to 400 degrees.
Spray muffin pan with cooking spray.
Cream the butter and sugar.
Add eggs.
Stir in rind, juice, and milk.
Add flour, baking powder, and salt.
Fill each muffin tin 2/3 full.
Bake for 20 minutes.
Not only will the ingredients be easy for you to find, but the directions for preparation are also simple and to the point. There's nothing like a good vintage recipe!
About the Creator
I am an author, blogger, foodie / baker, copy editor, photographer, and social media manager. When I am not writing I enjoy running, watching the Food Network, sleeping, coffee, chocolate, and hugs.
You can find my books on Amazon!
Reader insights
Be the first to share your insights about this piece.
Add your insights