Iced Coffee With a Twist
From a caffeine addict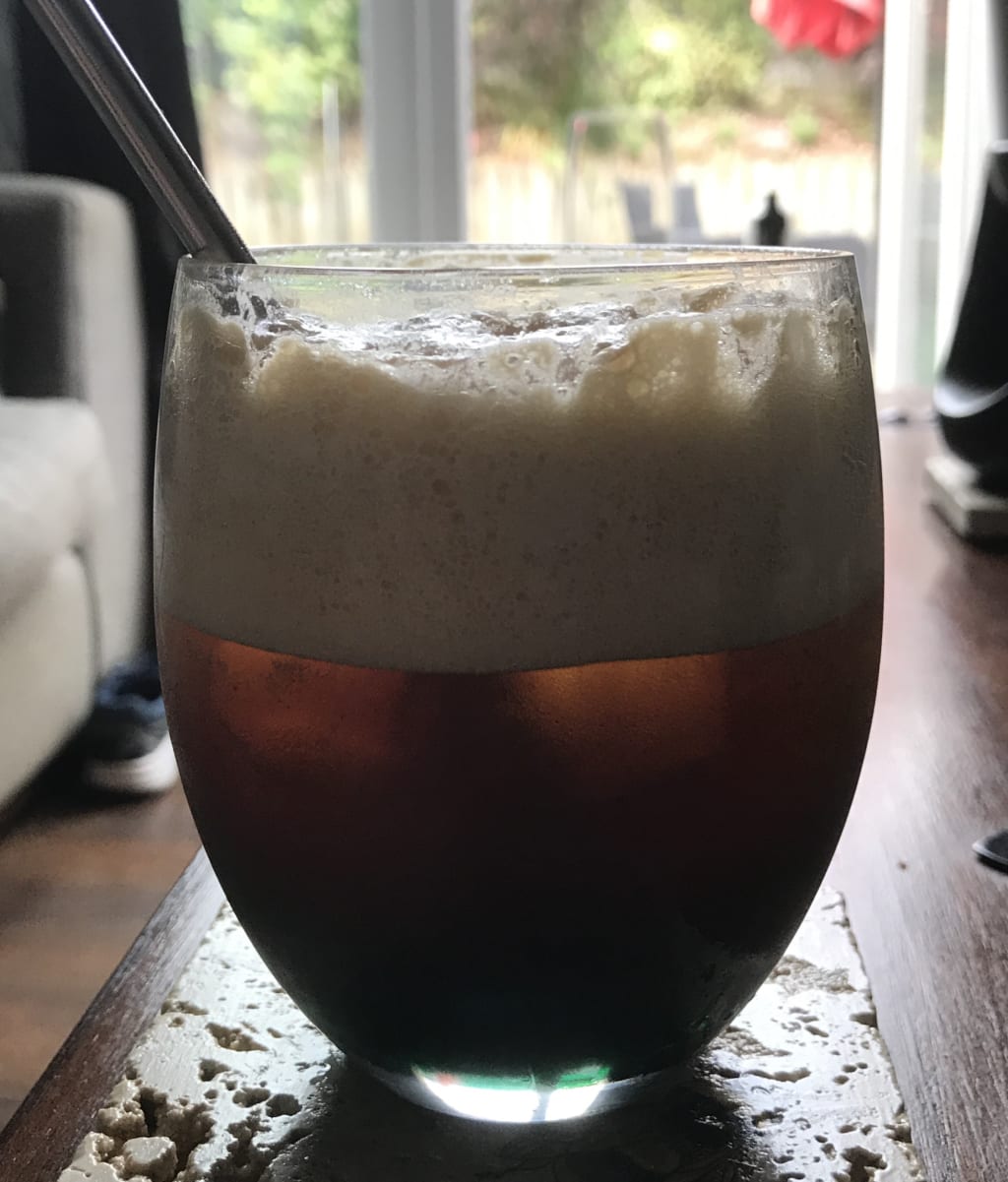 Saw this drink advertised in Starbucks… Iced espresso and tonic.
Did it my way…
Double espresso poured over ice, and topped up with sugar free tonic water.
Tastes kinda citrusy with a coffee kick. I found it really refreshing, but my partner didn't like it.
So I guess it's a "Marmite" drink… you'll either love it or hate it
Flourless almond butter cookies that are perfectly crunchy on the outside with a chewy middle, and give you that extra caffeine boost with your mid morning coffee.
Great for people with an egg allergy too.
Sorry about the sugar pot in the background, but it does contain erythritol
KETO ESPRESSO COOKIES
Makes 12
185g/3/4 cup creamy almond butter
68g/1/3cup erythritol
3-5 drops liquid Stevia
1 Tbsp finely ground ground espresso
1 tsp baking soda
1/2 tsp vanilla extract
1 tbsp ground flax or chia seeds with 3 Tablespoons water
Preheat oven to 175c/350f
Line your cookie sheet with parchment paper or a silpat baking mat.
Make flaxseed egg by combining ground flax with 3 Tablespoons of water in a small bowl.
While the flaxseed egg gels up, use a large bowl to mix together the almond butter, sugar.
Add flax egg, espresso, baking soda and vanilla and mix until combined.
Use a cookie scoop or spoon to place about 1 Tablespoon of cookie dough on baking sheet, about 2 inches apart. Cookies will spread!
Bake for 10-12 minutes.
Allow to cool on pan for 3-5 minutes on the cookie sheet before gently transferring cookies from sheet to a cooling rack with a spatula.
They will harden up while cooling. Once completely cool you can transfer them to a storage container.
NUTRITION: per cookie
Total carbs. 3.25g
Total fibre. 2g
Calories. 8
Net carbs. 1.25g
I'm thinking this will be part of breakfast tomorrow morning. Yes, I know it's Autumn, but I love iced coffee any time of year. It's just a much more pleasant version of my usual coffee, "Teacher's Coffee," which can also be called "Mum's Coffee," or just plain cold coffee.
KETO ICED COFFEE
180-250 ml/3/4-1 cup chilled coffee
60-70ml/1/4 cup double cream
8-10 ice cubes crushed or 1 cup crushed ice
Sweetener of your choice to taste (optional)
Put all ingredients in blender or Nutri-Bullet, and blend until you get your preferred texture. I like mine smooth, thick, and creamy. My partner likes theirs icy, so I blend mine longer. Neither of us sweeten our coffee, but some of you do so I've put it in as an option.
Total carbs 2g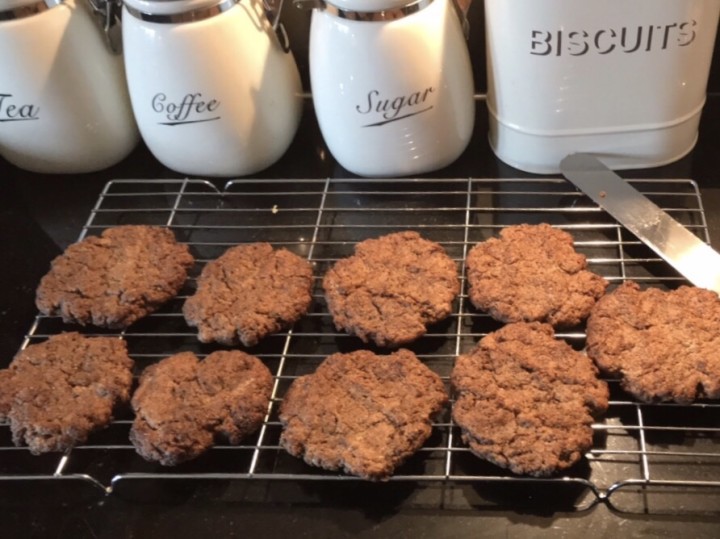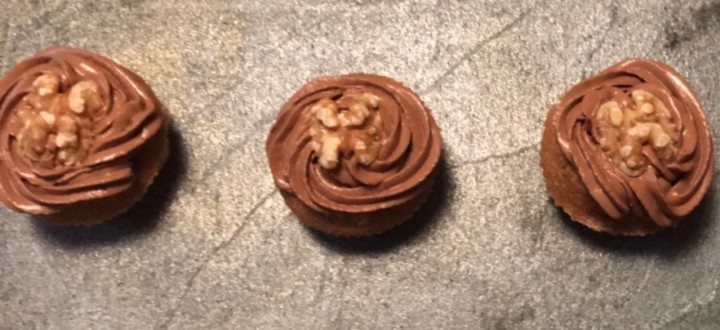 I love Coffee and my partner and I both love Coffee and Walnut cake. These satisfy both loves. I haven't worked out the carbs on this yet and they are for a treat so please don't blast me for them.
Paleo Coffee and Walnut Muffins With Mocha Cream Cheese Frosting
Makes eight or one small cake
Muffins
1 cup (100g) almond meal
1/4 cup (100g) powdered egg white
1 tsp baking powder
1 ¼ tsp instant espresso powder
1/4 cup (60g) plain Greek yogurt
1/4 cup (60ml) milk of your choice
1 egg
2 tsp vanilla extract
1 shot espresso coffee, brewed
2-2 tbsp maple syrup
¼-1/3 cup (50-70g) chopped walnuts
Mocha Frosting:
½ cup (100g) cream cheese
liquid stevia to taste
1 ½ tsp instant espresso powder
(20g) dark chocolate melted
8 walnuts for decoration
Preheat your oven to 180 C/355 F
Grease and/or line your muffin tins and set aside.
Combine all of your ingredients in a medium mixing bowl, mixing until all ingredients are incorporated and your mixture is smooth.
Spoon your muffin mix into your muffin tins, filling each well 3/4 full.
Bake for 10-20 minutes and leave to cool completely before carefully removing your muffins from the tin.
These muffins will keep for 3-4 days in the fridge, however, we prefer them kept in the fridge! You can also freeze them, without frosting in airtight zip-lock bags where they'll keep for months.
FROSTING:
Combine all ingredients, except chocolate, until fully combined
Taste and adjust the sweetener to your taste
Mix in melted chocolate making sure it is fully combined and smoothe
Pipe onto cooled muffins
Top each muffin with a walnut