I went to all the restaurants in the 'Street Food' Osaka episode
They were just as good as you think they are.
It's not often you get the chance to actually eat at the places you see on shows like Chef's Table and Street Food. Whether that's because of distance or cost these places often feel unattainable. I recently came back from a two week vacation in Japan. I spent a good amount of my time in Osaka and since - in essence - street food is meant to be inexpensive, I went off on a journey to eat all the food I saw in Street Food: Osaka.
When I typically think of street food I think of little kiosks serving food that I can easily walk around with as I eat. This is not how Japan does street food. Japan is an incredibly clean country and I believe a part of that is because of how frowned upon to eat on the go. People don't even drink coffee on their commute to work. I think the only thing that was okay to consume while on the street was water.
That said these spots are the Japanese version of street food, despite the attached restaurants at their locations.
Fue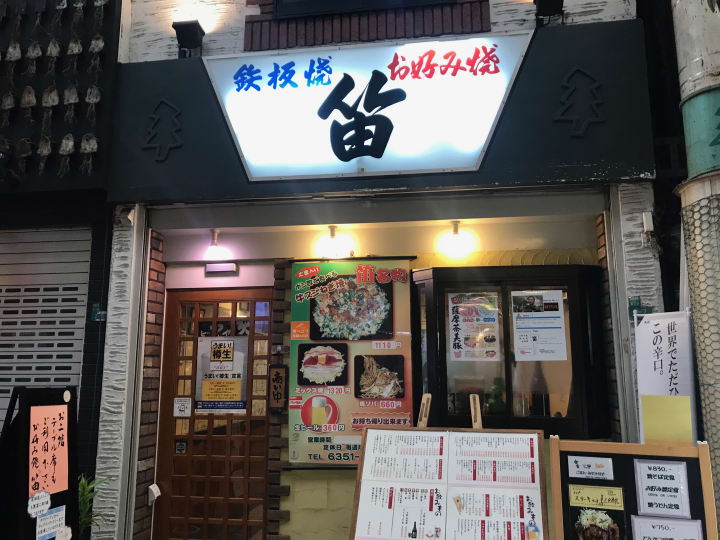 I had just arrived in Osaka and once I figured out what I was doing I left my bags at my hostel and ran out to my first stop: Fue. A small okonomiyaki restaurant that was a 15-20 minute walk away from Osaka Castle. Okonomiyaki is a savory pancake (although I would describe it as more of a crepe) topped with many different delicious things. I'd had okonomiyaki a couple of times before arriving so my expectations were high and Fue did not disappoint.
There were only a few tables with people eating in the restaurant while I was there. There were some foreigners and locals enjoying their food. I always expected places that were on shows like this to become overrun by tourists, but Fue seems to mostly be unaffected, which is nice to see.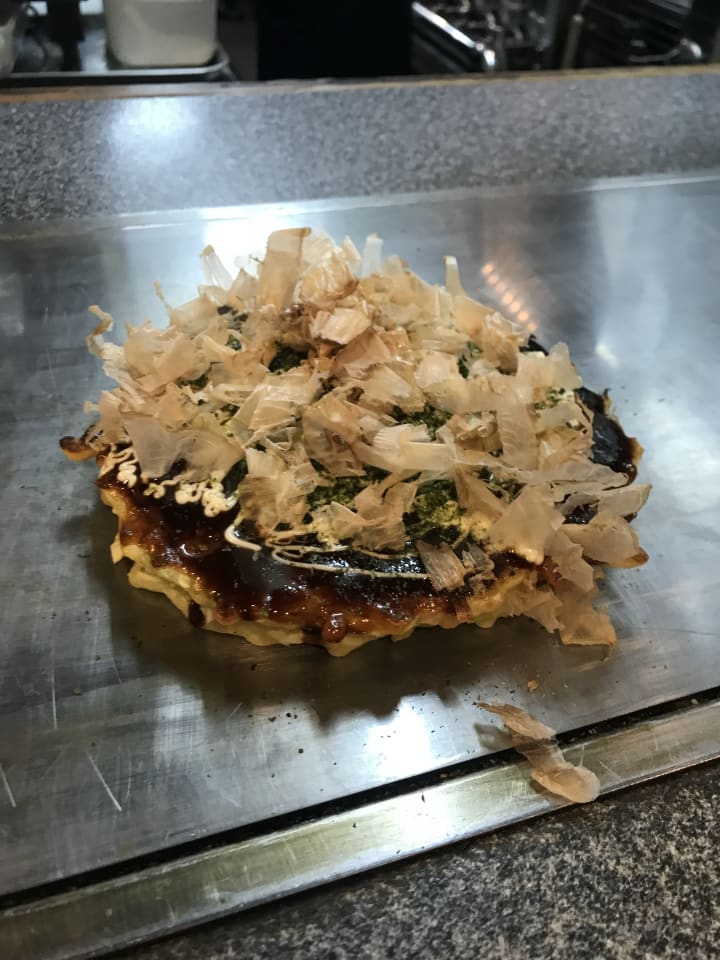 The food itself was incredible. I got a simple squid pancake and the flavor was light and they did not skimp on the squid. I feel like a lot of the time places will put too much sauce and mayonnaise on their okonomiyaki and that usually overpowers whatever your eating. I'm not really a fan of mayo and if theres too much of it on my food I feel like gagging. However, what was great about Fue was how little sauce and mayo they used to decorate the top of the pancake.
It was a little inconvenient to get there but it was a delicious trip. I can see how it became so popular with locals and tourists alike.
Izakaya Toyo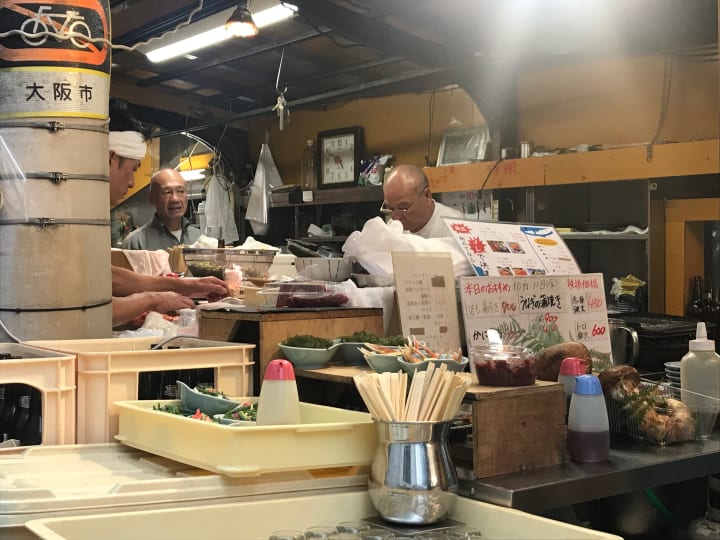 Second on my list was Izakaya Toyo! The fun energetic old man who runs an izakaya by his own name. Toyo's was definitely most effected by the show. Almost everyone there was foreign and the wait was real. Toyo met my expectations for a restaurant featured on TV. There were tons of people and it was a lively place. I imagine the locals who used to go there are probably pretty annoyed their usual go-to is now a bit overcrowded.
Toyo himself was there and he has a fun attitude. It's clear this is a labor of love, when he was cooking he was in the zone, focused, and making sure everything was perfect. He demanded pictures from all the big groups of foreigners and looked like he was joking around and just having fun.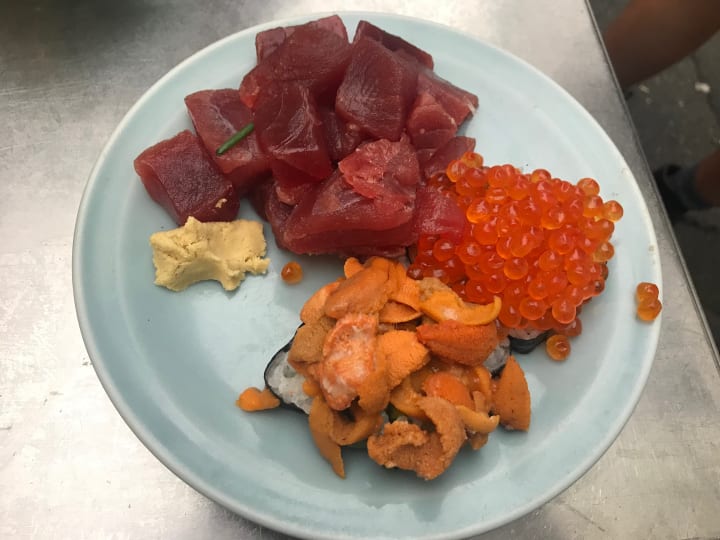 The food was also really good. I got a small sampler that included a scallop, crab, and green onion salad and a small plate of lean tuna, uni, and salmon roe. It was basically a sushi and sashimi plate, but the fish was prepared so well and presented incredibly. I loved eating here from the atmosphere to the food.
It was a bit pricy so be prepared, but it was incredibly worth it.
Umai-Ya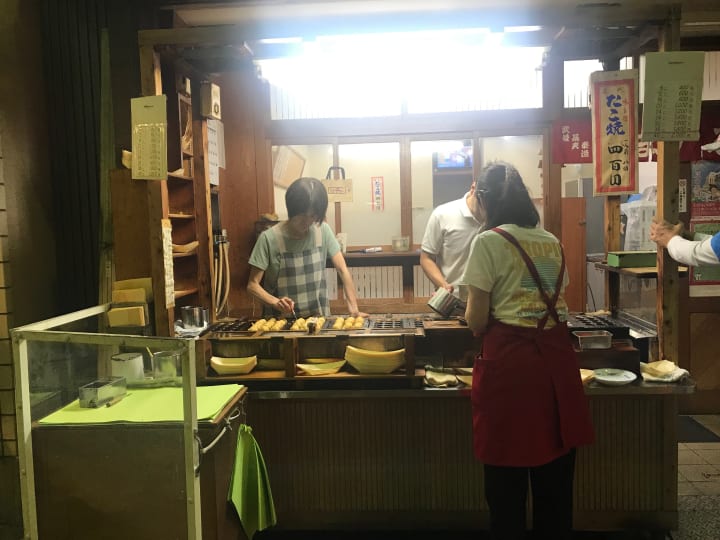 Finally, I got some takoyaki. Now, if I'm being honest, I like takoyaki, but I don't love it. Most of the takoyaki I've eaten can end up tasting like raw batter, or I barely taste the octopus, or they're just smothered in sauce and toppings that you can barely taste what you're eating - which probably helps the cheaper places that skimp on the octopus.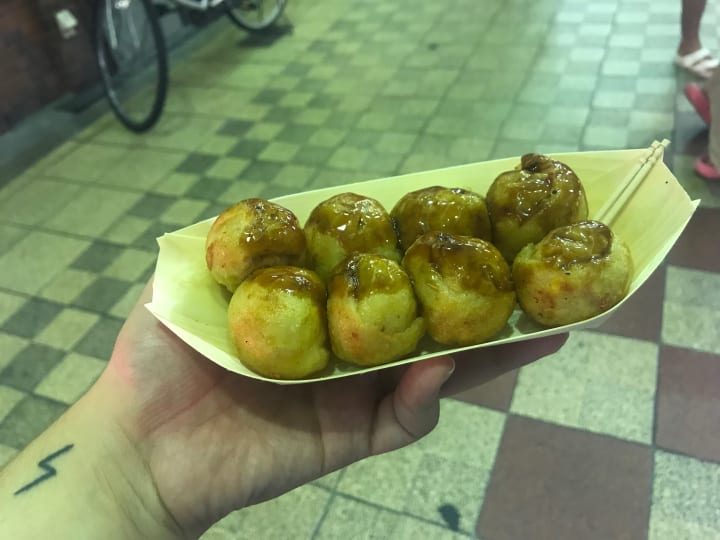 This was the best takoyaki I have ever had. It was so good and easy to eat. I got the smallest plate possible, which was eight, and the taste was very simple and you can taste the squid in each bite. It took a solid 10 minutes to cook but I enjoyed watching the production. Two people would stand over the hot plates, pouring batter, adding octopus, and flipping to make the spherical goodness.
If you ever find yourself in Osaka I would highly recommend going to all of these places. They meet expectations and the simple and fresh taste of everything will win your stomach over.