I Tried HelloFresh for the First Time
An honest review of a grocery delivery service from the package to the plate.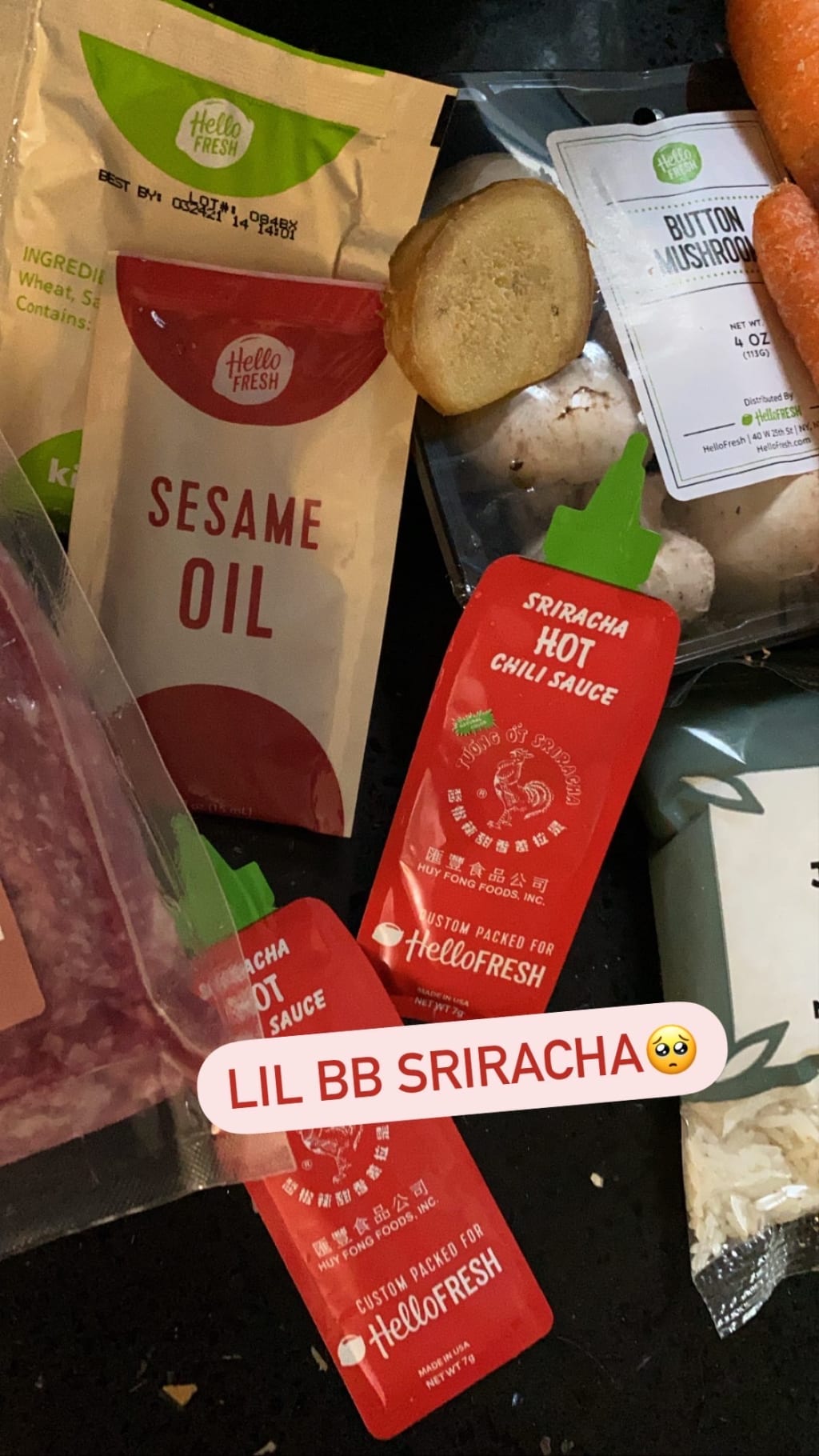 This year, I have cooked more than I have in my whole 24 years of life. While trying to stay safe indoors and not eat out as much, I realized that I'm kind of getting tired of my usual bi-weekly meals. Not wanting to cook all the time and lacking cuisine creativity to come up with new meals, I resorted to ordering takeout.
As my roommate and I were debating whether we wanted to order food or just throw something together, her friend messaged her about a coupon code for a HelloFresh trial. Neither of us has tried a grocery delivery service before, so we were interested.
With the coupon code, we would receive three meals for two people for only $20. Because this was just a trial, the company picked our first three meals for us:
Crispy parmesan chicken with garlic scallion couscous and lemony roasted carrots.
Pork mushroom and carrot bibimbap over jasmine rice.
Beef and cheese tostadas with long green peppers, tomato salsa, and hot sauce crema.
We ordered our HelloFresh grocery pile and received it just in time for Sunday dinner.
First Thoughts on HelloFresh
The Package
I loved the packaging and presentation of our meals. Each meal came in individual baggies that held the produce, sauces, garnishes, and other ingredients needed for the meal.
If you are a visual learner like me, it's nice to have the ingredients separated in an organized manner. Ice blocks were in the middle of the package, covering the frozen meat at the bottom and keeping the bagged food on top chilled.
Cooking Instructions
The instructions were nicely demonstrated on one piece of paper, listing any necessary tools such as utensils, pots, and pans.
I am no Gordon Ramsey; however, I have been cooking since a young age and have acquired knowledge and somewhat of a skillset. I was curious to know the difficulty level of each meal. No meal was over an hour to make; they usually only took 40 minutes to prep and cook.
One thing that threw me off is HelloFresh assumes an average household has cooking essentials such as oils and sugar. This wasn't a big deal for us because we had them; however, this could be a problem for people who don't have sugar, olive oil, vegetable oil, salt, pepper, etc.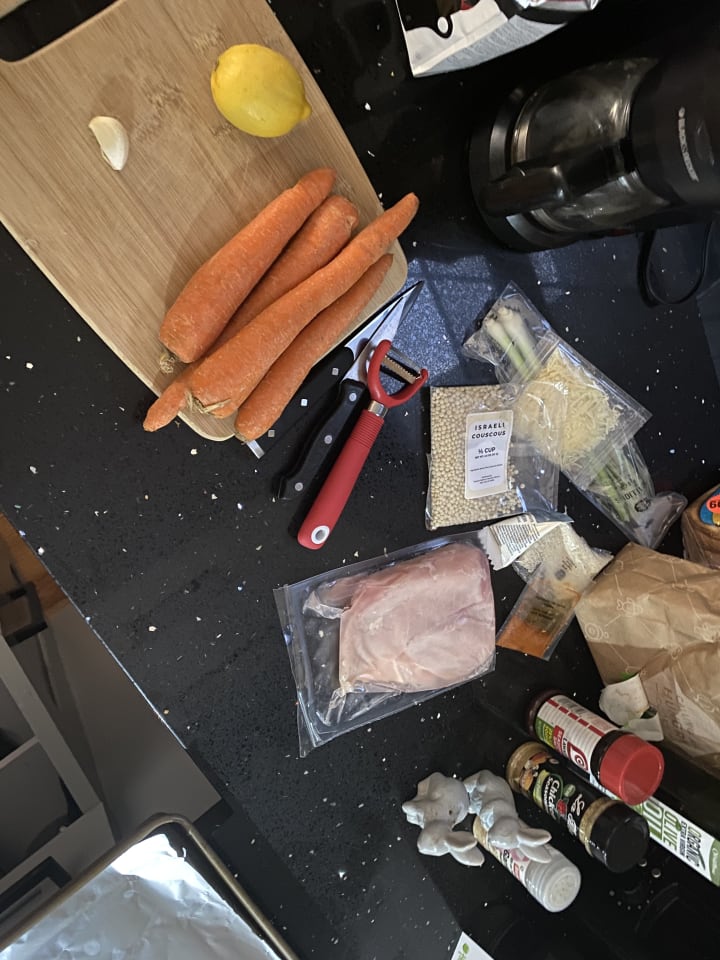 Portion Sizes
Although the recipe called for it, I was nervous there wouldn't be enough food for two people. The portion sizes for the HelloFresh meals were perfect for two people, like to a T! I was very curious to see how they were going to handle that but was pleased. We even had food leftover from our second and third meal.
Quality of Produce
One of my main concerns was the quality of the groceries. Were we supposed to just hope that our vegetables and fruits would arrive in good shape? Surprisingly, I didn't have to be concerned about the quality of produce, because everything was in great condition. No moldy, bruised, or bashed foods! Each meal was flavorful. We even added some extra seasonings just because.
Rating the Meals
I rated each meal for the ease of following the recipe, the ease of cooking, and how everything tasted.
Crispy Parmesan Chicken with Garlic Scallion Couscous and Lemony Roasted Carrots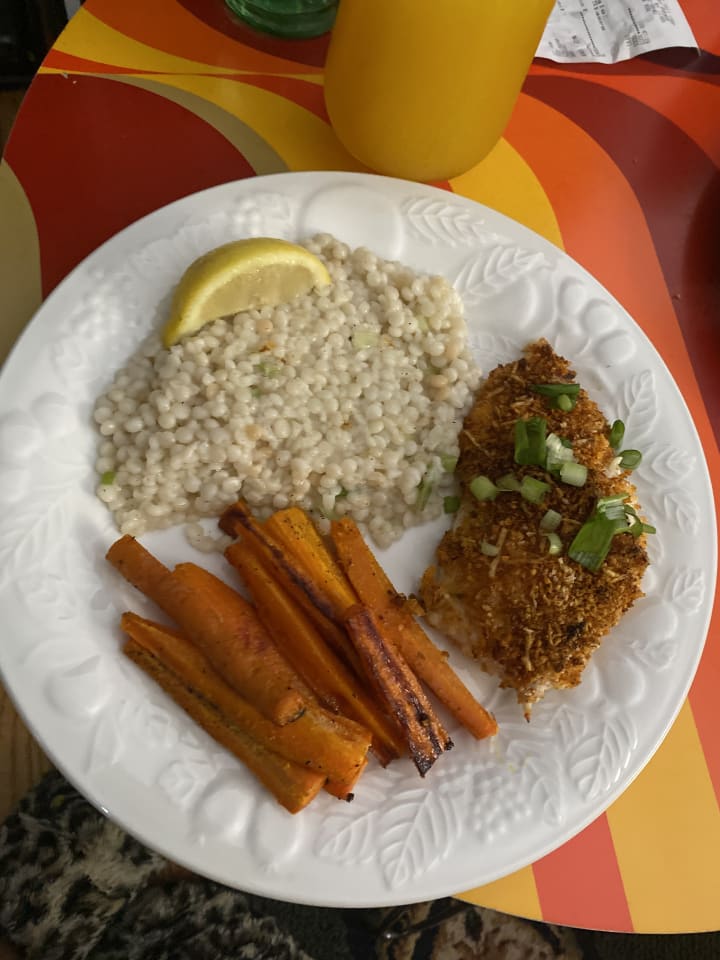 This recipe was easy to follow. The instruction sheet told us what to start first, what to start towards the end, and how to chop the vegetables.
There was only one ingredient that we skipped out on and it was the lemon zest. We don't have a zester and didn't feel like zesting a lemon.
After vegetables were chopped, couscous was on the stove, the chicken was placed in the oven with the carrots.
The chicken was spicier than I expected. We were unable to find the source of spice that caused the spiciness. It wasn't the paprika by itself. The carrots and the couscous tasted exactly how they sounded. I was happily surprised by how much sweetness the lemon juice brought out of the carrots.
Overall rating: 8.5/10 - This was a delicious first meal from HelloFresh. The only thing I didn't *love* was the chicken. I think the spiciness threw off my taste buds. The couscous could be improved with more seasoning.
Pork, Mushroom, and Carrot Bibimbap over Jasmine Rice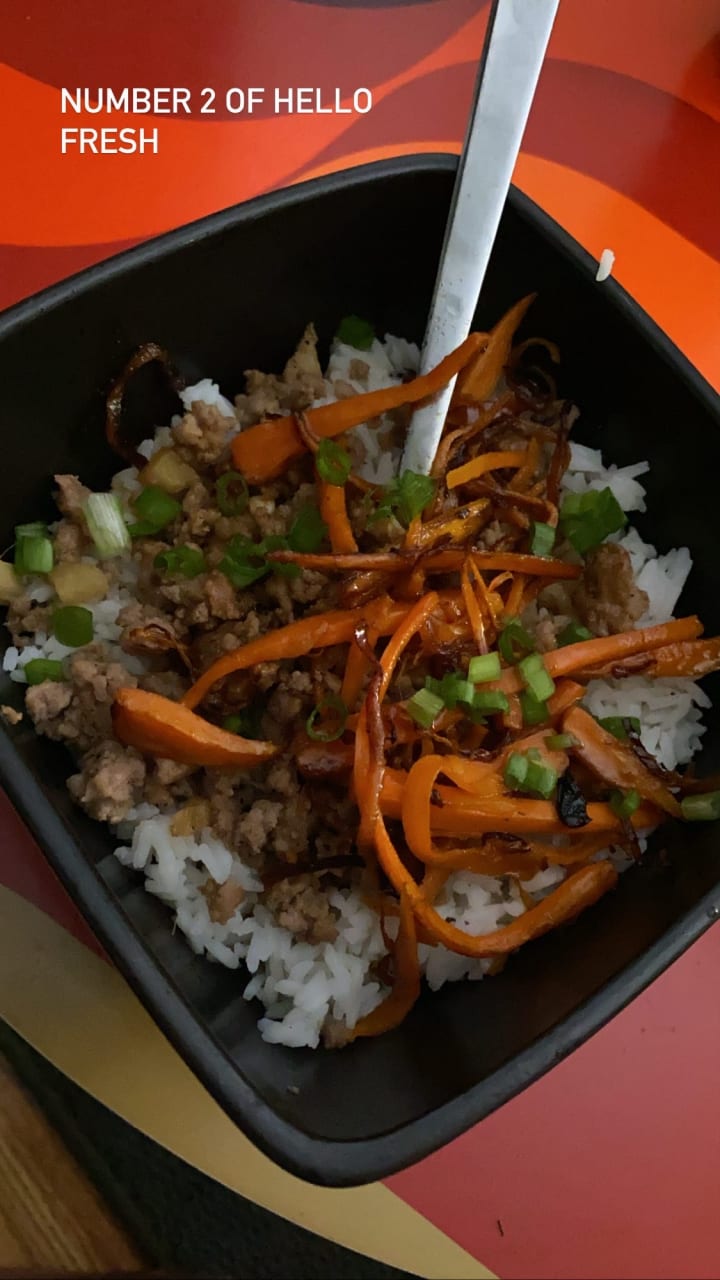 First off, I just want to say that I don't like mushrooms but we included them in this recipe for my roommate. I was completely fine with picking the mushrooms off. Anyway, lots of veggies to cut up which took longer than I originally thought. This recipe had us mix the sauce and pickle the white scallions (which I found out later I also do not like).
The only issue with this recipe I had was the order of cooking. I felt like the pork should have been cooked before the mushrooms and carrots, since the vegetables did not take long at all.
Overall, the meal was alright. It tasted fine without the mushrooms and pickled scallions. The sauce was GREAT and complimented the pork, carrots, and rice.
Overall rating: 6.5/10 - This recipe made me make some things I did not like, but without including those ingredients on my plate, the meal tasted fine. The pork, carrots, and rice were brought together well by the soy sauce combination. I thought that there could have been more thorough instructions, as I felt the steps were out of order, causing some things to be done before others. This meal was the hardest one to make and took up to an hour.
Beef and Cheese Tostadas with Long Green Peppers, Tomato Salsa, and Hot Sauce Crema.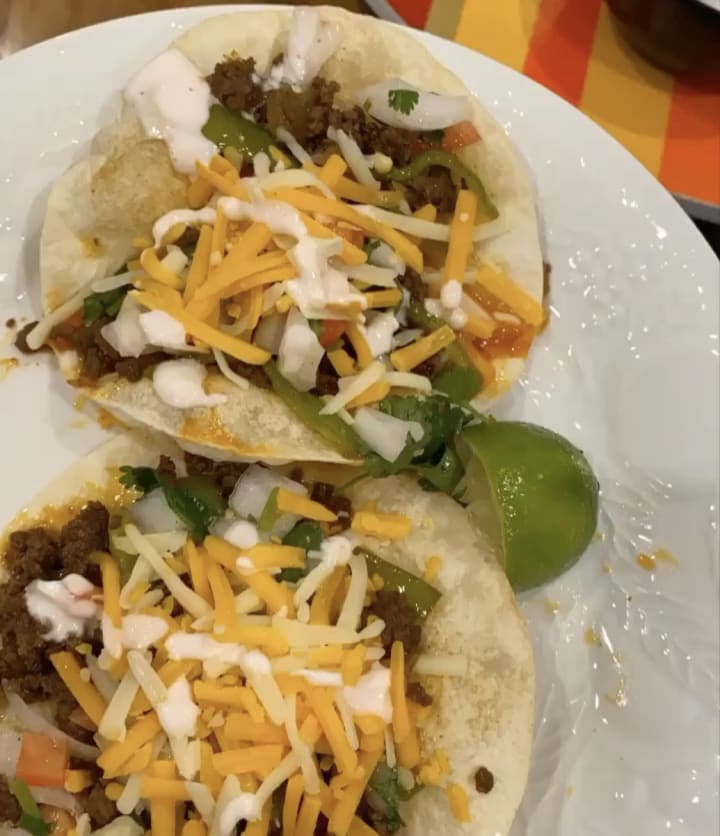 This meal is my favorite out of the three meals! We made it on Taco Tuesday which made me happy. Not only was this the most delicious meal, but we each also had one tostada leftover.
It didn't take long to make and everything was fairly easy to cook. The preparation took longer than cooking. After we finished chopping the vegetables, we placed them in the meat that was browning, made salsa, and a creamy hot sauce. We placed the tortillas in the oven to harden with olive oil while we waited for the meat and vegetables to finish.
Every bite was immaculate. I wish I could replay the first bite.
Overall Rating: 10/10 - I have no complaints about this meal! It wasn't a hassle to cook, the directions made sense, and we had leftovers that tasted just as good as they did the day before. If I were to make tostadas myself, I don't think mine would turn out like that. The HelloFresh recipe was perfect and did not need to be altered in any way.
Overall Thoughts
HelloFresh surprised me. I'm not going to lie, I was not expecting a grocery delivery service to arrive with all fresh ingredients, easy instructions, and a delicious meal in under an hour. $20 dollars for three decent meals and two that lasted for another meal is a pretty good deal to me!
What are your thoughts on HelloFresh? Have you tried any other grocery delivery services? Let me know!
cuisine
About the author
I'm a 20-something writer and digital artist. Follow my art account @bratty.beach on Instagram for more creative content.
Reader insights
Be the first to share your insights about this piece.
Add your insights