How to order the best steak in a restaurant
A guide to a fulfilling steak dinner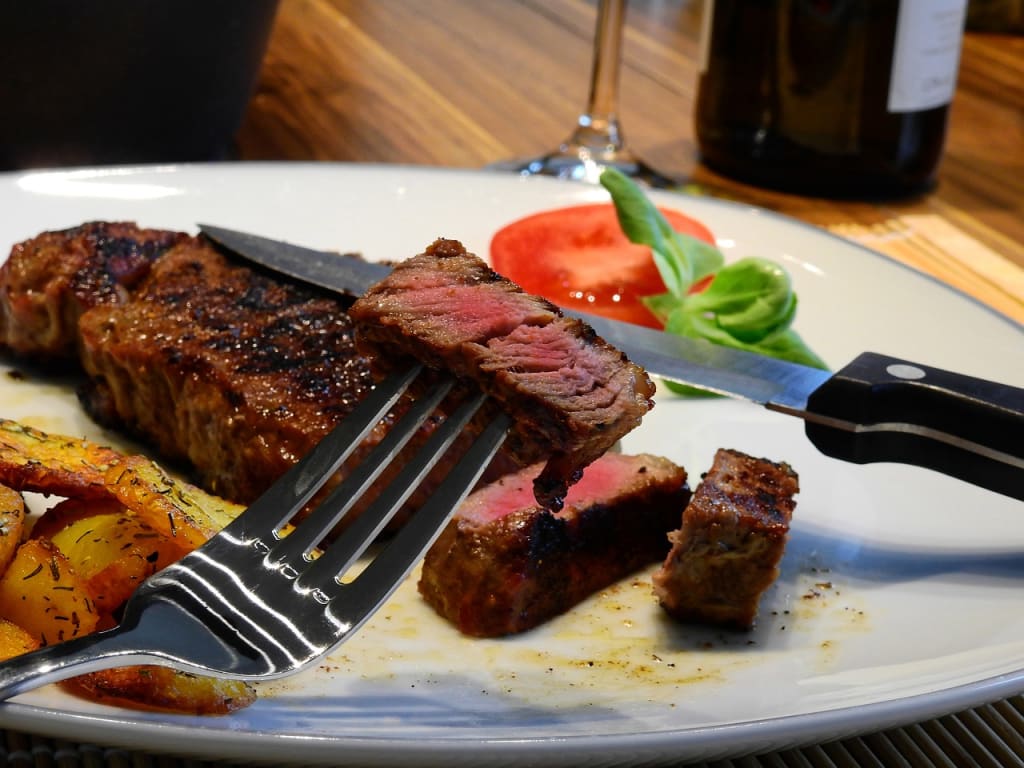 Image by Bruno /Germany from Pixabay
Steaks are a fascinating creation, involving the freshest and juiciest beef which is cooked to a certain style and complemented by accompaniments that only add to the joys and simplicities of the experience. There remain only a few types of cuisine that can match dining out at a steakhouse or restaurant that prides itself in affording such gastronomical adventures. However, there are certain fundamentals that must be paid close attention to before settling down to a steak dinner. Given is an overview of what one must look out for.
Avoid a steak cooked over medium rare
It is understood that and evidenced by renowned chefs across the globe who engage themselves in the preparation of fine steaks that in order to best enjoy such food, that one must avoid ordering same which has been cooked over medium-rare. Thus, if you have been used to this practice, then it is suggested that you put a full-stop on this, and here is why: the ideal range for any steak is from rare to medium rare and nothing more or less. Should medium-rare be your preference, you as the diner will be able to delight in the truest flavours of the beef with a cool interior and charred exterior being at the very core of its preparation and presentation. Alternatively, should your steak be cooked above medium rare then you will be subjecting yourself to beef which will undoubtedly come off as chewy and quite unpalatable.
Maximize the experience
Amongst the varying types of beef used, Wagyu Beef comes across as the most premium and sought after amongst steak enthusiasts. Thus, as such dining journeys are a luxurious escape into the culinary world, it is best that you make the most of your time at a steakhouse. Selecting only the finest beef will soon have you on your way towards delighting and falling in love with a steak dinner. What makes Wagyu Beef stand out is the fact that within the tissue of the flesh you will find streaks of fat. This feature guarantees fine semblances of tenderness, richness, and flavour no sooner you sink your teeth into the beef. What's more? This type of beef is tastier and also healthier and in turn, has less of an impact on increasing the cholesterol level in one's body.
Be very clear in your communication
Once seated, do make sure that you go through the options on the menu before placing your order. Further, never shy away from asking questions pertaining to the preparation of your steak from the person serving you. Be mindful of the fact that food pairing is an indulgence that can be had during the course of enjoying your steak. Therefore, should you desire a Cabernet Sauvignon or a Scotch Whiskey, be sure to communicate the same to the person who will be serving you. While the former's alcohol content will successfully cut through the beef's fat, the latter's smoky taste will complement any grilled steak that you have your eyes on savouring.
Do your own research
For the sake of being knowledgeable and well-read before going to your nearest steakhouse or restaurant such as example, Age Restaurant which is one of the Phuket restaurants that one could indulge in such servings; be sure to read up or query those who know their steak. Having access to a wealth of information on where to go, what to order etc will leave you in a better frame of mind ahead of any steak dinner. Also, if it means reading books on food and specifically steak, spending time online perusing blog articles where personal accounts will be readily available; then go right ahead and invest one's time and energy in the same.
Reader insights
Be the first to share your insights about this piece.
Add your insights