How to Motivate Yourself for Cooking?
After a long day at work, the combination of couch and microwave is very tempting.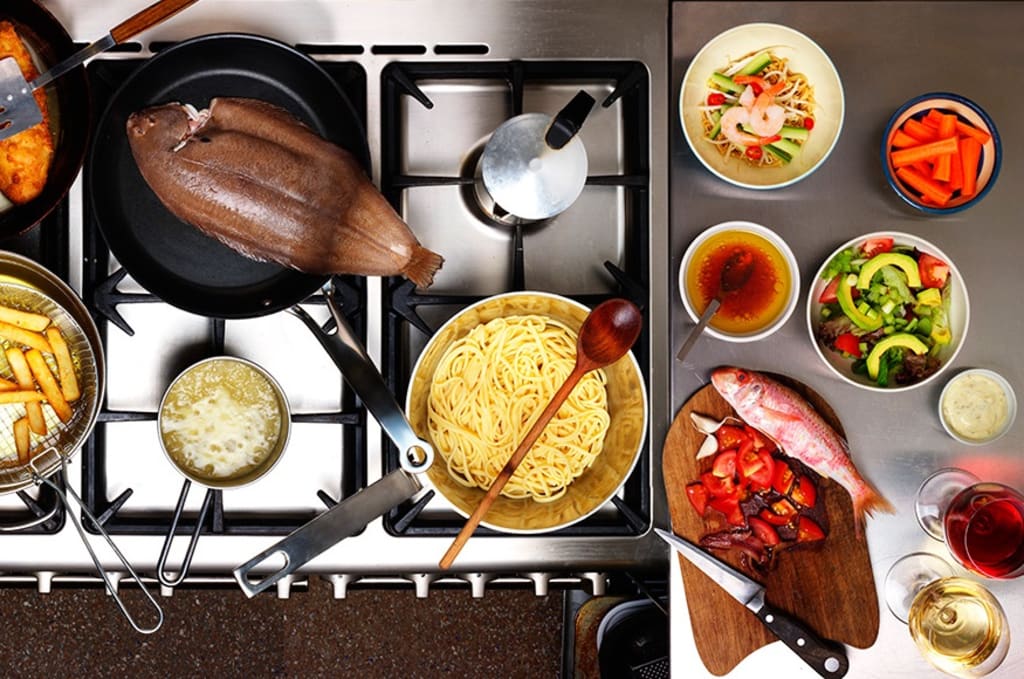 To stand down, to snip and to stir costs strength and time, which are often absent in the evening.
Do not think that Jenifer and I will always jump to the stove and whet the knives! We too have bad days when we cannot get on with our healthy habits. That is no problem if it is off and on. It is also okay to smear a loaf of bread, but every evening it is boring and not very healthy either.
Cooking is a healthy habit that you can acquire or maintain when resistance is minimized. The common obstacles of everyday life are: "I have no time," "I do not feel like it," "I have no idea" and "I have nothing in the fridge." For these obstacles, we have collected a few tips that will help you to raise more often.
Resistance 1: "No Time"
Tip 1: Cook together.
An average dish takes between 45 minutes to an hour for me. If the cooking time is already 45 minutes, I have to plan more time. While I can do something else while the casserole is in the oven, I still have to tidy up and clean up.
If I always had to cook and clean up by myself, I would be less likely to motivate myself. That is why I'm glad that my better half often helps me. Just cutting the onions and garlic saves me a few minutes (and tears!). If we decide to go for a simple and quick dish, like pancakes with mushrooms, we will be done in less than half an hour.
Not every woman and every man are enthusiastic kitchen helpers. Maybe you can reinterpret the necessary evil and view it as a project. Cooking can be a shared experience (just like other healthy habits in a relationship). Maybe even the flow feeling sets in and you can come down together after a hard day's work.
Tip 2: Take turns.
If the kitchen is too small to cook together, or if you tend to get in the way, you can also take turns (also works with the roommates). In my apartment, we used to cook for each other—that was wonderful. After all, it also feels good to give something.
Tip 3: Cook extra portions.
"I do not cook every day," I always say to the how-to-do-the-cooking-question. Instead, I deliberately cook a few more servings about three to four times a week. I freeze them or pick them up in the fridge. You cannot make a casserole for two in any case in one day.
Tip 4: Set cooking days.
If it's hard for you to choose three or four days a week then just hang onto the calendar. Plan the days or evenings and pledge yourself to your partner, family, co-workers or roommates. Therefore, you do not keep pushing day "X" up again and again.
Tip 5: Divide work.
You can theoretically divide the work for a court into several days. Today you are snipping ingredient one, ingredient two tomorrow, cooking the day after tomorrow. This is of course bad with fresh, perishable ingredients. However, you should use mostly fresh, real food!
Therefore, you could try so-called chain cooking. You cook an ingredient for dish one and use that ingredient again for dish two. Today, for example, there's pasta with vegetables—and deliberately a few servings too much. (Do not just cook a little too much, that is what you will probably eat up otherwise!) You will continue with the original product tomorrow and create a pasta salad or a casserole. I often do that with potatoes.
Resistance 2: "Do Not Feel Like It"
Tip 6: Invite someone.
My wife and I work together twice a week at the shared home office. Therefore, we visit each other and eat together. That motivates us to cook something decent, not just pasta with cheese! Even when cooking for dinner parties or birthday parties I never have motivation problems. It is a lot of work, but I like to cook for somebody.
Tip 7: Take pictures.
Although I am not a fan of minute-by-minute photo documentation of everyday life via Instagram and Co., some people are motivated to capture their culinary achievements with the camera. Even Jeniffer and I sometimes capture our dishes by photo and share them in an Evernote file. If you are an optical guy, grab your phone the next time you cook and shoot a photo. That way you can let yourself be inspired and motivated the next time.
Tip 8: Good Equipment
If I had only blunt knives, no board (or just a bumpy one) and no sensible pan, I would not feel like cooking either. Proper equipment is half the battle. Most important are sharp knives. It does not have to be a high-tech saber, because at some point every knife gets dull. Good knives stay sharp longer, but either way, a grindstone is worth gold! Since I have sharpened knives, I see the effort in vegetable snipping as much lower. This makes the project manageable and faster.
Tip 9: Pick out a delicious recipe.
If you do not know what you want to cook, your desire will be limited. I research recipes with ingredients that I like to eat. For example, on Chefkoch I search for spinach, puff pastry or goat cheese. You can also be inspired by your friend's favorite recipes. We have put together casseroles, soups, salads and more suitable for everyday use recipes. Not only the appetite, but also the desire to use a wooden spoon comes up.
Tip 10: Keep positive consequences in mind.
Perhaps you can better motivate yourself to enjoy the added benefits of home-cooked food. You are fuller, tastes better, you consume less industrial precast stuff, you eat less/no preservatives or artificial flavors, you absorb less of the addictive fast-food combination of sugar and salt, you're more likely to lose weight or lose weight, your body will be better nourished.
About Author:
My name is Thomas and I have been working at SenPerfect for seven years as a PhD writer. My specializations are psychology and Art. In addition, I am fond of cooking. But my true passion is writing. I started to write when I was 16. Firstly, these were poetry and stories for soul, but now it's become my work and I can tell you that your work day can be perfect if you like what you do.