How to make Scones
This is the story of how to make the best scones you've ever tasted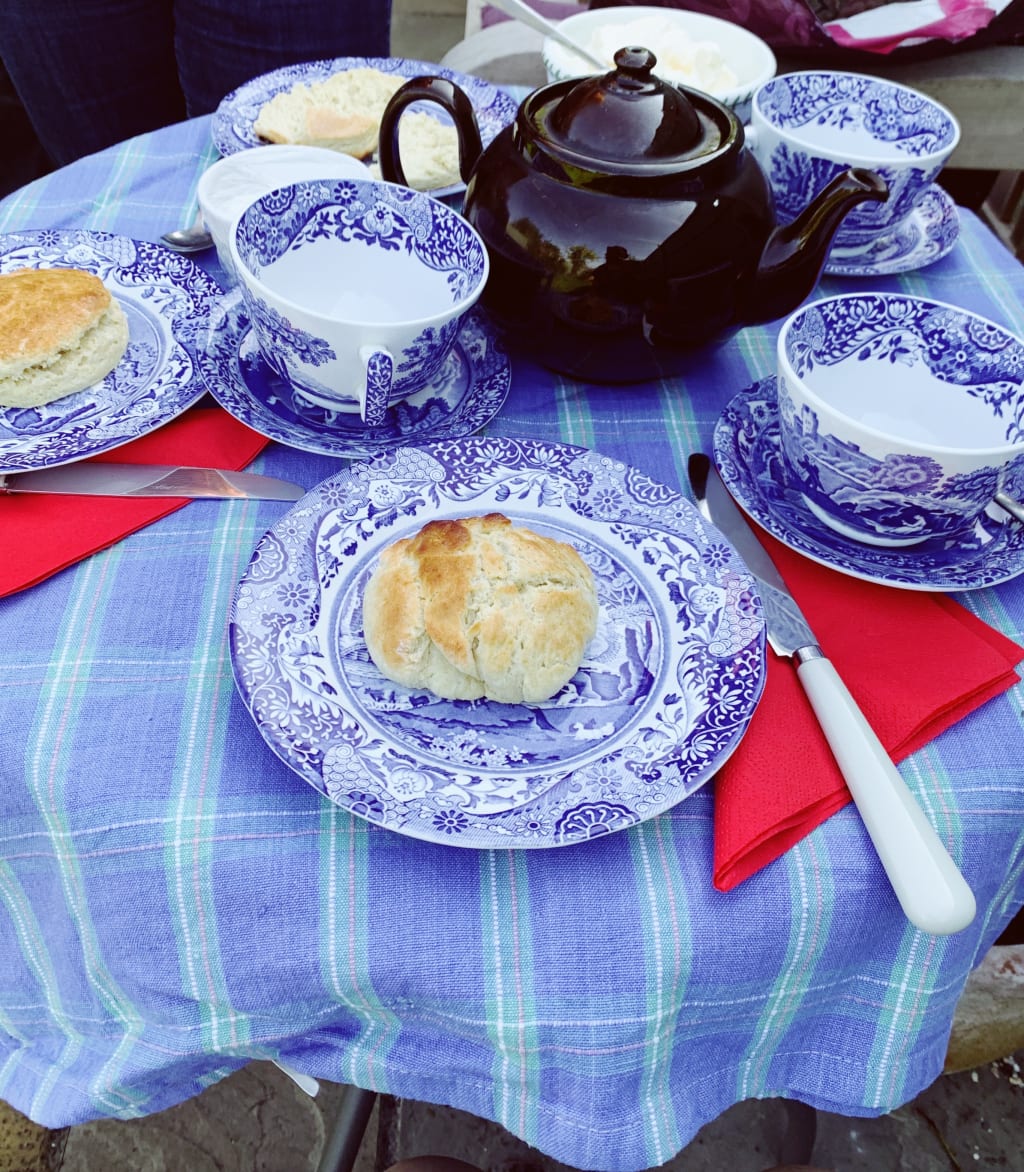 Grandmother's Tea @ 4pm
Who can forget the first time they had a scone! What English tea would be complete without without one. Whether you're a cream on top of jam or a jam on top of cream person, this recipe is sure to impress at teatime when you can announce "The scones are homemade - I did them myself"
So first you need ingredients - relax there's only 6! So you'll need:
450g of butter
2 teaspoons of baking powder (emphasis on teaspoons - the little ones!)
75g of softened butter (just leave it for a while to get it to room temperature)
50g of caster sugar
2 large eggs
225ml of milk
Now let's get to the cooking:
Start on with turning the oven on to 220 degrees (Fan 200 / gas mark 7) - good start 👏
Next take a small bit of butter and put it on some kitchen towel/foil/paper (whatever's handy) - use this butter to rub around the baking tray. You now officially "greased the trays".
Measure out the flour (450g), the baking powder (2 teaspoons) and the butter (75g) and put all of it into a big bowl. Now mix it together with you hands until it's looks like sand (breadcrumbs works aswell).Then add the sugar (50g) into the bowl aswell.
In a new bowl: Crack the eggs and put them into a bowl. Then give them a whisk with a fork until they're well mixed. Measure out the milk (225g) and add that into the bowl with the eggs. Use a tablespoon (big spoon, ironically bigger than the one you use at the table) to take out 2 tablespoons and put that into a bowl/dish for glazing later on.
Put the bowl with the egg/milk mixture into the first bowl (flour etc. one) and stir it all together until it is soft.
Use flour to cover your surface. (This is so you can put the dough on it and roll it without it sticking). Now put the dough on the surface and flatten it with your hand. Use a rolling pin to roll it out very thinly (ideally you want it to be 1-2cm thick). You can the use cutters to cut out your circles and place these on the tray.
Remember those tablespoons of egg/milk you put aside? You can now get it out. Using a pastry brush, dunk it into that mixture and use it to paint the top of the scones.Glazing is now done!
Now put the tray in the oven for 10-15. Take it out when they are golden. Then put them on a wire tray to cool. Then the part you've all been waiting for...
You can eat them now! Enjoy!