How to eat like a local in Abu Dhabi!
A complete Emirati food excursion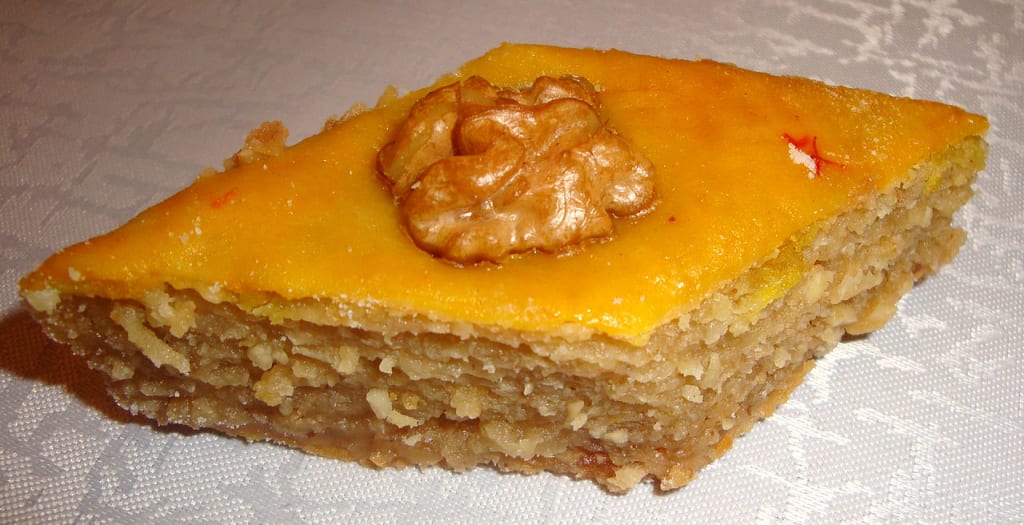 Image via Wikimedia Commons
The two main components of Arabian cuisine are generosity and hospitality. People in the Gulf make sure that their dinner guests are given the best experience. In the Middle East, dining has always been a communal thing. Food is shared among family and friends over the dinner table, or in the past, it was the Bedouin tent in the desert under the starry sky. Eating like in local in Abu Dhabi is a delightful experience.
1. What to eat in Abu Dhabi
Due to the popularity of the city as a tourist destination, the city is now the host of every type of cuisine from Korean to Indian to Russian delights. While you can try any cuisine you want, one thing you cannot miss is the local cuisine. The country's location has influenced Emirati cuisine. The cuisine highly relies on seafood and spices like saffron, turmeric, cinnamon and cardamom. Among other commonly used ingredients are yoghurt, meat, chickpeas and rice. Wellness in Abu Dhabi is greatly featured in the local dishes.
2. Abu Dhabi restaurants
The city has a great variety of restaurants and places like Desert Islands Resort & Spa by Anantara that offer a range of Emirati dishes. You'll be spoiled for choice, and taking your pick will be the hardest thing to do. In touristy areas of the city, it might be a little difficult to find traditional Emirati fare, but Al-Mina District has several restaurants that serve traditional dishes.
3. Abu Dhabi street markets
While Abu Dhabi has many supermarkets that stock everything, for a better experience, a tourist should head to the street markets. The Mina Market, for example, has a myriad of stalls selling a variety of delicious seafood. You can also buy vegetables here; even if you don't want to buy anything, the Mina Market offers opportunities for Instagram worthy pictures.
4. The traditional Emirati meal
A traditional Emirati meal is usually served on a platter. The platter consists of meat like lamb or chicken, spiced vegetables and aromatic rice. A platter of salad is served with every traditional meal. At the end of the meal, desserts are served. At a traditional Abu Dhabi restaurant, dessert items like Baklava are served. An Emirati meal is usually capped off with a delicious cup of Arabic coffee.
5. Khuzi
Your food excursion is not complete until you sample Khuzi. The national dish of the UAE, Khuzi, also referred to as Ghuzi, consists of spicy rice topped with meat like lamb or mutton. Locals make this dish on special occasions, but some Abu Dhabi restaurants serve Khuzi regularly.
6. Al Machboos
This dish can be likened to the Indian dish biriyani, but what makes Al Machboos different is the kind of spices used. Al Machboos is made of rice, lamb, chicken, shrimp, beef, vegetables, onions, lemon and spices. The spices used include saffron, cinnamon, cardamom, chillies, turmeric, chickpeas and nutmeg. The meat is cooked in a pot of boiling water until it's tender. Once the desired texture is achieved, the meat is removed, and the rice and the vegetables are added to the same pot. When the rice is cooked, it's garnished with spices and served on a platter topped with meat.
7. Al Harees
Usually eaten during the month of Ramadan, Al Harees is a traditional Emirati dish. This is made of meat and wheat, and many hours are put into making the dish. The wheat is soaked in water until it's soft, and then it's cooked with butter. Once it has a porridge-like consistency, the cook adds the meat.
8. Abu Dhabi desserts
Abu Dhabi eateries present their guests with several dessert choices. All are equally delicious, and the ones you must try are Balaleet, Luqaimat, Esh Asarya and Chabab.