How To Create the Perfect Tuna Lasagne
A Delicious One Dish Meal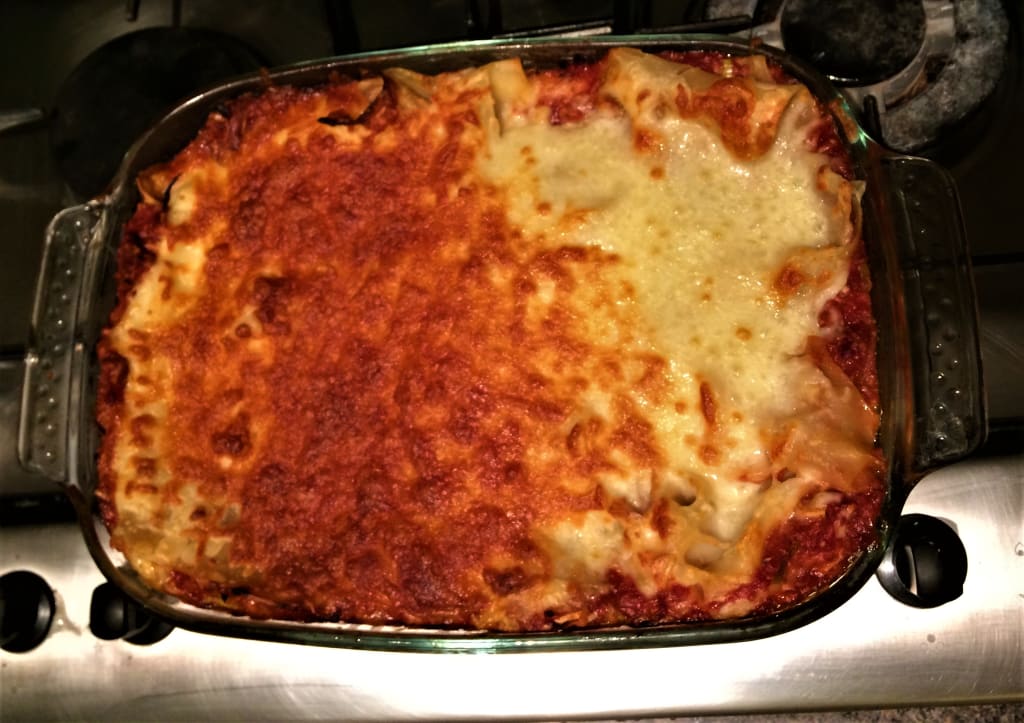 I created this dish a few days ago, and it was perfect. I would like to share it with you so you can enjoy it too. This is a slow food dish. Do not rush it. Take your time. Have a glass of wine. Put on the radio to your favourite music. Pre-heat the oven to about 180 centigrade.
Ingredients
About a 300 grams of lasagne pasta. (I prefer the sort that cooks on its own, inside the dish. I made the mistake of using pre-boil this time and it was tricky and time consuming. However if using pre-boil make sure you add oil to the water and use a large pot to avoid clumping.)
Butter
Plain flour
Salt
Milk (not skimmed)
Powdered or ground nutmeg if wished
A large onion
A sliced leek (optional)
Passata or chopped tomatoes
Fresh garlic/or tubed garlic paste
A can of tuna in oil (Quorn mince makes the dish vegetarian if wished.)
A packet of grated mozzarella
Consommé powder/stock powder (I use chicken-flavour kosher soup powder, but anything to add flavour is fine.)
To Make the Sauce
Zap your onion in a food processor or chop it finely. Do not slice. Chop.
Slice your leek if using.
Sizzle in the oil from the tuna fish can, until soft and translucent. This is a lovely and fragrant stage. I enjoy the sound too. Stir. Add the garlic. You do not need to let it cook long. Now add your passata and it will become a glorious sauce, red and deep. Add a couple of teaspoons of soup mix, crushed stock cube or whatever it is you need to add flavour but beware of adding too much. Taste the sauce after giving it a gentle stir. If you like, add some dried herbs, not too many. Or perhaps a couple of spoons of red wine? It is this sauce that will really make or break your lasagne so linger over it. Pop it on a simmer in a covered pan. It should be quite thick.
To Make the Béchamel
A nice, creamy béchamel is easy and it adds luxury and decadence to the lasagne.
First take your butter, a good big knob, quarter of a stick maybe. You will see if you need more as you proceed. Gently melt it in a small pot or pan. Now add flour, a good fistful, and mix them. This is where the magic happens. As soon as the flour hits the melted butter it turns into a paste if you stir. It should be malleable but not too rigid. Now gently add the milk and keep stirring, as it will thicken, and you might need to add more milk. Use only a very gentle heat. Keep stirring, get the lumps out. After a while you will have a sauce that is the consistency of thick cream, or mayonnaise. Add nutmeg if wished. If it is smooth enough and thick enough, put to one side.
To Make the Lasagne
Now the fun really begins! Take an ovenproof lasagne dish and coat it in oil. This will stop the lasagne sticking. Add your first coat of lasagne pasta. The key to a tasty lasagne is having a nice thickness to the pasta so you can double layer it if you wish. Now spoon in your first layer of the tuna and tomato sauce. Cover all the pasta and then add a further layer of pasta. Add a layer of the béchamel sauce. Then another layer of tuna and tomato sauce. Repeat this until the sauce, pasta and béchamel are used up. The lasagne will probably have four or five layers in total. To end, there should be a final layer of pasta with béchamel on top of it. Now sprinkle a generous topping of grated mozzarella so that it mixes with the béchamel. This is what gives the topping its luxurious feeling. If you apply the cheese directly to the pasta it will be drier.
Bake the lasagne until it is bubbly on top and until the pasta is soft/al dente.
It is delicious cold too, if there are leftovers.
Enjoy.
Reader insights
Be the first to share your insights about this piece.
Add your insights