How to cook stuffed shells with an amazing creamy Alfredo sauce
This recipe takes shell pasta to a whole new level with an amazing creamy Alfredo sauce.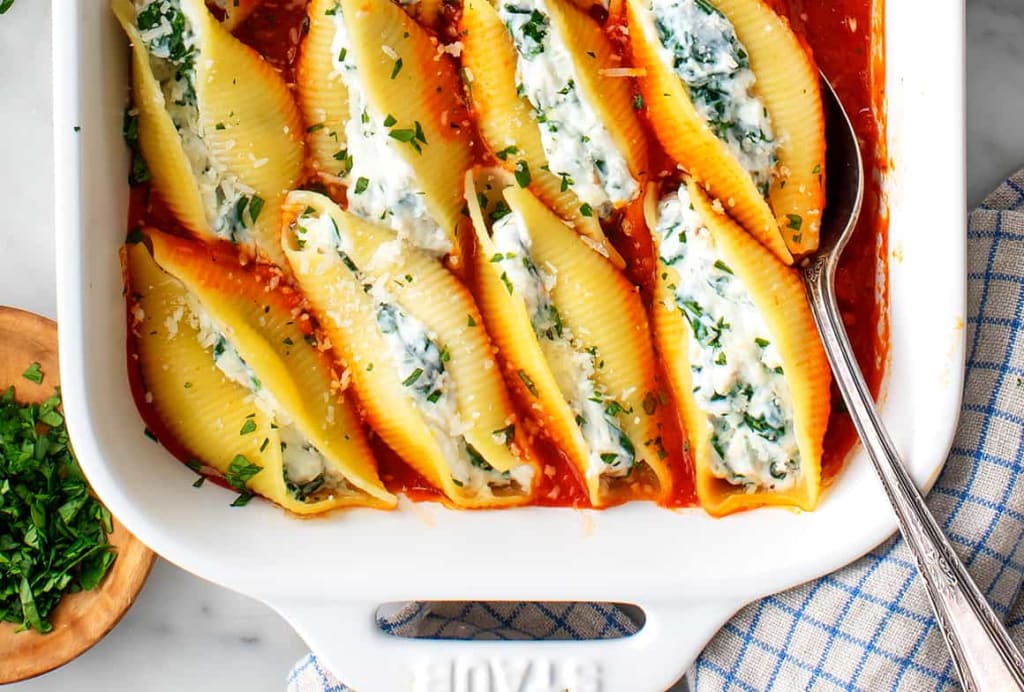 Shell pasta is one of the most underrated types of pasta. It's usually overshadowed by more popular pasta dishes like spaghetti and meatballs or lasagna. But stuffed shells are a delicious classic dish that's worth exploring. This recipe takes shell pasta to a whole new level with an amazing creamy Alfredo sauce. The best part is that it's easy to make and can be tailored to your liking. So give this dish a try and see for yourself how fantastic it can be!
Ingredients:
12 ounces jumbo pasta shells
1 lightly beaten egg
15 ounces ricotta cheese
1 ½ cups shredded mozzarella cheese and
¾ cup shredded parmesan cheese
⅓ cup sour cream or goody bechamel sauce
2 teaspoons Italian seasoning
½ teaspoon kosher salt
½ teaspoon black ground pepper
2 cups shredded cooked chicken
15 ounces Alfredo sauce
Chopped fresh parsley for garnish
How to make the perfect stuffed shells
Do you love stuffed shells but never seem to make them perfectly? Do the stuffing always fall out when you try to cook them? Do not worry, I am here to help. In this blog post, I will be walking you through the steps on how to make the perfect stuffed shells. From selecting the right ingredients to cooking them to perfection, I have got you covered. So read on and get ready to impress your family and friends with this delicious Italian dish.
So there you have it, everything you need to know about making the perfect stuffed shells. Just remember to select the right ingredients, cook them until they are tender, and do not overstuff them. With these tips in mind, you will be sure to make a dish that everyone will love. So go ahead and give it a try!
Cook the pasta shell:
Pasta shells are the perfect vessel for a variety of sauces. Whether you're looking for a creamy Alfredo or a heartier Bolognese, these pasta shells can accommodate just about any flavor. In this tutorial, we'll show you how to cook the perfect pasta shell every time. So put on your aprons and get ready to cook up some delicious Italian cuisine!
Shell pasta is a type of pasta shell that is commonly used in Italian dishes. It is made from durum wheat and has a hard, yellowish color. Pasta is available in different sizes, but the most common size is the medium shell. Pasta is usually cooked in a large pot of boiling water. Once the pasta has been added to the pot, it should be stirred occasionally to prevent it from sticking together. After about 10 minutes, the pasta will be cooked and can be served with your favorite sauce or topping.
Make the filling of creamy Alfredo sauce:
Do you love the creamy taste of Alfredo sauce? Here is a quick and easy way to make the filling for your next pasta dish. This recipe uses ingredients that you likely already have in your kitchen. So, get ready to enjoy a delicious and creamy Alfredo sauce.
A good Alfredo sauce should be both creamy and flavorful. While there are many shortcuts that you can take, such as using jarred sauce, goody béchamel sauce or cream cheese, taking the time to make a homemade sauce will really pay off in terms of taste. To start, you'll need to gather some good quality ingredients. This includes heavy cream, parmesan cheese, butter, garlic, goody demi-glace sauce and salt. Once you have all of your ingredients, it's time to get started on the sauce. Begin by melting the butter in a pan over low heat. Then add the garlic and cook until it is fragrant. Next, add the heavy cream and bring the mixture to a simmer. Finally, add the parmesan cheese and salt to taste. Allow the sauce to cook until it is thick and creamy. Serve it over your favorite pasta for a truly delicious meal.
Stuff the shells and place them in an oven:
Now that you have your shells all prepped, it's time to start stuffing them! First, you'll want to mix together your goody food and ingredients. Once that's done, start spooning the mixture into each shell. Be sure to stuff them nice and full - you don't want any empty spaces. Once they're all stuffed, place them in a baking dish. You can arrange them however you like, but make sure they're not touching each other. They need a little room to breathe while they bake. That's it! Now just pop them in the oven and wait for the goodness to happen.
Serving suggestions:
Shell pasta is a classic dish that always seems to be a hit with everyone. This recipe takes it up a notch by adding an amazing creamy Alfredo sauce. Serve it as a main course or as a side dish. It's sure to be a hit no matter what!
Stuffed shells are a classic Italian dish that can be made even more delicious with a good creamy Alfredo sauce or goody béchamel sauce. To make the sauce, you'll need goody chicken stock, butter, flour, and milk. Start by heating the goody chicken stock in a pot over medium heat. Then, in a separate pan, melt the butter and whisk in the flour to create a roux. Once the roux is smooth, slowly whisk in the goody chicken stock until combined. Finally, add the milk and whisk until the sauce is thick and creamy. Serve the stuffed shells with this amazing Alfredo sauce and enjoy!
Enjoy the meal:
A dish everyone will love, these easy stuffed shells with creamy Alfredo sauce are always a hit! Stuffed with a flavorful herbed cheese filling and smothered in the most amazing homemade Alfredo sauce, these shells are pure comfort food. Serve them as is or with a simple side salad for an impressive yet easy weeknight meal. Whether you're serving a crowd or just your family, this recipe is sure to please!