Sponsored By Kick Ash Basket
How To Become A BBQ Grill Master With These Helpful Grilling Tips
This basket and can just made grilling with an open flame a lot easier and more enjoyable.
My name is Craig Tabor and I am a published cookbook author (Mastering the Big Green Egg), two time Big Green Egg Eggtoberfest Champion, two time World Food Championships competitor, and KCBS certified Judge and Fire Master at Playing with Fire BBQ Emporium in Suwanee, GA. I have been an advocate of the Kick Ash Basket™ products for years, use them in all of my cookers, and offer them for sale in my retail store.
The act of cooking meat over fire dates back well over 500,000 years. Man make fire, cook meat. *grunts and beats chest* While sometimes us modern neanderthals still imitate that same performance of pounding fists and masculine sounds, modern grilling has come a long way from rubbing two sticks together to create fire. Up to this point, grills have come in many unique shapes and forms from mere holes in the ground with some sort of slotted grate laid over top of hot coals to jet gas powered fire throwers. Although, it was approximately 3000 years ago when the very first kamado or ceramic style of grill came about. Up until this point, fire management seemed to be difficult and labor intensive. It was at this point in time that the Chinese invented a clap pot design that allowed them to control temperatures for longer extended periods of time as well as allow less refueling and fire tending. This clay vessel style of cooking started fire amongst grillers. It was in the early 70's when the Big Green Egg kamado style of cooker came about. This modernized version of the nearly 3000 year old clay cooking pot was the same style of cooker, but a world of a difference. The US created Big Green Egg grill has caught the awe and wonder of grilling enthusiasts across the country, prompting other companies to follow suit with ceramic cookers for the backyard griller.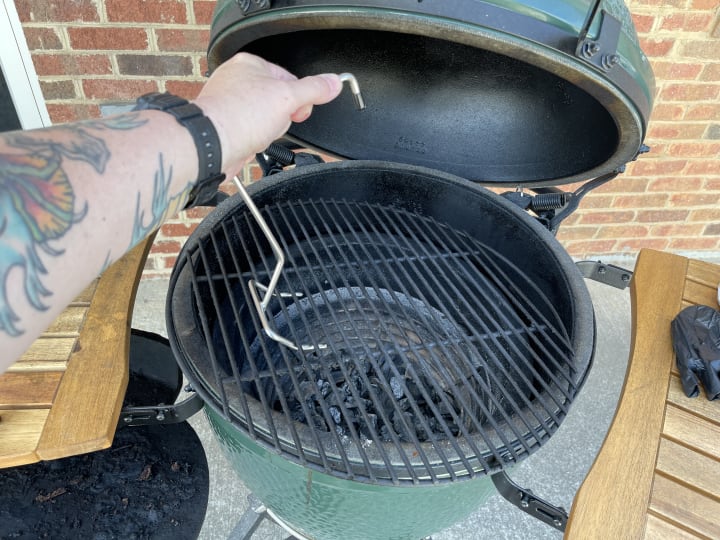 All of these clay or ceramic style of cookers work very well, however airflow seems to be a common issue amongst grillers. Small particles of charcoal clog up the charcoal grates, ash and dust pile up around the air intake, and the overall suffocation of fire are all contributors to the airflow issue. I solved the solution to this issue when I stumbled across the Kick Ash Basket™. I found that removing the charcoal grate and replacing it with the Kick Ash Basket™ increased airflow, eliminated any clogging and made the clean up more manageable. To put it in car terms, putting a Kick Ash Basket™ in a kamado style grill is like putting a K&N air filter in your car. The only debate is do you call it more airflow or more horsepower?
Where would I need this airflow? This added airflow comes in handy if you are executing the perfect reverse sear. After a smoke session, you would remove the heat deflector, open up the bottom intake and the top exhaust and let that fire breath to turbocharge that temperature to get a fantastic crust on that smoked steak! Or maybe that airflow helps while you try to dial in temperatures sub 250°F. Those low smoking temperatures need help to allow the smoldering coals to breathe so they aren't snuffed out.
The second issue is a separate issue on it's own, but contributes to the first and that is ash clean out. I have been known to push the ash back into my grill rather than getting messy and cleaning out my grill. DISCLAIMER: I highly recommend NOT doing this. HA! This problem is solved with the introduction of the Kick Ash Can™. The can rides in the bottom of the kamado grill and catches all of the ash that is produced. Before your next cook you simply reach down, grab the Kick Ash Can™ and dump out the content. In a matter of 4.6 seconds I can be ready to grill again. I do find myself dumping the can more frequently than I would clean out my kamado grills, which ultimately increases the airflow so it's a win / win situation! Solving these two problems in kamado style grills decreases the time it takes to get hot searing temps, increases the oxygen to your slow smoldering coals for your slow cooked brisket and cleans out your grill.
I have used and tried a ton of products throughout my grilling and bbq career and have found a bunch of them to be gimmicks. However, the Kick Ash Basket™ is the only accessory that I literally use each and every time that I cook. I love them so much that I run them in all of my kamados, my PKs and even my Kettle.
Reverse Seared Ribeye
Big Green Egg Setup:
Set up your Big Green Egg for indirect cooking with the plate setter legs in the up position and the grate sitting on top of the legs. Set temp at 250°. You may add smoking wood chunks or chips if you so desire.
Steak Preparation:
Brush the entire steak with canola oil and season to taste. Salt and pepper for me.
Cooking Process:
Once your Big Green Egg reaches 250°, you are ready to start cooking. Put the steaks directly on the grate. Use some type of temperature probe (i.e.: iGrill, Thermopen, Maverick, etc.) to monitor your internal temp. Keep in mind that you still have to sear the steaks; pull them off approx. 10° less than your desired doneness.
Once your steaks have reached your desired internal temperature (10° < desired doneness) remove the steaks from the grill. Remove the plate setter and set the grill up for direct grilling and increase the grill's temperature to 650°- 675°. Once this temperature is achieved you will be ready to "sear". Place steaks directly over the flame. (Remember to burp!!) Sear for 60 seconds on each side with the lid closed. TIMING IS CRITICAL when you are cooking at such an extreme heat! Once you have finished searing the second side, remove the steaks and cover with foil. Allow your steaks to rest for approximately 10 minutes.
how to
Live Fire Chef and published author, there's nothing Craig hasn't grilled.