There is always something special about going to the paleteria when the sun is blazing and the asphalt feels like hell itself. Where I'm from, we have tons of options for Mexican paletas (popsicles) but there is something I rather get than a sweet popsicle. It's a spicy snow cone. They are called Diablitos (little devils).
They are a staple all around Mexico and have trickled their way over here as well. It starts with a regular ball of smashed ice. I usually get the large. Then the lovely paleteria worker goes on to drenched the ice in liquid chile. It's the same chile that is used for corn in a cup. The right amount of spice and the right amount of flavor.
There are some places that get super extra with their Diablitos. Like they add a chamoy stick or pieces of fruit. I like mine as plain as can be, just shaved ice and chile.
The liquid chile usually consists of the following.
Limón
Chamoy
Salt
Tajín (or classic Lucas)
Water
Salt
During the summer, we go get Diablitos a lot. So much so that the paleteria workers know who we are. It's usually my sisters and Ma that go. My sisters love their grape and strawberry snow cones. My Ma and I always go for the large Diablito.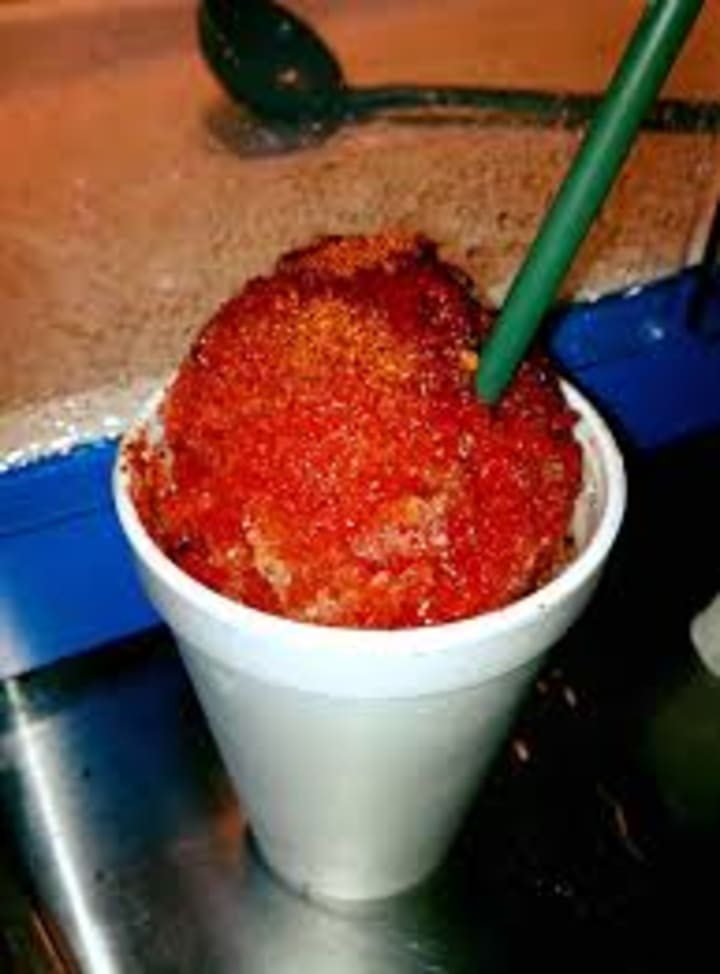 I always get mine with extra chile. It's an up charge but it's worth it. I allow the spicy liquid to just keep flowing until I decide to "stop".
When digging into the Diablito it's always a challenge. Not only the eagerness to cool off takes over but also the cup is so full of deliciousness that the spoon manages to topple over most of the ice from the top. It lands on the table and the table receives the spicy goodness as well.
We sit in silence for a few minutes while shaking off the summer heat and enjoying the sweet nectar of spicy and icy at the same time. That's one thing my culture loves, spice. We put it in everything. Candy too! We have sweet pops coated in Tajín or chamoy.
Those summers as a kid in Mexico were also filled with Diablitos. There was a shop close to my aunt's house that I would walk to daily to get my fix. There, I would sometimes change it up and got Angelitos (little Angels). That snow cone consisted of limes and salt. That's it, just lime juice and salt. It was sour and delicious. Most of the time though I stuck to my usual. If I felt really crazy, I would ask for half and half. Half Diablito and half Angelito.
I remember one time, I had to call it quits on the chile. We were in Mexico that summer and I had chile everything. The corn, the candy, and of course the snow cones. My body was like "okay, hold on, enough spicy." I got sick and had a horrible stomach ache. My Ma and aunt didn't allow me to get the yummy spicy snow cone the rest of the summer. Now as an adult, I also have to watch my spicy intake. It's delicious but sometimes my body is like "no, no more. Take it easy!" I do. But that's what makes those summer days at the paleteria extra special!
So look around your city or town. I'm sure there is a place in which you yourself can go and try a spicy yummy Diablito. Not only will it help you fight off the summer heat but it will also make your taste buds dance with joy.
About the Creator
Teacher, traveler, fur baby mom, reader, and writer. I enjoy writing historical fiction stories, fiction, poetry, true crime, and nonfiction.
Reader insights
Be the first to share your insights about this piece.
Add your insights