Homemade Gnocchi
Authentic Italian Gnocchi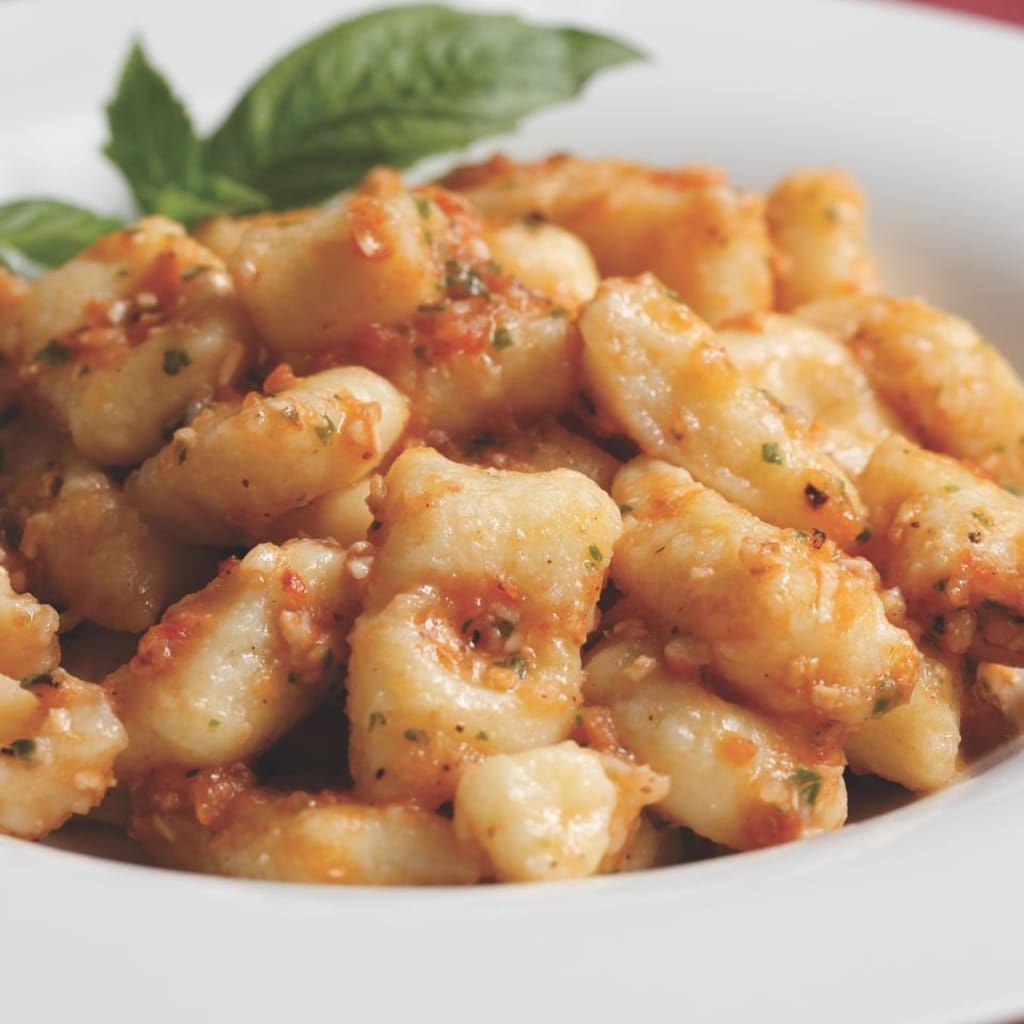 From Italy to your table.
Ingredients:
4 Medium Russet Potatoes
2 Cups All Purpose Flour (Extra for dusting)
2 Eggs (Lightly Beaten)
1 Tablespoon Garlic Powder
1 Teaspoon Salt
1 Tablespoon Unsalted Butter
1 Jar of Marinara or 1 1/2 Stick of Butter
Chopped Basil to taste (For Buttered Version)
Steps:
Peel potatoes and place in boiling water, cover and let cook for 15-20 until fork tender. When done, place on paper towel and pat dry (To much water can make the finished product too soggy).
Mash the potatoes while they are still hot (makes it easier than when they are cooled down), combine with butter, salt, and garlic powder and continue mashing until the potatoes are smooth.
On a lightly floured surface, places mashed potatoes and two cups of flour. Make a well in the middle and place beaten eggs into the well. Start combining the potato and flour in with the eggs to form a dough. When dough is formed, knead for 4-5 minutes (Do not over-knead the dough! This can make the gnocchi tough).
Cut the dough into sections and roll with your hands into ropes approximately an inch thick. Cut pieces off the rope about one inch long, and one inch wide. Roll against a fork, or lightly flour the tip of your finger and make an indent in the middle of the square (This make the sauce stick to the gnocchi.
Drop dough squares into boiling water for 1-2 minutes, when they are done they will float to the top. Take out the gnocchi with a slotted spoon to any left over water drains. Place in a pan with marinara and cook together for two minutes, then serve on a heated plate with basil sprinkled on top. For the butter version, melt butter and throw in 1/2 cup of chopped basil and gnocchi, also serve on a heated plate.
Servings: 3-4
Prep time: Two hours
Growing up in a multi-culture household is a gift. To have so many cultures together in once space is an experience that comes rarely. Food is one of the biggest ways to open up someone to a new culture, especially if all they've ever had was their own countries cuisine. During my time in Culinary School, I had the chance to taste food from every corner of the world, from American to French, and Greece to Australia. I cannot say that I was ever disappointed with the food, maybe a bit bigger, but never disappointed.
Making recipes like this while surrounded by family is magical, like baking cookies with grandma on an early Sunday morning, or your mother teaching you how to cook your first dish. Although it may get messy, loud, and possibly not come out the way you expected, it is the experience of doing it together that will stay in your memories forever.
Sadly, for most children with Italian heritage, they will never know this experience. Italian grandmothers are not teaching their children, nor grandchildren how to cook the food they did when they were younger. The tradition of handing down knowledge and recipes is dying out. I want to make it a mission to share this recipe and others just like it with others so that maybe, one day, Mothers will continue to show their children, so they will show their children, and for many generations to come.
Don't let this tradition die out. It is one of the best to ever happen for our younger generation so that they are prepared when their ancestors are no longer there to help them along the way.