Homemade Fluffy Vegan Pancakes
And Homemade Vegan Pancake Syrup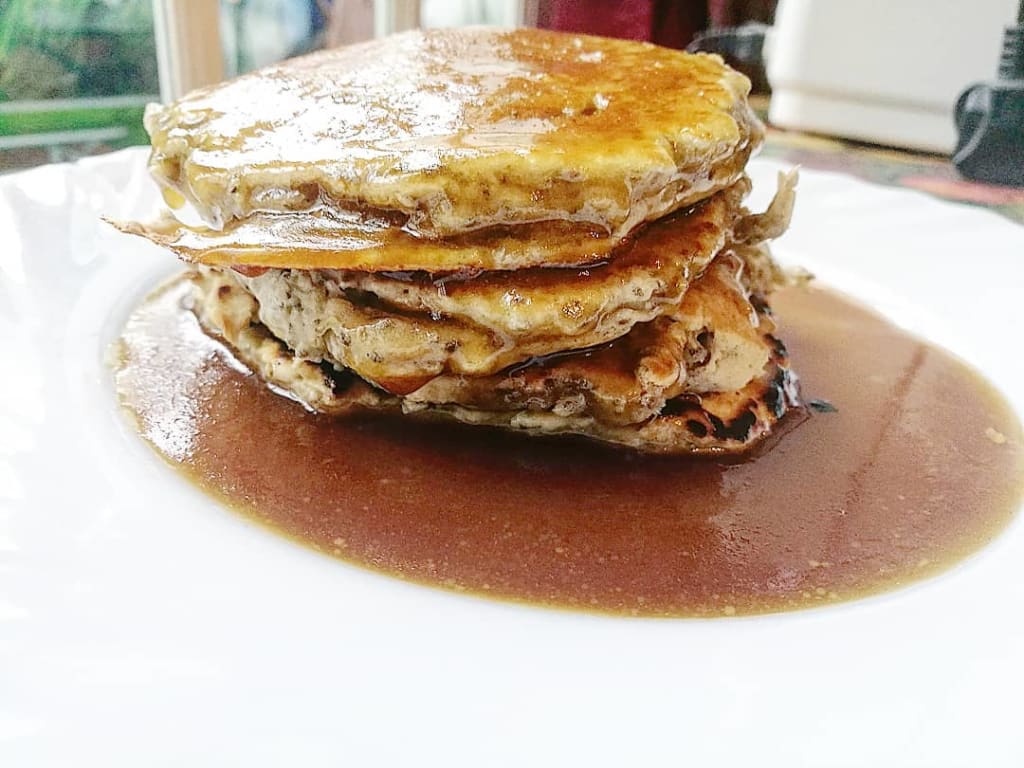 Don't these look amazing?!
This is probably my favourite pancake recipe that I have ever come across. Not only are they fluffy and delicious, you wouldn't even know that they were vegan.
The original recipe comes from a Youtube video called Vegan Pancake Recipe by Mina Rome. I just swapped some ingredients around to suit me.
I really hope everyone gives these a go, vegan or not. My dad is the biggest meat eater/non-vegan and he devoured them!
Dry Ingredients
½ cup and 2 tablespoons of flour (I used plain, but you can use spelt, I just wouldn't use self-raising. It might be fine but I haven't tried it)
2-3 tablespoons of sugar (I used soft brown sugar but you can use your favourite)
1 level teaspoon of baking powder (do not use baking soda)
A pinch of salt
Wet Ingredients
1/3 Cup of plant milk (I used oat milk. You can use whatever plant milk you like, chocolate might even be good for chocolate pancakes)
2 more tablespoons of the same plant milk
1 vegan egg replacement (Use 1 chia egg (in a small bowl, add 1 tablespoon of chia seeds or flax seeds and 3 tablespoons of water, mix and sit to the side of at least 15 minutes) or you can use 1 mashed banana or 3 tablespoons of apple sauce)
A little vanilla
The Pancake Sauce
2 tablespoons of soft brown sugar
2 tablespoons of vegan butter
Method
In a large bowl add the full amount of flour, sugar, baking powder and salt, mix everything together. If you wish to sieve flour first you can, I didn't because I am lazy, I made these on a Sunday morning, so I just wanted quick and delicious pancakes NOW!
To the same bowl add 1/3 cup of plant milk, egg replacement and vanilla.
Mix everything together really well. I mixed with a spoon so that I made sure any flour on side of bowl got added. You can use a whisk if you like.
Once everything is mixed well, it will look not quite right, it might look thicker than you want. This is ok. Remember the 2 extra tablespoons of plant milk from earlier? Add them one at a time to the pancake mixture (add one spoonful, mix everything, add the second and mix everything well).
Now you will have the pancake batter ready!
Cooking:
The Pancakes
Get a frying pan (non-stick or not)
Put the pan on a medium heat to warm up, to pan add a little oil, or vegan butter to grease.
When pan is ready, add a tablespoon of batter to pan (you can judge the size of pancake you want, my pancakes 1 and a half tablespoons)
When the pancake is cooking, you should start to see bubbles appear on the top of the pancake, when the bubble appear but don't close back up, it is time to flip your pancake, pancakes take 2-3 minutes on both sides to cook, you want to make sure the middle of the pancake is cooked through.
Once your first pancake is ready, take it of the pan and onto a plate!
Now cook how many pancakes you like, the amount of batter I had was enough for 4 fluffy pancakes with a smaller fifth.
The Pancake Sauce
This sauce I just made up on the spot, didn't really know what I was doing, but it turned out really good!
To a saucepan on a low heat, I added 2 heaped tablespoons of soft brown sugar, 2 heaped tablespoons of vegan butter and a dash of vanilla.
With a wooden spoon mix everything slowly whilst butter melts and sugar dissolves.
This sauce doesn't thicken up much, it has more of a maple syrup thickness and works really well.
Pour sauce into a jug if you like, or just spoon the sauce over the stack of delicious pancakes waiting for you to devour.
Enjoy!
I call this Pancake Tower!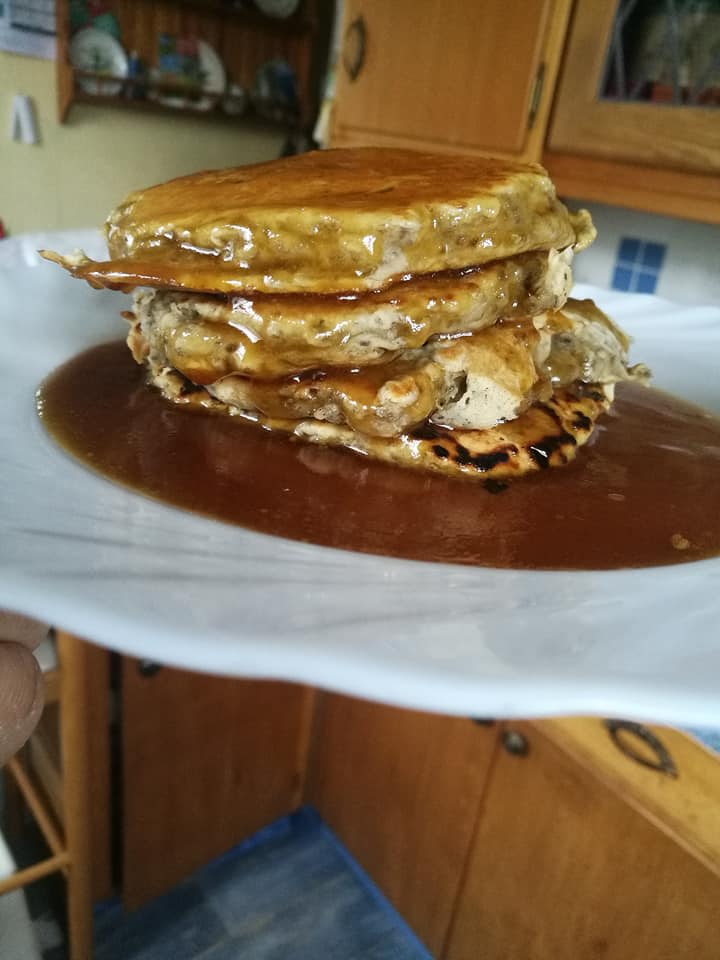 P.S. I might have poured a little too much pancake syrup over the pancakes, they look like they are a floating island drifting in a syrup lake. This is not a bad thing, but please use how ever much syrup you would like. Also you can change the syrup topping, for your favourite pancake topping.