Holiday Cookies from the "Old World"
A new-age palette meets great-grandmother's cookbook.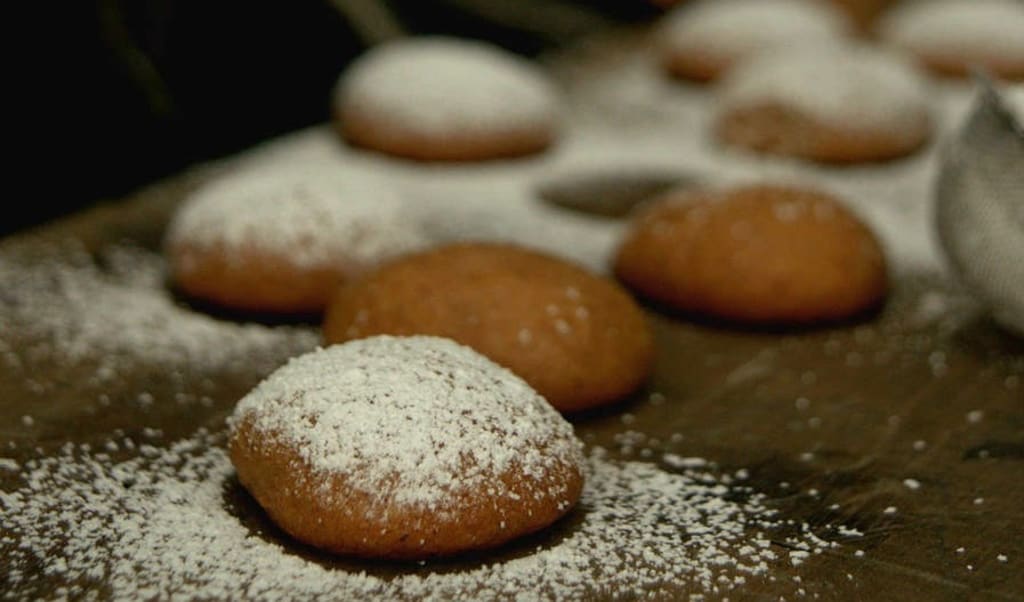 A peppernut cookie
The winter holiday season is upon us. It is a blessed and wonderful time; an extended opportunity for us to cherish the important things: family, friends, community, rampant commercialism, numerous visits to your favorite cyber store, and of course, baking cookies.
It is cookies that will be the interest of this article.
The pfeffernüsse Ever since I can remember, my mom would bake a special holiday cookie called pfeffernüsse (pronounced feff-er-nus-uh; loosely translated it means "peppernuts") to have around the house for Christmas. You might have tried it once or twice without knowing its name or origin. A certain variety of spice cookie with roots in various countries across northern Europe, the traditional pfeffernüsse is made from a lot of flour, some molasses, a bit of sugar, an egg or two, ground-up nuts, and partial teaspoons of different spices from the spice cabinet.
There are many variations of the pfeffernüsse, of course. Some traditions call for a flatter cookie with more crunch; others, a semi-soft, rounded ball; most people will say it tastes like a gingerbread cookie. After baking, the cookies can be left plain, coated in flour, powdered sugar, or icing, and served immediately or stored away in tins.
In centuries past, part of the appeal of the pfeffernüsse was its shelf life. Farming families could tap into their supply of the stuff as the new year progressed, bringing it to the dinner table as the occasional treat or, if necessary, as a source of nutrition during times of scarcity.
But similar to many of today's cookies, the pfeffernüsse has become a product of the sweet tooth effect. Many recipes will call for an almost incomprehensible quantity of butter and sugar, including the one that I found in my great-grandmother's cookbook, which my mom has been using for several years to recreate what she calls a treat from the "Old World."
As a fairly standard millennial with an open mind for vegan or low-sugar options (Halo Top, anyone?) and a mild suspicion of the traditional way of doing things, I was, all of a sudden, just a bit reluctant to treat myself to an unlimited number of these peppernut cookies this holiday season, as I had in years past.
Thankfully, there is still at least one sane person on the Internet. Allrecipes.com user "Thebeansma" posted what looks a highly traditional recipe for the pfeffernüsse. It calls for only a moderate amount of sugar and margarine, and a whole array of savory spices–similar to the way a person in 1850 Germany would enjoy it.
http://allrecipes.com/recipe/155182/pfeffernusse-cookies/
Happy Holidays!
recipe
About the author
Swiss-American. Daydreamer. Shortlisted for the Vocal+ Fiction Awards.
Portfolio...... pohaimuller.myportfolio.com
Blog............ pohaimuller.wordpress.com
IG................ @hanskealoha
Reader insights
Be the first to share your insights about this piece.
Add your insights