Healthy Treater for A Picky Eater
10 Simple Healthy Recipes for Your Picky Pal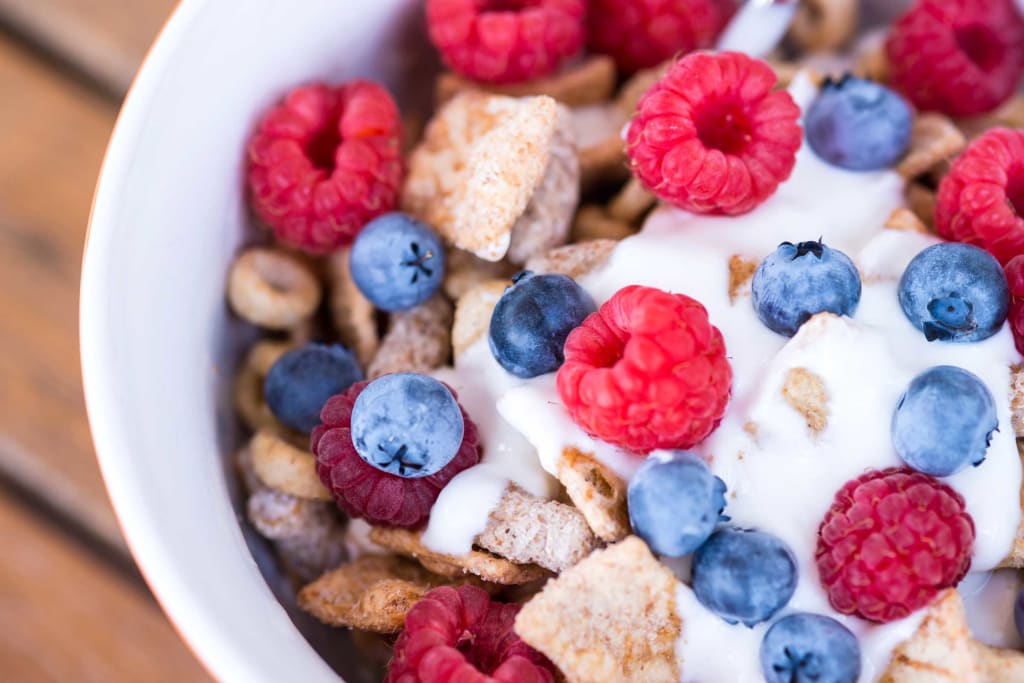 Being 120-130 lbs and 5'6'' most of my life, I've never had to go on a diet. Most people would consider me lucky and I do consider myself lucky on the weight thing in all honesty.
However, I'm not quite the picture of health that most people would assume.
I have a very common, but super painful condition called Irritable Bowel Syndrome.
I've dealt with it for over 24 years and while I've steered clear of trigger foods as much as I can, I've never really planned and prepared for it. I've never set out food and examined what I need for the week to snack on or have for dinner.
With the last two months of 2019 remaining, I made a decision. It was time to start.
My stomach would cramp and I would feel lethargic most of my days. Not to mention the amount of time spent in the bathroom in pain.
But again with the last of the year and my upcoming 32nd birthday, I told myself it was time.
I had avoided any kind of diet for the last 24 years and now I could avoid unnecessary pain just by adjusting a bit.
Well, the reason for my reluctance in dieting and watching what I eat was mostly because I am a picky eater.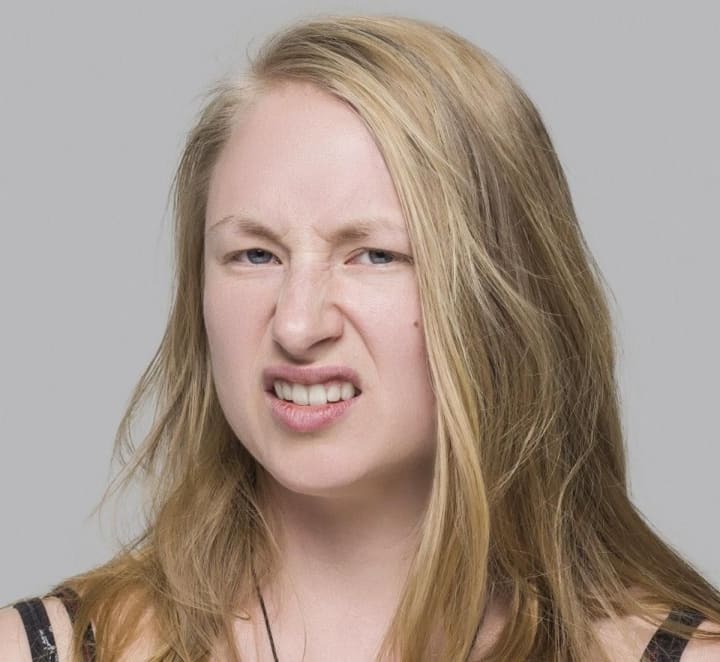 I mean a very picky eater. I'm not big on most vegetables and while I love fruit, the satisfying crunch of a thinly sliced, heavily seasoned potato beats the apple any day.
So I needed to find some delicious replacements for my favorite snacks.
Enter the internet, the biggest source of information in our lifetime.
There are many good free websites, but I decided to go for a delicious mix-up.
So here are ten of my favorites:
1) Sweet Potato Fries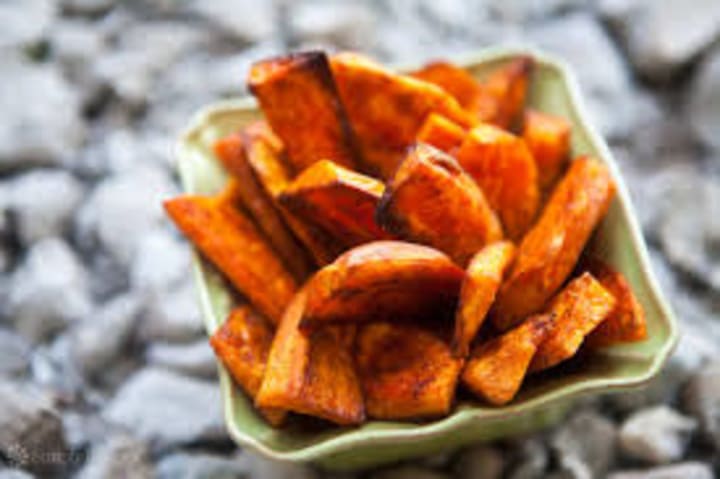 Delicious and simple alternatives to regular fries, sweet potato fries are the perfect combination of sweet and salty. They are also cheap in both ready made reincarnations and its original form.
Low in calories (even the restaurant version is usually only 250 calories) and rich in beta carotene (which helps make Vitamin A), the sweet potato fry is both delicious and nutritious.
Recipe (Credit: https://spoonuniversity.com/recipe/healthy-sweet-potato-fries)
Prep Time: 2 minutes
Cook Time: 30-40 minutes
Total Time: Roughly 40 minutes
Ingredients
1 sweet potato (they use white in the recipe, but can work for the regular)
1 tablespoon coconut oil
Greek yogurt (optional)
Directions
1. Slice the sweet potato into thin, French-fry strips. (Don't bother to remove the peel)
2. Set oven to bake 375°F and warm coconut oil on baking sheet inside the oven until melted.
3. Coat sweet potato in melted coconut oil and place tray in the oven for 20- 30 minutes.
4. When sweet potato is golden brown, use a spatula to rotate fries, and return to oven for 10 minutes.
5. When fully browned, remove from oven, and serve with Greek yogurt to dip!
2) Mac & Cheese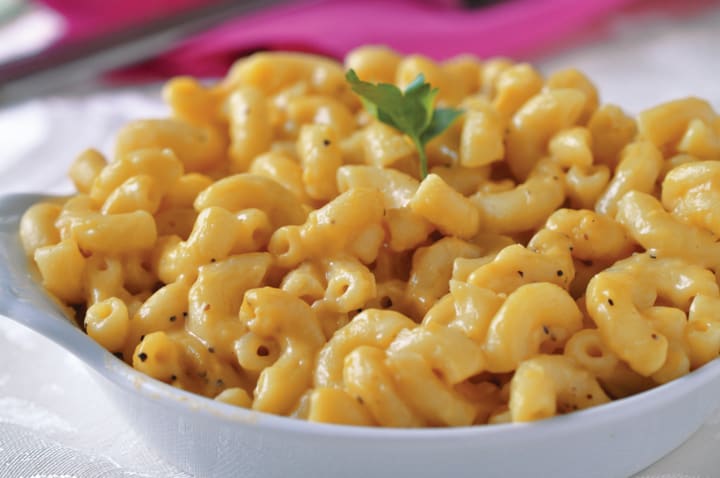 If you're in love with mac and cheese as much as I am, this next recipe is not only easier than boxed mac and cheese, but healthier and tastier.
I actually now prefer it compared to mac and cheese.
Recipe (Credit:
https://tasty.co/recipe/3-ingredient-mac-cheese)
5 cups almond milk
1 lb whole wheat elbow macaroni, dry
2 cups shredded mozarella cheese
Preparation
1)In a large pot, bring the milk to a boil.
2)Add the pasta and stir constantly until the pasta is cooked, about 10 minutes.
3)Turn off the heat, then add the mozzarella. Stir until the cheese is melted and the pasta is evenly coated.
3) Blackberry Sorbet (Or Any Berry Sorbet)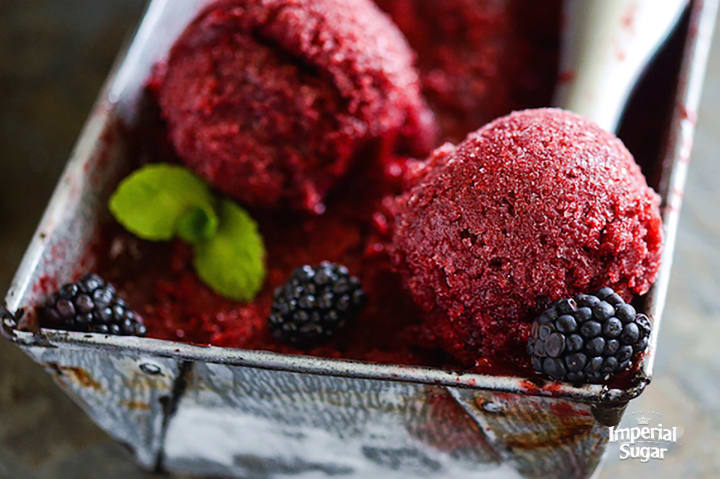 Ice cream is a huge no-no for someone with IBS as it contains both sugar and milk.
But if you want a sweet cold treat similar to ice cream, you can't go wrong with a sorbet.
Tasty, simple to make, and relatively cheap, the blackberry sorbet is also a great treat to beat the excessive heat.
Recipe (Credit: https://www.sweetandsavorybyshinee.com/honey-berry-sorbet/)
Ingredients:
2 cups mixed berries, fresh or frozen (I used ½ cup of each fresh strawberries, blueberries, blackberries and raspberries)
½ cup raw honey
2 tablespoons fresh lemon juice
Directions:
In a medium saucepan, combine berries, honey and 1 cup (240ml) of water. Simmer over medium heat until honey is fully dissolved, about 4-5 minutes, stirring frequently.
Transfer the mixture into a blender, add the lemon juice and blend.
Strain the mixture through fine mesh sieve to remove the seeds.
Cool to room temperature, and then refrigerate for at least 2 hours, or overnight.
Pour the cooled mixture into the ice cream machine and follow the manufacture's instructions.
Freeze the sorbet for firmer texture.
4) Berry Granola Parfaits
Making a treat for someone with dairy-free is simple enough. You can usually substitute dairy with dairy alternatives such as coconut milk and soy yogurt. But there are few treats that help with avoiding both dairy and gluten that can trigger an IBS episode.
This treat is a bit harder to make than the others, but worth the effort for a delectable option for breakfast or dessert.
Recipe (Credit: https://realsimplegood.com/berry-granola-parfaits/)
INGREDIENTS
FOR THE CREAMY PART:
2 cups full fat coconut milk
1 cup frozen berries of your choice (we get an organic antioxidant mix at Costco or use berries we've picked and frozen from the previous summer)
1 frozen banana
1 tsp vanilla
2 tbsp gelatin
FOR THE NO-BAKE PALEO GRANOLA:
1 cup of nuts - chopped by hand or in your food processor
1/4 cup unsweetened coconut flakes or shredded coconut - optional
2 tbsp nut butter of choice
1/4 tsp sea salt
Fresh berries for topping
INSTRUCTIONS
Place all of the creamy part ingredients in your blender in the order listed above. Blend on medium-high until everything is creamy and smooth.
Turn your blender off, and then pour/scoop your creamy berries into small mason jars or other glass container that you can seal and store in the fridge.
To make your no-bake paleo granola, place your chopped nuts, nut butter, and sea salt in a small mixing bowl. Use a fork to mix it all around until the nut butter is evenly combined with the nuts. It will be a little chunky.
Top your creamy berry mixture with your no-bake paleo granola and some fresh berries right on top.
Cover and store your berry yogurt parfaits in the fridge for up to 5 days.
5) Kale Chips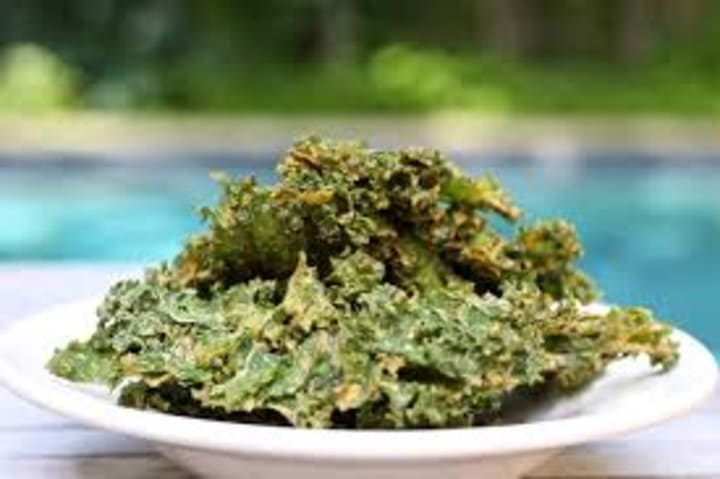 Easy to bake and full of antioxidants, kale is considered a superfood. I'm in love with it in a salad myself especially with some caesar dressing and crunchy garlic croutons, but can be a good stand-in for when you want chips.
Recipe (Credit: https://www.healthline.com/nutrition/29-healthy-snacks-for-weight-loss#section7)
1 cup (67 grams) of bite-sized kale leaves
1 tablespoon (15 ml) of olive oil
1/2 teaspoon (3 grams) of salt
Directions:
Mix all ingredients in a bowl.
Place kale pieces on a parchment-lined baking sheet and bake at 350°F (175°C) for 10–15 minutes. Watch them closely, as they can easily burn.
6) Banana Oat Cookies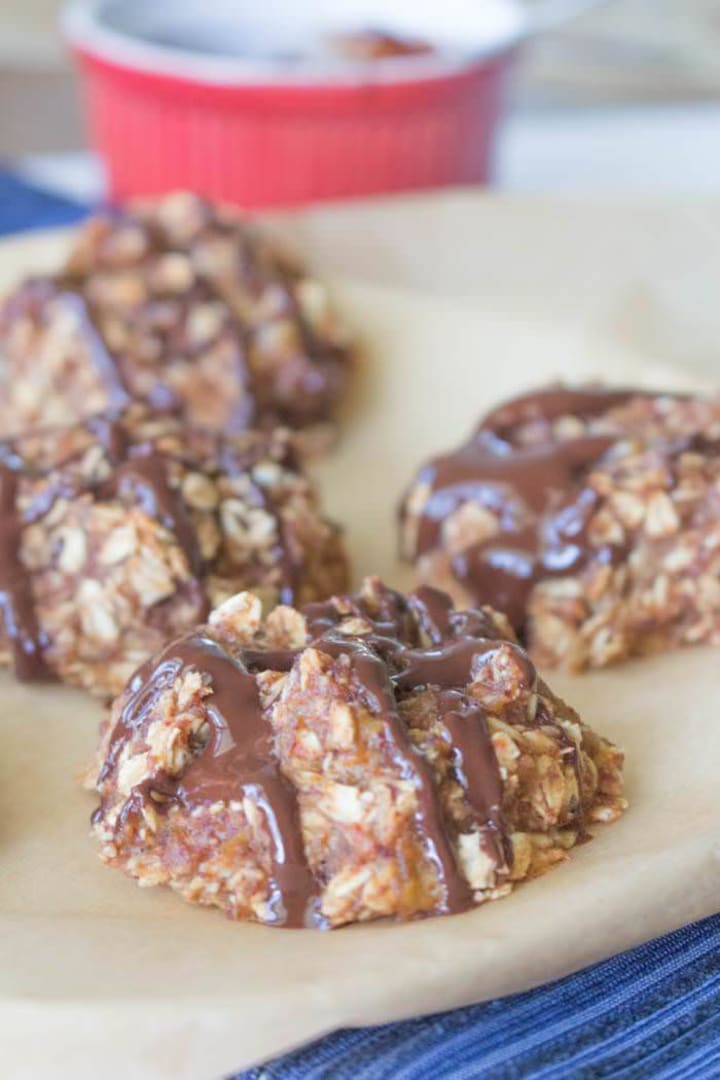 Cookies are a must with snacking. But it can be super difficult to find a recipe that doesn't scream for sugar. This recipe offers a healthy blend of fruit and sugar replacements. As well as a mouthwatering recipe for cookies.
Recipe (Credit:https://www.oneingredientchef.com/banana-oat-cookies/)
Ingredients:
3 bananas
1 3/4 cups rolled oats
1/2 cup date sugar
1 teaspoon vanilla
2 pinches cinnamon
Directions:
Preheat oven to 350º F
Grab 3 bananas and mash them with a fork until no chunks remain. Pour in about 1 3/4 cups rolled oats and 1/2 cup date sugar*. Use the fork to mix until combined. Stir in a dash or two of cinnamon and a teaspoon of vanilla. Finally, add whatever throw-ins you'd like (see suggestions below) and mix again.
Spoon the batter into 12 rounds and place them on a Silpat or lightly-oiled baking sheet. Cook for about 10-14 minutes, until the outsides become golden and solid. Remove from the oven and allow to cool for 10 minutes before eating.
Throw-in Ideas
The plain cookies (with no throw-ins) work really well, but here are a few other flavor combo ideas:
Chocolate – Chocolate is always the go-to for a throw-in. Sweet and rich, chocolate makes anything better.
Blueberries – Full of antioxidants like chocolate and juicy, blueberries are a good alternative if you either can't eat chocolate (a common trigger for IBS) or you're super picky and don't like chocolate.
Nuts – Peanut butter is another great paring with these cookies, as are whole nuts, like almonds or walnuts.
Coconut – For a great coconut macaroon-like cookie, add in a small handful of shredded coconut to the batter.
Cinnamon Apple – Cut an apple into small chunks and add them to the batter with an extra few dashes of cinnamon for cinnamon apple cookies.
7) Strawberry Smoothie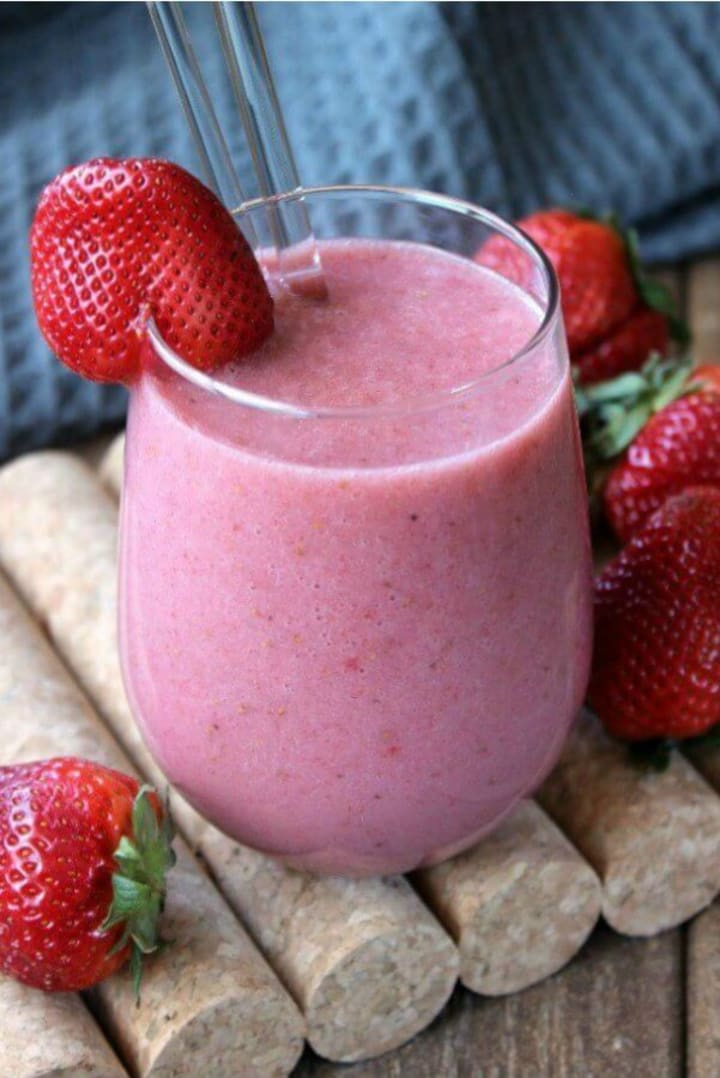 A love for smoothies isn't necessary for this snack, but a blender is. A smooth and cool delight especially in the late Spring/ early Summer, the strawberry smoothie can be dairy-free or dairy-full depending on your tastes. But it is one of the snacks that can use either dairy or nondairy options as far as milk. A good vegan option as well as IBS and lactose intolerant.
Recipe (Credit:https://veganinthefreezer.com/dairy-free-strawberry-smoothie)
Ingredients
2 cups strawberries, fresh or frozen
1 banana
1/4 cup dairy-free milk, unsweetened, you can add more milk if you like it thinner
Instructions
Get out your blender or food processor.
Add all of the ingredients and blend until smooth.
8) Homemade Stove Top Popcorn
Getting ready to watch a movie and need a healthy snack?
Popcorn is your answer.
Unlike theater popcorn that is either slathered in butter and/or salt, homemade stove top popcorn can be invigorating and light.
Recipe: (No credit; use basic popcorn you can get it in your local grocery shop)
Put saucepan on medium heat
Use small bit of olive or avocado oil
Put two kernels in saucepan to make sure popcorn will pop
If they pop, put in a cup at a time. If not, put it on a little longer.
Pop until kernels are done. Make sure not to burn them.