Healthy Fast Foods
This is "Part 1" of the five-part series of Healthy Fast Foods.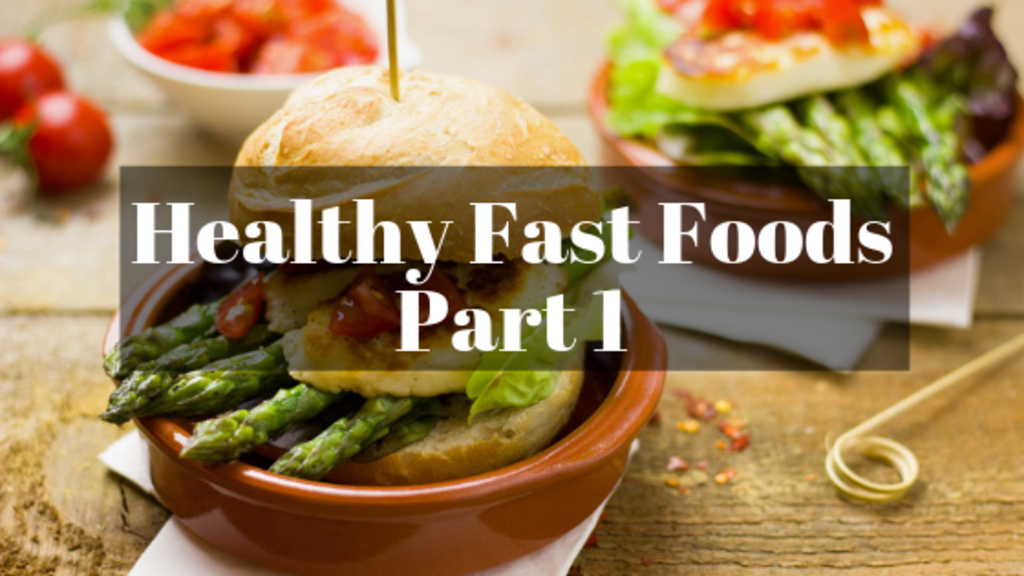 Your favorite take-outs can become Healthy Fast Foods—with much less fat!
Lucy, our beauty therapist daughter, has put together some nutritious and excellent tasting alternative recipes for your favorite takeouts.
"This way you can have your favorite takeout food and still be happy and fit," says Lucy.
"Sure take out is quick and simple and there's nothing wrong with it right?
Wrong—most takeout is unfortunately very bad for you.
As everyone is beginning to become aware, there is a lot of fat, plus those nasty trans-fatty acids, sugar and salt in these foods.
Sure, you need some of these things for your body to work, but not in such extremely high doses.
Therefore I have decided to put together a little list of ways that I have learned to create your own favorite take out meals—without the excess fat consumption!"
They have become healthy fast foods!
You can make your own.
Fish and chips with fresh fish from the supermarket, potatoes, and a little seasoning!
Hamburgers with ground or minced beef, bread, onions, pepper, salt, tomatoes, lettuce, tomato sauce, mayonnaise, and pineapple!
Chips, or fries, with potatoes and a little seasoning.
Chicken nuggets with chicken breast pieces, egg and bread crumbs!
Chicken and fries with a chicken from the supermarket, some salt and pepper and some potatoes and seasoning!!!
Sub sandwich with some chicken breast pieces from the supermarket, carrot, tomato, lettuce, cucumber, olives, low fat cheese, mayonnaise, and some seasoning!
Pizza with flour, yeast, salt water, mozzarella cheese, mushrooms, ham and pineapple!
Stir-fry with ginger, garlic, light soy sauce, chopped steak pieces, extra virgin olive oil, onion, baby corn, bok choy and hokkien noodles!
Fried rice with brown or white rice, bacon, extra virgin olive oil, mushrooms, peas and corn, salt-reduced soy sauce, eggs and red capsicum!
Soup with chicken stock, potato, broccoli, pearl barley, onion, carrot, pepper, mushrooms and noodles!
Pasta with spaghetti, lean ground or mincemeat, beef stock, tomato puree, onion, garlic, celery and carrot!
Also make sure that you are drinking sufficient water with these healthy fast foods.
Water is very important for our body. So you should not only drink a lot of water but also drink pure water purified by a good quality water filter.
If you don't have a water purifier at your home then here is the list of the best RO water purifiers.
Fish and Chips- a healthy version
For our healthy version of Fish and Chips
Pre-heat your oven to 400°F (200°C).
OVEN CHIPS
To serve two, you will need
approximately six potatoes
salt and pepper
extra virgin olive oil
Peel and chop the potatoes into rectangular shapes. (Like chips!)
Brush the chips with a small amount of extra virgin olive oil to make them a little crisp on the outside.
You may season them before or after you cook them, it's up to you.
(Try to be sparing with salt.)
Place the chips on an ovenproof tray and into the oven for 30 to 50 minutes or until golden brown.
Healthier fish
FISH
Two fillets from the deli section of your supermarket (make sure they look juicy and fresh)
Brush the fillets with just enough oil to cover and add some pepper and salt to season.
Remember to be sparing with the salt!
Note: if you like you can also add some chopped onion to give some extra flavor.
Wrap the fillets separately in foil and place in an ovenproof dish.
Place in the oven and cook for about 15 to 20 minutes or until cooked in the middle.
This is delicious served with a fresh crisp salad.
And there, you have a lovely, healthy, delicious meal without excess calories!
Perfect for those who enjoy take out as I do!