Healthy Options for Dining Out
It's Possible...Really!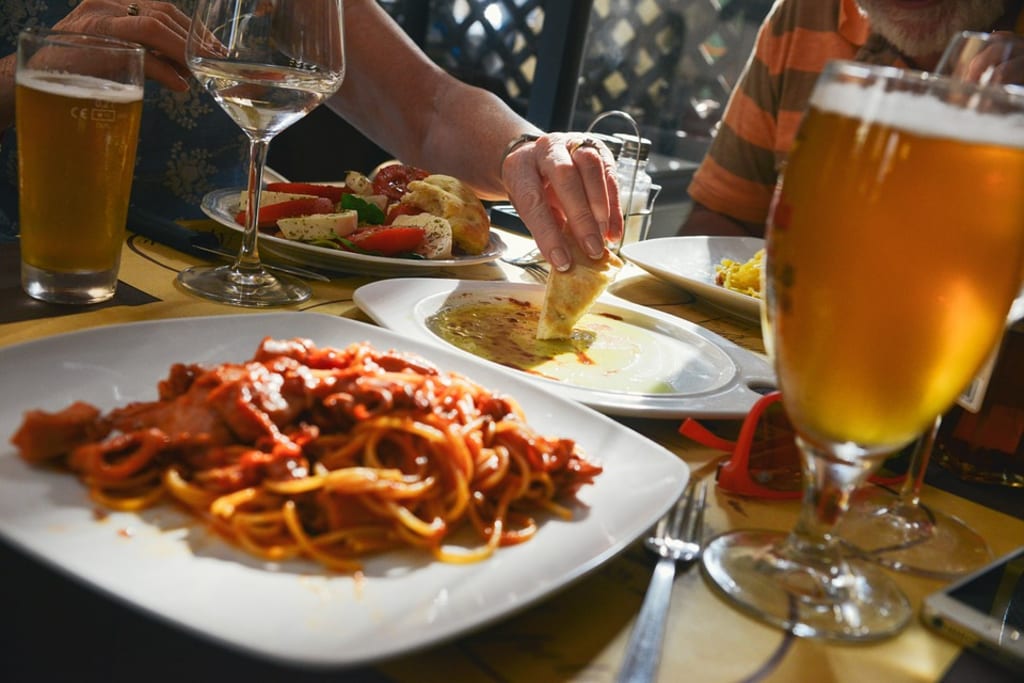 Everyone loves to eat out from time to time.
During the summer, it's a great way to escape the heat. During the winter holiday season, it's a convenient and flexible opportunity to socialize with friends and family without having to worry about hosting or cleaning up.
Likewise, eating out offers a great convenience for those people or families on the go--especially those folks whose schedules are dictated by work, an active social life, or both. Dining out is often the easiest solution. According to a recent report from Zagat, Americans dine out for breakfast, lunch, or dinner an average 5.9 times per week.
It's no real wonder.
The variety available to the average consumer has only grown over the years--particularly when it comes to healthy eating choices. That said, those healthy choices are not always immediately apparent and it's easy to — without realizing it — sacrifice nutrition for convenience.
The good news is that smart ways to eat out which support a healthy lifestyle are fairly simple.
Whether you're trying to lose weight, keep in shape, or maintain a handle on a specific dietary need, we have some suggestions so you can dine out with friends, family, or just yourself with the confidence that you are holding true to healthy habits.
We Asked an Expert
We asked Kimberly Gordon, a registered dietician and certified diabetes educator from Loveland, Colorado, what she considered to be some of the best tips when it came to dining out healthily.
First among her suggestions were to always have a small snack before going out to eat. This will reduce hunger when it comes time to place your order. She also cautions against drinking your calories. Not only does alcohol contain a high calorie count, mixers can often add to that calorie count. Also, alcohol can stimulate your appetite and lead to eating more rather than less.
At the table, try to order first. If you order your healthy choices first, you are less likely to change your selection to something less healthy based on what others are ordering. As an added bonus, you may inspire others at your table to make healthier choices.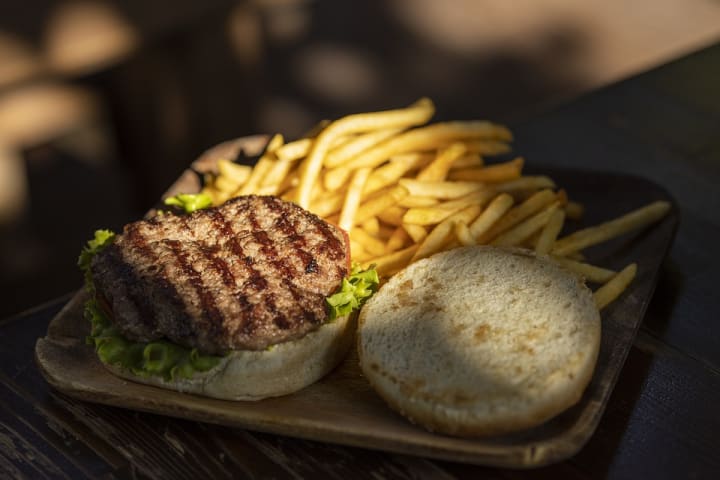 Similarly, you can set the pace. Some studies have shown that we are more likely to match the chewing pace of those around us. If you eat slower, others will match your pace rather than you matching theirs. In eating slower and savoring your food, you will be less likely to overeat.
Gordon also reminds us that ordering a salad is not always the guaranteed healthy choice we think it is. A grilled chicken salad can sometimes have more calories than a cheeseburger, and with virtually the same amount of saturated fats, If a salad is going to leave you feeling hungry, then maybe the cheeseburger isn't such a terrible option if it fills you up more.
Check the nutritional information whenever possible. More and more restaurants these days are offering this information on request--or right there on the menu. We'd also recommend checking the menu online if one is available. If you know where you are going ahead of time, you can plan your menu choices in advance, and research your best options.
What Are Some Options to Consider?
Favor foods that are grilled, steamed or poached rather than those foods fried or grilled in butter or oil.
Make sure that half or more-than-half of your plate is devoted to vegetables.
Consider adding fruits when possible. Many breakfast places offer fresh fruit choices. Even those places that don't explicitly have fruit on the menu may keep some on hand for garnishes and be willing to put together a special side order for you.
Be on the lookout for foods dusted with salt--most often baked potatoes. You can request these items to be prepared without the added salt.
On the Buffet Line
Restaurant buffets can be a minefield when it comes to healthy eating. Many of the foods are not only prepared with oil, but they also end up sitting in heat trays where they soaking in oil and grease.
Look for the lean meats. If considering baked fish, make sure that it's not been baked with a heavy dose of butter.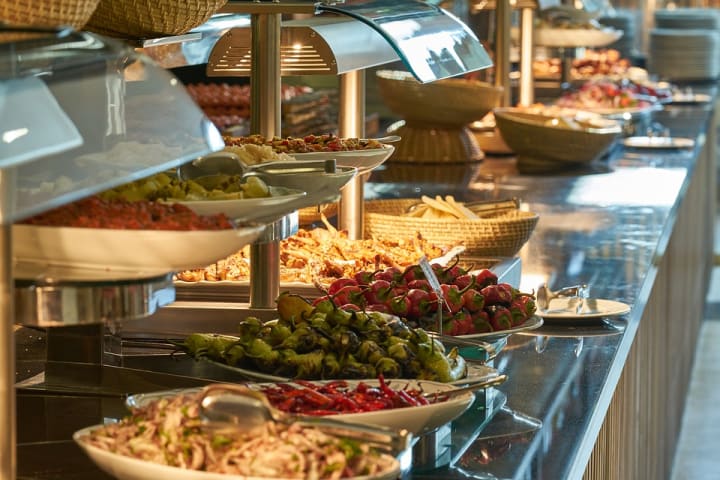 Fill your plate with vegetables before hitting the meat section. Again, be on the lookout for vegetables cooked in butter and oil or heavily seasoned with salt. Look for the steamed vegetables. They taste better and are better for you.
Or you can simply skip the buffet. Order a la carte and keep a tighter control on your healthy choices.
You're the Customer
Restaurants rely on repeat business. It's a smart business practice for them to be as accommodating as reasonably possible.
If you don't see the healthy option you're looking for on the menu, don't be afraid to ask if it's possible anyway. The worst they can say is no.
If you have special dietary concerns or allergies, let your server know. Most will be able to answer any questions you have regarding food preparation or, at least, go back and ask the cooks.
Gluten-free options are sometimes located on special pages of the menu, or on separate menus entirely. Feel free to ask about them.
If trying to keep a tight hold on your portion control, ask for a to-go box as soon as your meal arrives and immediately move some of your plate's contents to the box. This not only decreases the portion on your plate but sets you up for another meal or snack later at home.
While chain restaurants often have special needs menus and information readily available, your local restaurants are more personally invested in your health and satisfaction. They will make every effort possible to help you with your nutritional preferences.
The Unplanned Outing
We don't always get to choose. Whether it be an impromptu after-work outing, a sporting event watch party in a restaurant, or another special event, not everyone has a say in what restaurant will be the dining destination.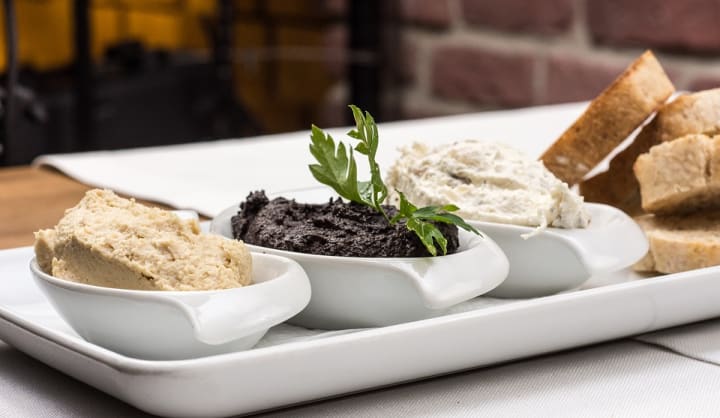 When this happens, don't feel overwhelmed or obligated to make unhealthy choices. You are still the customer, and your preferences matter. If your group wants to choose some appetizers for the table to share, feel free to suggest at least one appetizer that is not deep fried or buried in cheese. Or skip the appetizer round and take your time looking over the menu.
Group outings can be great opportunities for sharing. If another person in your group is following similar health guidelines as you, conspire with them to share an entree--thus decreasing your respective portions, and saving money as well!
Nutrition First
The basics of good nutrition are not hard to learn. The CDC's Dietary Guidelines for Americans 2015-2020 recommends the following healthy eating plan:
Favor fruits, vegetables, whole grains, and fat-free or low-fat milk products
Choose lean meats, poultry, fish, beans, eggs, and nuts
Go for foods low in saturated fats, trans fats, cholesterol, salt, and added sugars
Stay within your daily calorie needs
There are many great reasons for dining out--especially at local restaurants. There are whole worlds of new foods to explore, and great times to enjoy with friends and family. None of that means, however, that you have to sacrifice your health.
Smart choices are easy choices.
Enjoy!