Having Friends Over for Coffee or Tea?
A How-To List for a Relaxing, Beautiful Setup and Good Conversation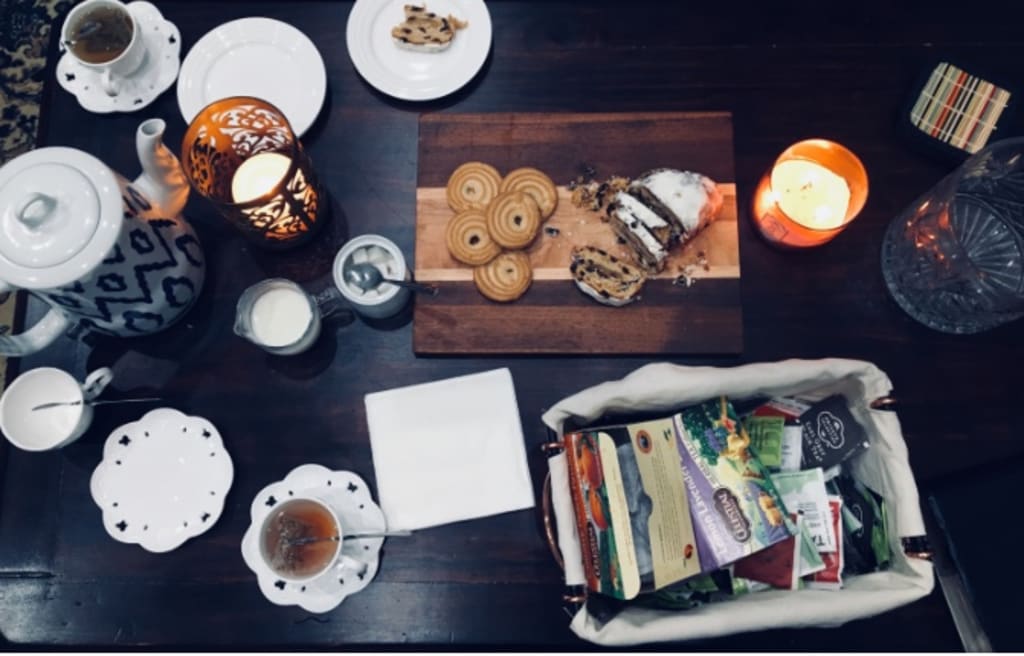 I had a free afternoon one day, and decided to do something I haven't done in a really long time: go to a coffeeshop, sit down, and do some light reading and writing. I wrote a letter to my sister-in-law, and began reading an informational book I purchased at a Half-Price Books. It was so nice. Each table had it's own little succulent plant in a metal tin, and the table I sat at had the appearance of marble. Very aesthetic.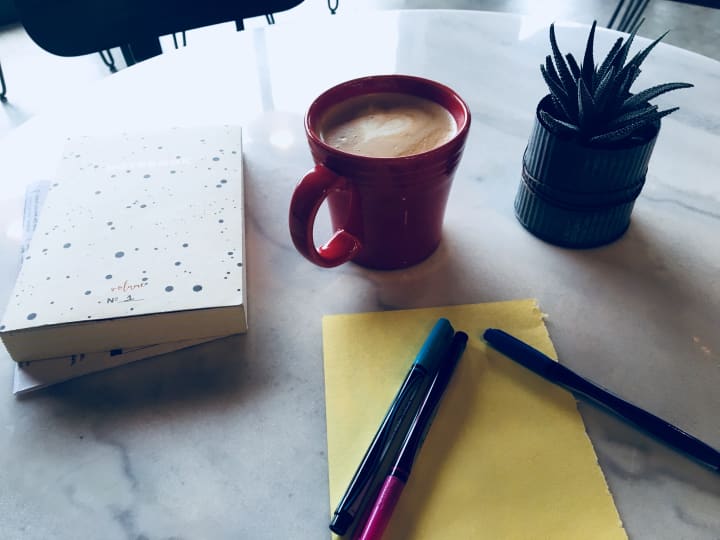 My husband and I, well, we love coffee.
Actually, it's all me. He likes it too, but why do you think we have a Nespresso machine, a dual coffee maker with K-cup dispenser, a ceramic pour-over, a Chemex, a French Press, almost always at least 1-2 lbs of coffee beans, and about 1000 cups and mugs? We've donated a Keurig, and I left a French Press thermos at my parents house. Oh, and I also have tea (for all my tea-lovers out there). I won't bore you with pictures.
Except one.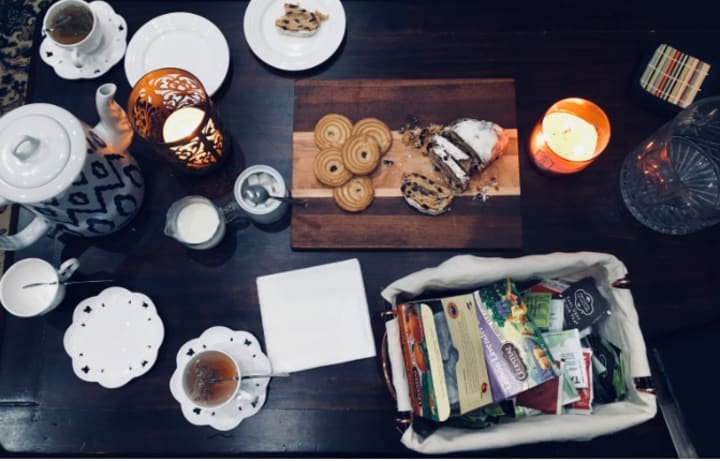 Some friends of mine came over and we had a tea-time. It was just so fun. Conversation is great with a cup of tea or coffee. Don't you agree?
Here I have a list of Tea and Coffee Time Essentials. (I hope you find it useful!)
Keep the kettle/teapot in the area you plan to reside in, as well as just bringing the tea box or bags with you. It provides an atmosphere where you can just relax and the conversation doesn't have to have pauses in it while everyone waits, or while you miss out.
Water will be spilt, and crumbs will be crumbled; but don't worry about the mess, just bring it all in the room and enjoy. And why not bust out a fancy board, like a cheese board, with some treats on it? I've used shortbread cookies and Kölner Christ Stollen bread (pictured).
Various teacups. It's fun to let the guests pick, but if left up to you, pick a mug according to their personalities. It's actually quite great.
I lit some candles, since the day this took place it was cold out, and felt our time needed some warm cheer. It made it all tie in together, and gave off that 'home-y' vibe.
Square sugar cubes are the best, and so cute to serve to guests. A simple little spoon is enough to scoop them out with.
The little plates shown above with bread on them are Mikasa china, but of course any small plates (even paper plates, which I use all the time) do the trick. The patterned saucers and teacups can be found here and are porcelain.
One important thing about tea/coffee time is it doesn't have to be a big thing. My mother-in-law and sister-in-law came over once, and I laid out a similar spread and it was so restful to just have coffee and snacks and watch a TV show. So for all my shy readers, just know that there's no pressure to talk the whole time. Playing Bananagrams or watching "the big game on TV now" is totally acceptable.
Making conversation is hard sometimes. But one thing I realized with tea time, is when people are just sitting on a couch or chair, sipping their beverages together and are done with the week's catching up, low-pressure conversation comes out. What I mean by that is you've placed them in a comfortable environment, and everyone feels at ease to chat and actually communicate about how they're doing, how that person in their life is, or ask you for your thoughts on something. It's a good way to relax and talk about everything and nothing.
how to
About the author
A late 20-something, who enjoys being a wife, writing, cooking, baking, making coffee, and documenting much of what I eat.
Email: [email protected]
Reader insights
Be the first to share your insights about this piece.
Add your insights