Has your bread gone stale?
Turn it into a Delicious Bread and Butter Dessert with a twist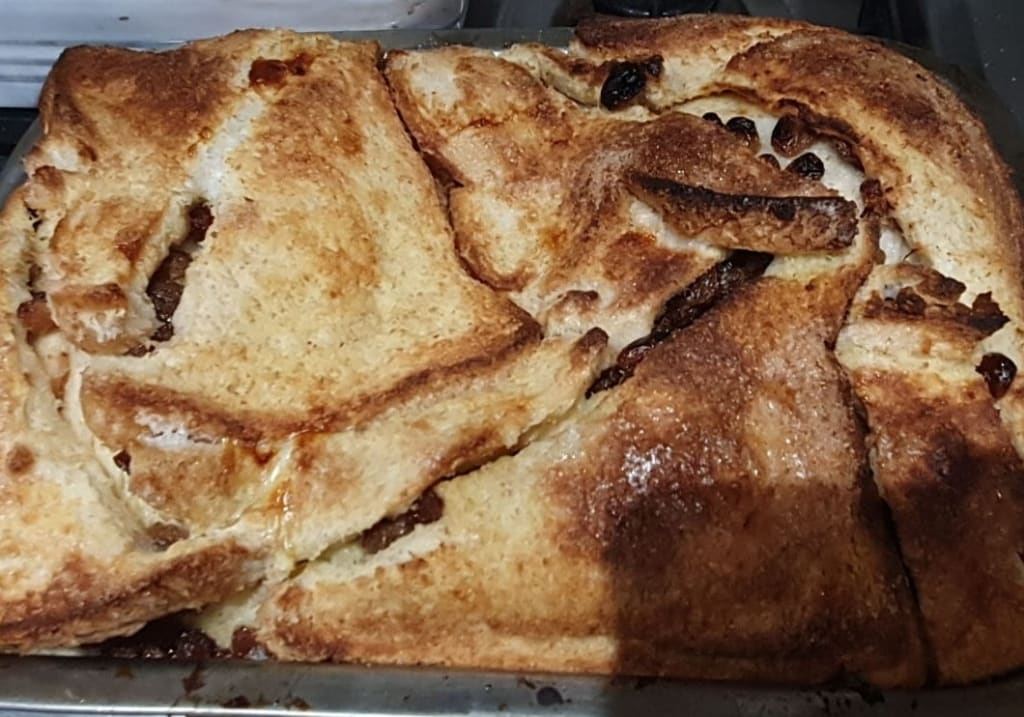 Fed up of throwing away stale bread? Waste no more with this delicious easy to make Bread and Butter Pudding even the kids will love. Who would have thought you could make something so tasty with stale bread.
Having a serious sweet tooth and having nothing in the house cake/dessert wise, I decided I was going to throw together a bread and butter pudding. Looking in the cupboard to my dismay I found I had no raisins or currants. As I often adapt original recipes I put on my thinking cap to see what I could come up with using the ingredients I already had at home. See below the adapted recipe how I made an amazing mouth watering dessert.
For a basic bread and butter you will need:
Bread approx 12 slices - Can be made with fresh but bread on dry side is best
Butter
Sugar
Cinnamon
Raisins or currants
2 eggs
1 pint of milk
No need to measure the dry ingredients.
Method
1. Butter all the bread one side only and cut into quarters.
2. Cover the bottom of a greased backing dish/tin with a layer of bread, butter side up.
3. Sprinkle the raisins/currants over the top of the bread, this does not need to completely cover the bread, use sparingly but enough to give even coverage.
4. Sprinkle granulated sugar over the top again use sparingly but enough to taste.
5. Repeat steps 1-4 layering the bread, raisins/currants and sugar until you reach top layer.
6. For the top layer, lay the butter side up bread and sprinkle with sugar and cinnamon. I don't tend to put raisins on at this stage as they easily burn on top.
7. Whisk one egg in a pint of milk then pour over the layered bread slowly allowing the milk to seep through the layers. Tilt the dish slightly to allow egg/milk mixture to soak in.
8. Set aside for 10 mins until most of the liquid has been absorbed.
9. Put in oven and bake for 25 - 30 mins. Heat oven to 180C/160C/gas 4 the top should be golden brown and crispy and middle will be soft custard like texture.
10. Serve in a dessert dish on its own or with Custard/Ice Cream or Cream, Dessert best served hot, can also be warmed up the next day.
Adapted Recipe
Looking in the cupboard for something sweet I spotted the chocolate spread and laying in the fruit bowl was a banana. Bonus! Still wanting bread and butter pudding I swapped the butter for chocolate spread. After layering my baking dish with the bread, chocolate spread side up I thinly sliced a banana over the bread instead of the raisins/currants. As the chocolate spread was sweet I left out the sugar and just layered the bread and banana. The top layer I did sprinkle with a bit of sugar to help give the crispy topping but left off the cinnamon. I poured over the egg/milk mixture as above and left to soak before placing in the oven. Delicious is an under-statement, serve as above, this is a must try adaption Chocolate & Banana Bread Pudding. You wont be disappointed in this lovely winter warming dessert. Give it a go and see for yourself.