Hands-On Pasta in Rome
Cucina Trastevere, a cooking school on the banks of the Tiber, offers a blissful taste of Roman cuisine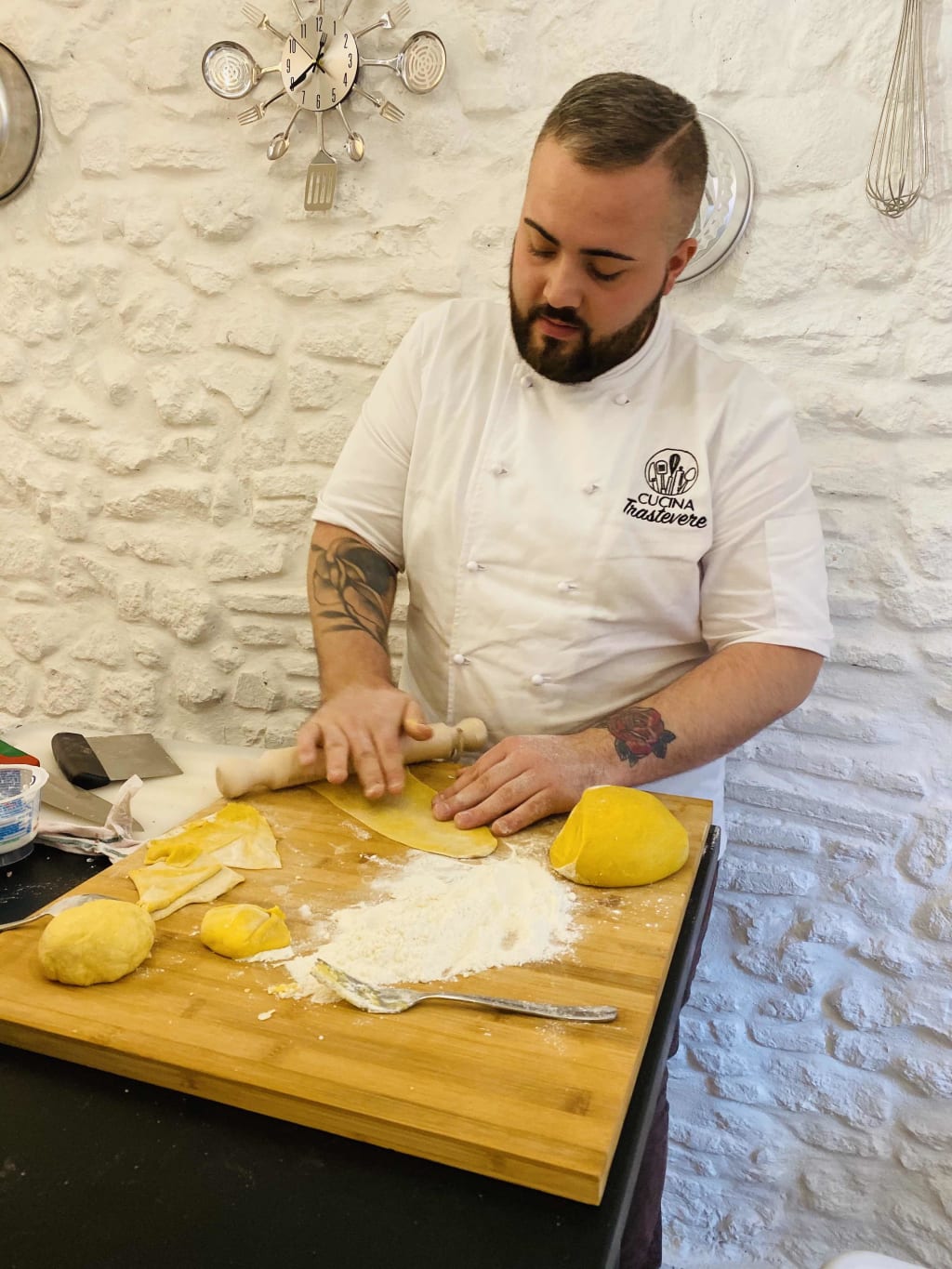 What could be more blissful than an autumn week spent in Rome? I'll tell you what: learning to cook perfect Roman pasta on a sunny Roman afternoon. I'd come from London to Rome to stroll the ancient city's streets in the company of a dear friend and expert tour-guide, the writer Kate Nicholls, who lives in the Eternal City — Cucina Trastevere, opened just a couple of months before I arrived, happened to be right around the corner from her flat. If you are visiting this extraordinary city, this is an experience not to miss.
We spent two blissful hours in the company of Marc Cerafatti and Andrea del Bello, the company's co-founders: Marc runs the business and Andrea, who spent years in London cooking in a Gordon Ramsay restaurant, runs the kitchen. They are, as I am sure you can clearly see, utterly charming company as well as knowledgeable guides to Roman cuisine.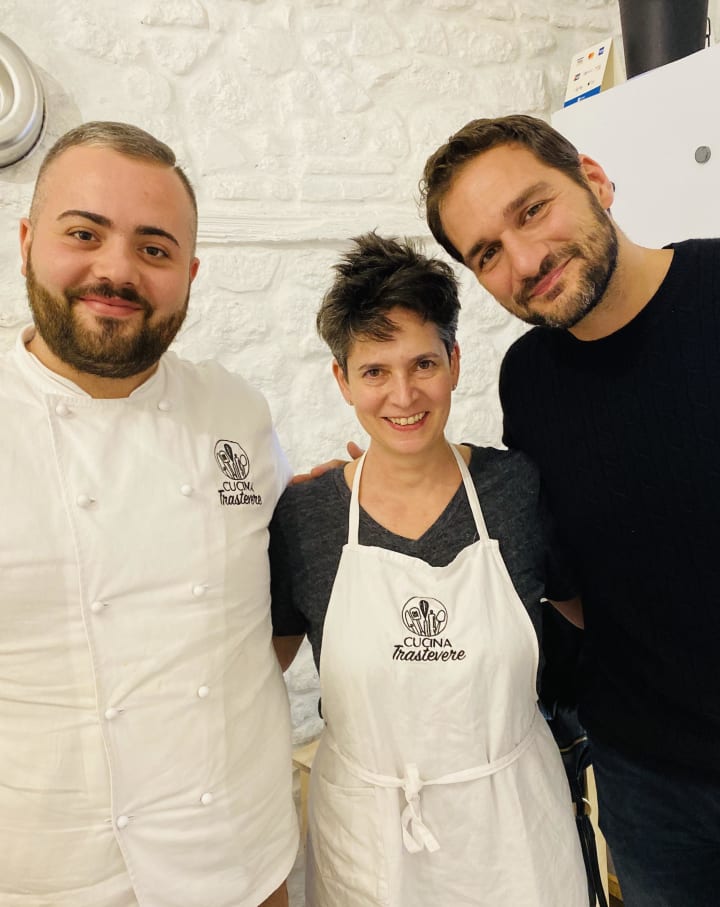 Marc and Andrea offer a variety of classes: anything from making the perfect pizza, to Roman first courses, international cuisine, to making fresh pasta — that's what Kate and I chose. The business is still developing, I should say, and Marc told me that he and Andrea are absolutely open to suggestion: they are planning to add a gelato-making course, certainly, but if there's something you want to cook, you should tell them!
Kate and I are both pretty confident cooks: but both of us felt that our pasta-making, certainly, could be improved. We both own pasta-machines, but with Andrea we did everything by hand. Gently, gently, we folded fine "00" pasta flour into beautiful organic yellow-yolked eggs to make a dough... the dough we then used for our lunch, however, had been made by Andrea the day before, as it needs to sit in the fridge for a day before being rolled out. (Did I know that? I did not.)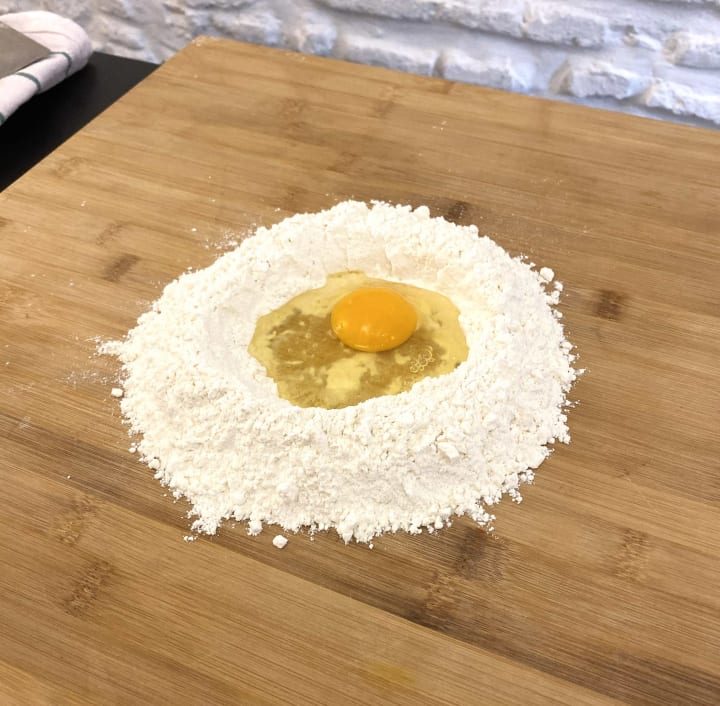 Don't think it was all hard work, however. When we arrived, just after noon, we were greeted with plates of antipasti and a glass of delicate Italian wine, just the thing to get the afternoon off to a fine start. Under Andrea's expert guidance, we rolled out our dough handkerchief-thin, before cutting squares to make tortoni: dainty parcels filled with a mixture of bufala ricotta and finely-chopped Parma ham. Next came fettuccine, our dough rolled into fat cigars and then sliced and unrolled, dainty noodles stretching out as if by magic.
And there is something magic about making pasta: it seems so simple (egg, flour, Bob's your uncle) and yet the tastes and textures of real fresh pasta are so sophisticated. Swiftly Andra produced a quick tomato sauce for the fettuccine, and gorgeous wild mushroom sauce for the tortoni: of course, he said, he would email us the recipes, but what you experience at Cucina Trastevere is cooking that comes from the eye, the hand, the heart. Kate and I were both astonished by the simplicity of the Roman sauce known as cacio e pepe — literally, cheese and pepper. Andrea grated pecorino, a hard sheep's cheese, and poured in little olive oil and plenty of black pepper. Then, just a splash of hot water and, astonishingly, there's your sauce, grainy and rich, perfect for coating pasta fresh from the pan.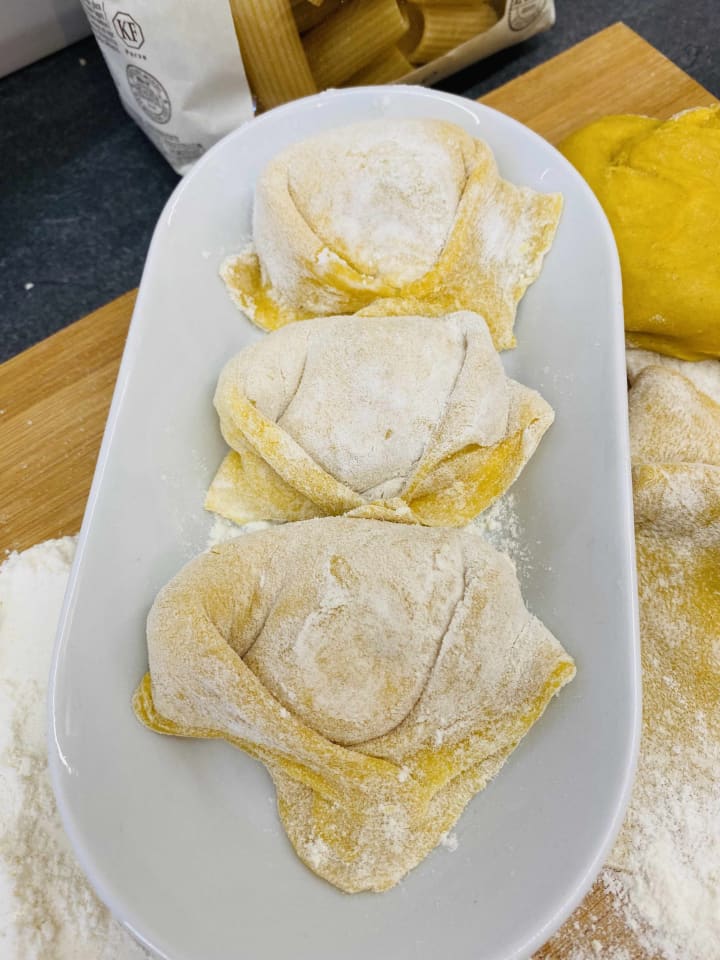 But there was more to come — tiramisu, made practically before our very eyes. Marc, a native Roman who spent some formative years in New Jersey, explained that while tiramisu isn't a Roman dish it has now colonised Italy: Andrea's version was sublime. A mix of egg yolk, whipped egg white and sugar, layered with lady-finger biscuits dipped in cold espresso and dusted with chocolate powder. I confess I'm usually underwhelmed by tiramisu: I now understand that the tiramisu I've had has been underwhelming. Come on, just look at this: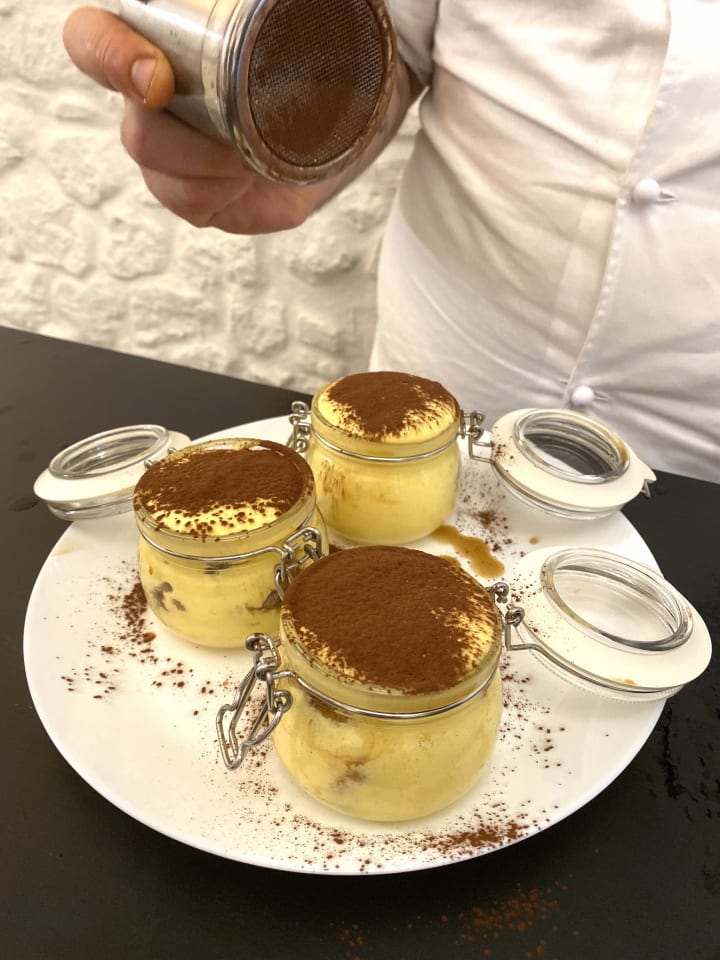 We had, it's true, eaten quite a lot of pasta by this point, and wondered if we could eat another bite. And yet, with this glorious dessert before us...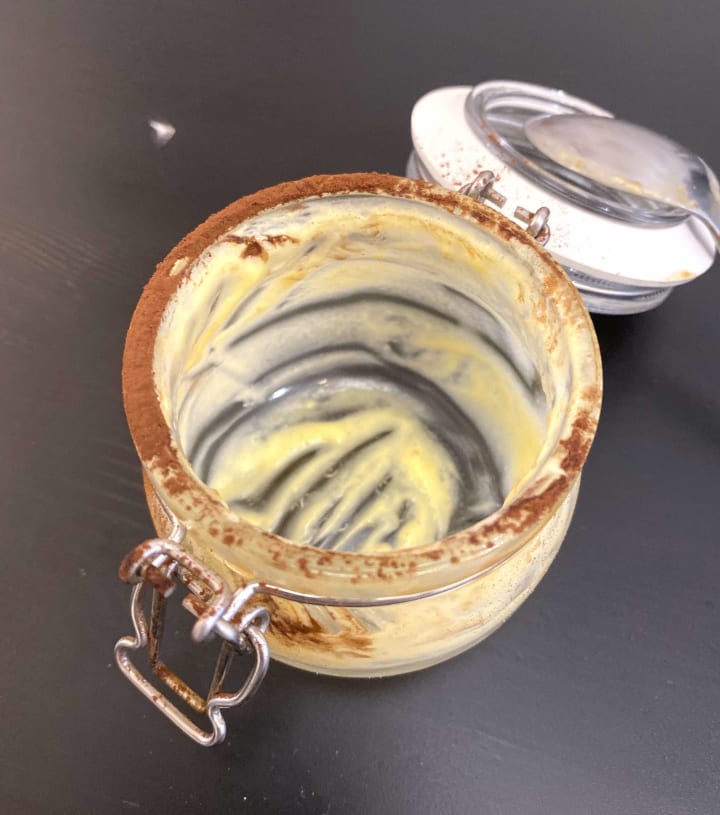 We finished with a little digestif of Nerone, a traditional Roman liquor flavoured with aniseed and herbs. Lunch and our lesson were both over, alas — but what a delicious afternoon it had been! Next time I'm in Rome I'll be ready for my next class; in the meantime I send a warm salute to our new friends Marc and Andrea.
Cucina Trastevere, Via della Lungara 41 - Roma. Classes for up to 14 people. Home made pasta class: 59€ per person, discounts available for larger groups.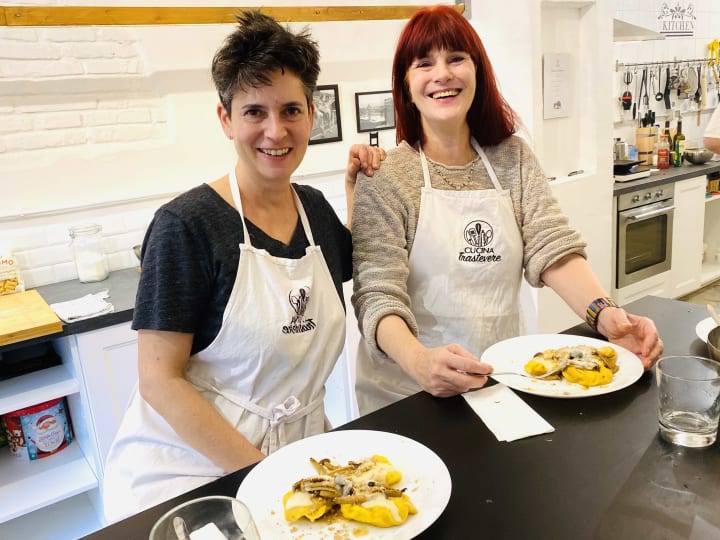 cuisine
About the author
Lead Editorial Innovator, Vocal. Author, critic, friend, parent, cook. New book: Chief Engineer: Washington Roebling, The Man Who Built the Brooklyn Bridge. Twitter: @EricaWgnr, Insta: @ericawgnr
Reader insights
Be the first to share your insights about this piece.
Add your insights