Hamburger Helper
Vegan and Simple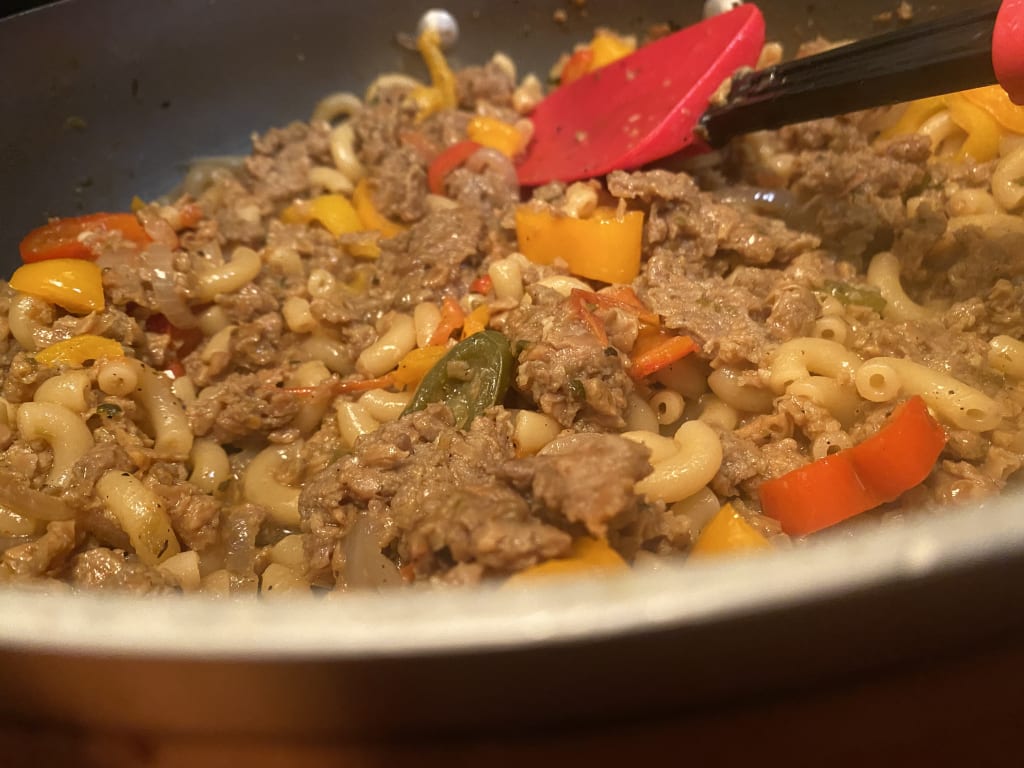 Around the holidays, two things start to become the focal point. Those two things are family and food. With the way 2020 has gone, there has been a strain on people nation and world wide. People haven't been able to see family the way they have been able to in the past, and the holidays are going to be spent a little differently.
Speaking of differences, I grew up in the south and unhealthy food is always a given. It took years for vegetables without pork, and eventually just turkey (baby steps, am I right?), as well as finding a full plate of nutrients when on any sort of meat and dairy restricted diet. I wanted to use some of the extra time I have had on my hands to try and create a mixture of both in something that made me feel comfort and nastalgia of home without all of the things that home used to bring with it. One of the most go-to recipes for a young family on the go is quick, easy dinners. My favorite of the instants is hamburger helper and here's how my go at it went. Enjoy!
-V
I was craving some pre-made dinner options, but Ms. Corona, the time of day and my budget kept me in the house. I'm pretty good at recreations, but I wanted something simple and easy that I could make quickly. I've been trying to eat mostly vegan, so I stepped into my creativity for the occasion. The result was a tasty, versatile, easy meal I know I'll be making over and over.
Ingredients:
Elbow Macaroni Pasta***Cooked 75%
Meat Replacement Ground "Meat"***
1 Tomato Sliced
1 Onion Sliced
1 Orange Bell Pepper Chopped
1 Red Bell Pepper Chopped
1 Yellow Bell Pepper Chopped
2 Cloves of Garlic Minced
2 Tablespoons of Olive Oil
1 Cup Pasta Water
***TIP: Keep your meat to pasta ratio 3:1. For my recipe, I used Beyond Meat, which yielded enough meat to have to make 4 servings of pasta.
LET'S GET SPICY:
1 teaspoon Basil
1/2 teaspoon Parsley
2 teaspoons Oregano
Sea Salt to taste
1/2 teaspoon Black Pepper
Cayenne or Red Pepper to taste
1/2 teaspoon Turmeric
1/4 teaspoon Black Seed Cumin
1 teaspoon Garlic Powder
***Note: Black Seed Cumin and Turmeric were integrated into my recipes after discovering their health benefits including reducing inflammation, boosted immune system and aid in digestion. I then discovered that they can brighten up lots of dishes.***
Take your olive oil and heat it in a large skillet over medium heat. When it's hot***, add your onions, garlic, peppers and tomato.
***Your oil will be hot when it begins to move around the pan more like water than oil.***
Once your onions are clear, and other veggies cooked down, add your meat substitute. Start to cook your pasta now if you haven't already. They will finish around the same time.
While watching your dish, add water slowly every 5 minutes or so until you have used it all.
Drain your pasta and add to your skillet. Mix together and add to bowls. The direction you take next is up to you, but I've added several tasty options for when you've plated.
1. Top with hot sauce and cheese sauce! Take 1 Cup of Velveeta on the stove with 1 teaspoon of hot sauce of your choice. After melted, add it to the top of your dinner for some cheesy goodness.
2. Add some parmesan! The saltiness of this hearty cheese adds the perfect touch to your now vegetarian meal.
3. For my vegans, you can add some tasty Habenaro Lime hot sauce with some nutritional yeast for a cheese like flavor, and a sweet spicy bite.
Forks Up, Chefs!