Gluten Free White Chocolate and Raspberry Cookies
A Simple Gluten-Free Recipe That Anyone Can Enjoy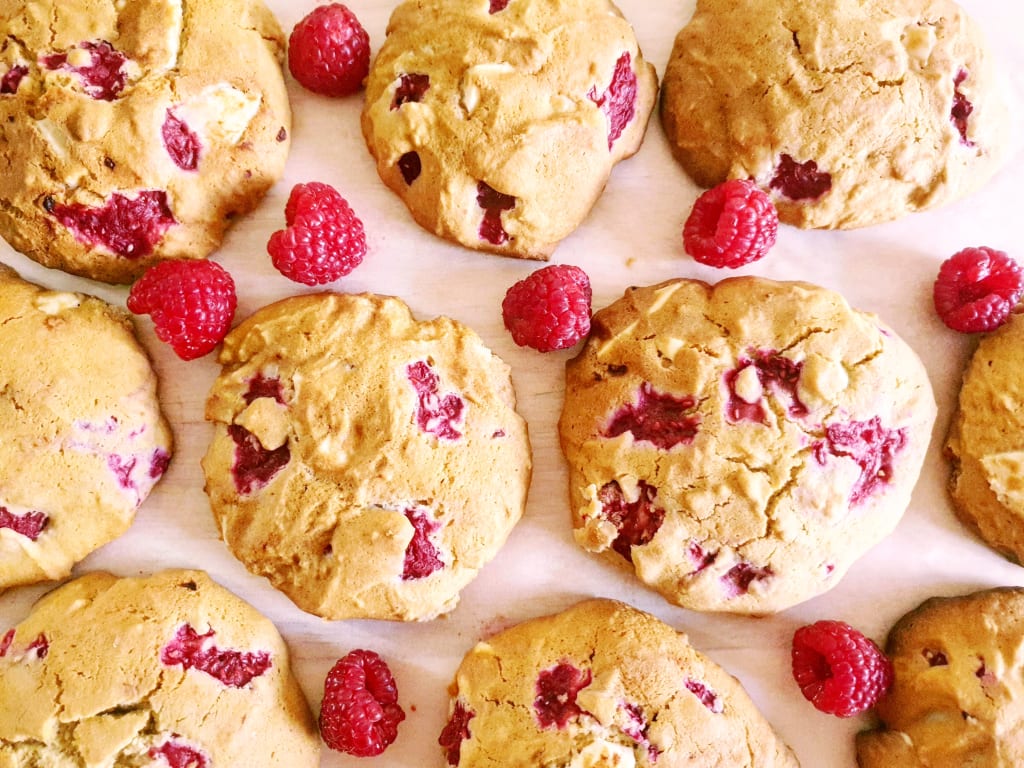 We have just two more months until 2020, and already I'm thinking about my new year resolution. Now let's be honest, how many of us has had at least 20 different new year resolutions and within the first two weeks of the new year they have been forgotten about?
Whether you're trying to be better with your money or going to save up for that dream holiday we all agree that one new year resolution that is always broken is changing your eating habits. I'm going to quickly let you in on a little story that I have been experimenting with for the past two months before heading into this recipe. I have been on and off on a gluten-free diet for the past two months with my friend as she wants to feel happier and healthier due to her experiencing some of the following symptoms by eating too much gluten such as boating and fatigue. So I decided two months ago that I would go on this journey with her minimize the amount of gluten we eat but not to cut it out completely. I generally thought it would be difficult, as I love to bake so majority of my recipes consists of wheat from flour. However, discovering the simplicity of making gluten-free recipes was not at all challenging as I have managed to make a couple of baked goods without gluten. So my friend and I going to go back to eating more gluten free meals and baked goods in January only because Thanksgiving and Christmas are coming up so eating habits and diets will be completely forgotten due to all the dinner parties coming up. The reason why this goal was simple to do is because I got rid of majority of the foods that contained gluten in my house and many of the foods and ingredients that we buy everyday have gluten-free alternatives that I never even knew existed because they were hidden corners of supermarkets. If they were more visible along with the vegan items I'm pretty sure at least half of the population would be buying more gluten free items. So, am I likely to stick to this new year resolution as I found out that it is very simple to do? Probably yes. If you ever thought about switching to gluten-free but never had the patience to do so then I'm telling you now its super easy and would not cost you a fortune to switch. All it is is just finding the right items and looking for recipes online that have gluten-free alternatives (such as Bethany Bakes).
The recipe
Introducing my version of white chocolate and raspberry cookies that is delicious and a simple homemade recipe to make in just 40 minutes or less. Baking can be easy for anyone no matter what allergens or dietary requirements you may require. All you need to do is look very closely in supermarkets to find the right ingredients for the recipes. Making my very first gluten free recipe I thought would be difficult but this homemade recipe is very similar to my white chocolate and blueberry cookies (check it out) recipe. All I did was swapped the flour, baking powder, butter, and white chocolate to gluten-free and it still turned out perfectly fine. I know there is definitely more science to perfecting gluten-free recipes but for my first try it's not bad. So I'm delighted to share this simple step by step recipe that you can easily enjoy at home.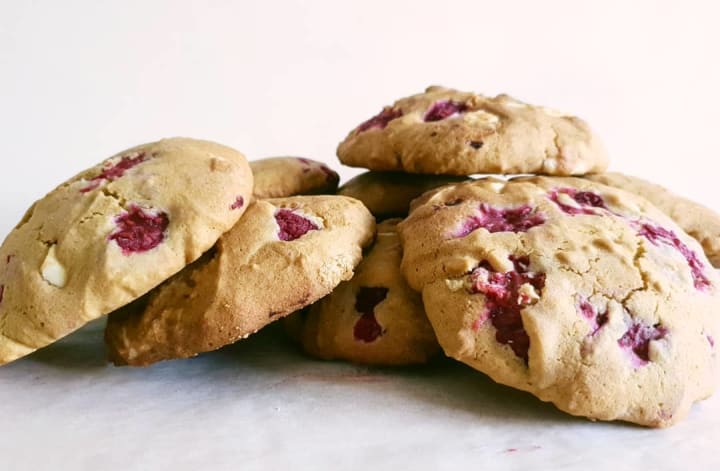 Makes:
12-24 cookies
Preparation:
10-15 minutes
Time in oven:
15-20 minutes
Total Time:
35 minutes+
Ingredients
Cookie dough
225g of butter (soft)
1 1/2 cups of soft light brown sugar
3 1/2 cups of gluten-free plain flour
1 tsp of gluten-free baking powder
1 tsp of bicarbonate soda
2 medium range eggs
200g of gluten-free white chocolate chunks
125g of raspberries
Equipment
3 or 4 baking trays
baking paper
The baking begins
1. Line the baking paper with the baking trays and preheat the oven 170 degrees (gas mark 4)
2. In a medium sized bowl, cream the butter and sugar together until light and fluffy then add then eggs in one at a time. Add the flour, baking powder, bicarbonate soda and salt to the mixture until a cookie dough begins to form. The cookie dough mixture will appear sticky than other cookie dough mixtures.
3. Disperse the white chocolate chunks into the cookie dough then begin to scoop the cookie dough into even-sized balls (each about 1 heaped of a tablespoon) and arrange them onto prepared baking trays. Squeeze 3 or 4 raspberries into each cookie ensuring that there covered by the cookie dough and bake for 15-20 minutes or until golden brown at the top.
If you've enjoyed reading recipe this recipe feel free to check out more on Bethany Bakes.