Summer Palate
Glorious Passion Fruit
The Flower of Christ's Five Wounds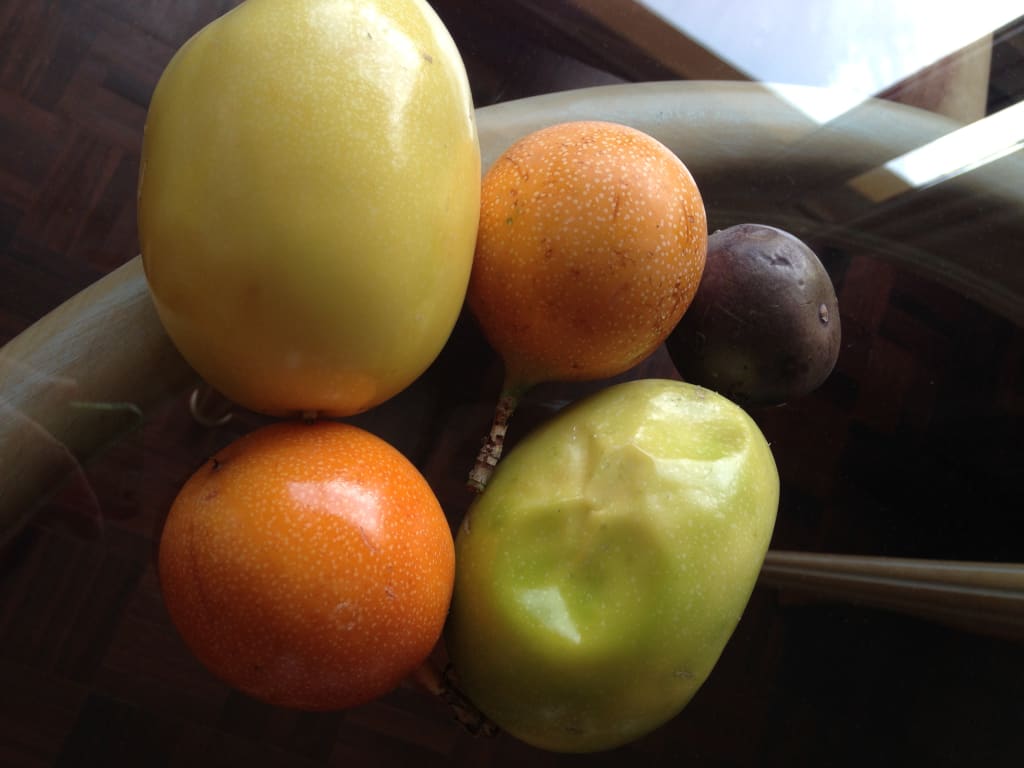 The Spanish name "flor das cinco chagas" was first given to this wonderful fruit by missionaries in Brazil. I am sure there are other names used for passion fruit by the indigenous inhabitants of Brazil, but I have not been able to easily find them.
I absolutely love the intoxicating scent and taste of passion fruit, but had only experienced one variety of them in the Caribbean islands where I am from. It was therefore with delight that I discovered many different varieties while recently shopping at the fruit market in Madeira, and I can say unequivocally that they are all delicious and all subtly different.
The big green ones are tart and awaken the taste buds with a jolt, one of the small round orange ones is sweet and tastes like roses, the other brighter orange one has a hint of tangerine, the purple is very, very bitingly acerbic. I would call them nectar for the gods, and I felt very godlike as I greedily consumed four of them. In fact, I can still taste their intoxicating flavors in my mouth several hours later.
Various cultures and countries use passion fruit in different ways. I like to eat it just as it is, crunchy seeds and all, letting the surrounding, flavorful gelatinous substance melt in my mouth. I think the best part of the experience is sucking the fruit out of the pure white, pithy shell which is then left behind in all its naked beauty, after one has detached the interior with your tongue.
In the Caribbean, I will make passion fruit juice from the small, round, sweet yellow variety that grows there. I will also make toppings for ice cream and if I'm in the mood create a Caribbean trifle with a passion fruit custard—see my personal recipe below. I have been known to make a passion fruit mousse and also to throw the juice on top of a pavlova (meringue cake).
Of course, passion fruit flavored simple syrup can make all manner of imaginative cocktails—add a few sour sop flavored ice cubes to home made ginger beer, and several shots of Captain Bligh (Vincentian rum) and you've got the perfect sunseteer.
For the children and grandchildren, I'm known to shave ice cubes and throw a simple passion fruit syrup on top.
If I'm cooking roast pork or ham passion fruit makes a wonderful glaze. I will also use the juice to create a dressing for the snapper, dolphin (not real dolphin), and tuna, which we love to eat there. Of course, in ceviche it is divine.
To die for of course is Maranne's passion fruit ice cream on Bequia—nothing like it in the world. Genevieve and Victor's French eclairs are also tough to beat. During their visit to Bequia last year, they made them for me stuffed full of passion fruit custard!
Lastly, for the complete passion fruit experience, open up the fruit and eat it raw like they do in Mexico, after you've thrown lime and chili powder on it of course.
Delicious Recipe for a Bequian Tropical Trifle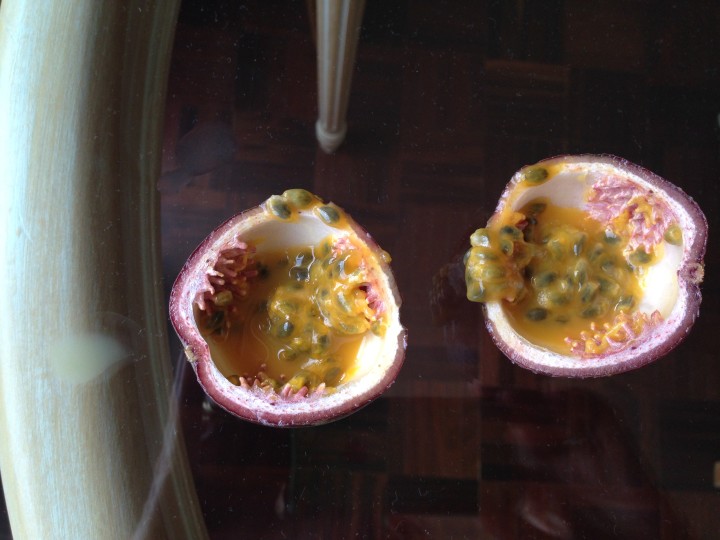 The key to good trifle is a rich custard.
Ingredients
3/4 cup sugar
3 tablespoons cornstarch
3 1/2 cups whole milk
4 tablespoons passion fruit juice
10 large egg yolks
1 teaspoon vanilla
Preparation
Whisk together 1/4 cup sugar, cornstarch, and a pinch of salt in a 2-quart heavy saucepan. Whisk in 1/4 cup milk until smooth, then stir in remaining milk and passion fruit juice. Bring to a boil over moderate heat, whisking frequently.
Have ready a bowl filled with ice and cold water. Whisk together yolks and remaining 1/2 cup sugar in a large bowl. Gradually whisk in hot milk mixture, then transfer custard to double boiler. Cook, stirring constantly, until mixture thickens. (If it takes too long put it directly on the stove for a few minutes until it thickens).
Immediately pour custard through a fine sieve into a metal bowl set in ice water. Cool, stirring frequently.
Meanwhile, whip a pint of cream until it's stiff.
Fold a cup of stiff cream into the custard once it's cooled.
For the Trifle:
Make a yellow sponge cake or buy lady fingers
Put a layer of sponge cake or layer of lady fingers into the bottom of a beautiful desert serving bowl
Pour custard on top
Add a layer of finely chopped mangoes, fresh pineapple, guavas and 4 tablespoons of passion fruit juice
Layer in this way until all the custard has been used—decorate with whipped cream and hibiscus flowers
Enjoy with gusto! Bon appetite!