Garlic Noodles Recipe
How To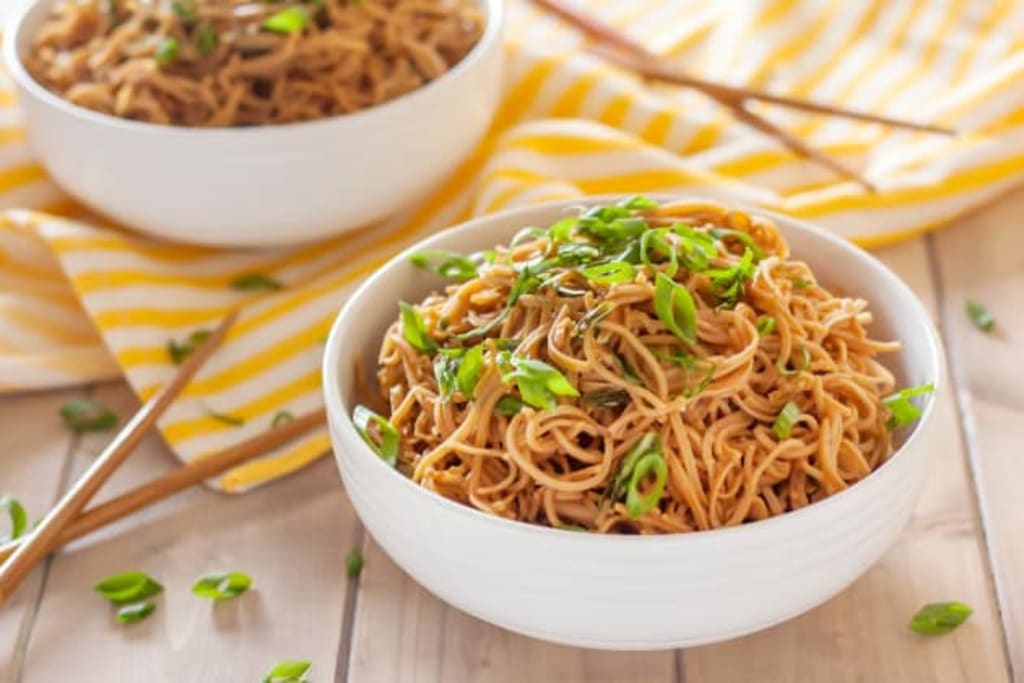 If you've read my precious recipes you know I love carbs. You know I love making homemade noodles, breads, and doughs. If you go on my page, you will probably also notice I that love noodles. I started a noodles craze over a year ago. I love to go anywhere that has a Korean or a Chinese/Japanese flare to it. Along with my noodles craze, I've started to really enjoy the taste of garlic and onion.
If you just want the recipe, scroll down. For the sake of word count, I tell stories about my life.
Have you guys ever tried to make your own mix of something and just hope that it works out? I do that so many times with recipes and they never work out... they also taste awful. But this is something you will not regret. I found this recipe is perfect for a family meal. My mom doesn't like noodles very much but as for the rest of my family, they can never get enough of these garlic noodles. These garlic noodles are so easy to make. But they have that taste of as if someone had spent so much time working on it.
Like you guys should know, I'mobsessed with noodles and have a new taste for garlic. I have a little "issue" (as some would say). I like eating noodles at night from a to go container and with these dragon chopsticks my sister got me while putting on my favorite TV shows, or movies. (I find myself splitting the recipe in half and eating the two portions by myself.)
If you know me, you know I'm obsessed with Panda Express… I crave their noodles on a daily basis, but I live two hours from the nearest one. So traveling that far for some noodles, although worth it, I don't always have the time or money for that.
For the days that I can't get Panda Express, I love to make these garlic noodles.
(On my page, I also have a copycat of Panda Express noodles, so you're welcome for that as well.)
Ingredients:
3 TBSP butter
1 TBSP olive oil
6 garlic cloves (minced)
2 green scallions (sliced thin)
2 TBSP fish sauce
2 TBSP oyster sauce
1 TBSP granulated sugar
1/4 cup parmesan cheese (shredded)
8 ounces noodles (chuka soba noodles)
fried garlic, for topping (optional)
Directions:
Heat water in a large pot, bring water to a boil, cook the noodles according to package directions, drain and set aside.
(While the water is boiling) grab a large skillet, bring to a medium-low heat (add non-stick spray). Add the butter, oil olive, garlic, and scallions.
Let the butter sit with the garlic for 5 minutes (stirring often) (The garlic should barely sizzle here, you don't want it to brown.)
(While the garlic is going) grab a small bowl and mix together the fish sauce, oyster sauce, and the sugar.
When the garlic is cooked, kick the heat up to medium-high, stir in fish sauce, let cook for 30 seconds.
Add the prepared noodles and toss with parmesan cheese. Let the noodles cook for a minute so they soak up all that flavor. Top with fried garlic (optional) and serve immediately
You can use any noodles that you prefer. The recipe calls for chuka soba noodles but the star of this dish is the garlic sauce, not the noodles. I prefer the chuka soba but you could also use yaki-soba (refrigerated), egg noodles, Hong Kong noodles, spaghetti, or even angel hair pasta will work here.
This recipe is easy to store in the fridge and will still taste as fresh as you made it the next morning after being in the fridge. (Ilove making huge batches and storing them in containers for lunch preps.)