From Tree to Tummy!
Cherry tarts from the family cottage sour cherry tree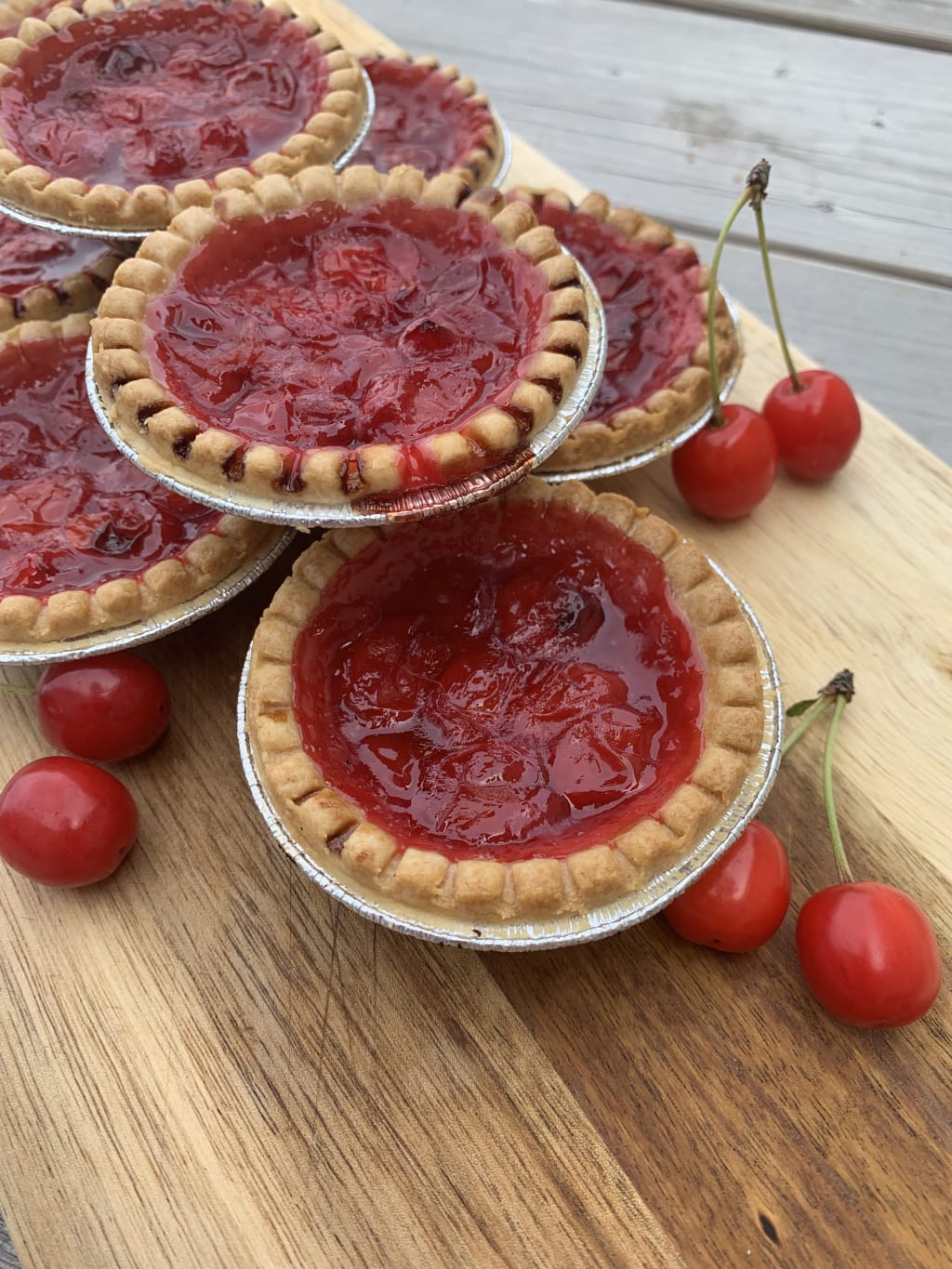 Handmade Sour Cherry Tarts 
This journey began years ago with a simple love for cherries. My grandma loved cherry anything! Anytime a new flavour of food or beverage came out in stores in cherry or anytime she was offered a cherry dessert, she was always on board. One time that even included us as children tricking her into eating a sour cherry warhead, the most intense sourness you have ever experienced. My grandma made quite the noise when she realized what we had given her as "just a candy," but it all ended in laughter and a memory that has lasted a lifetime.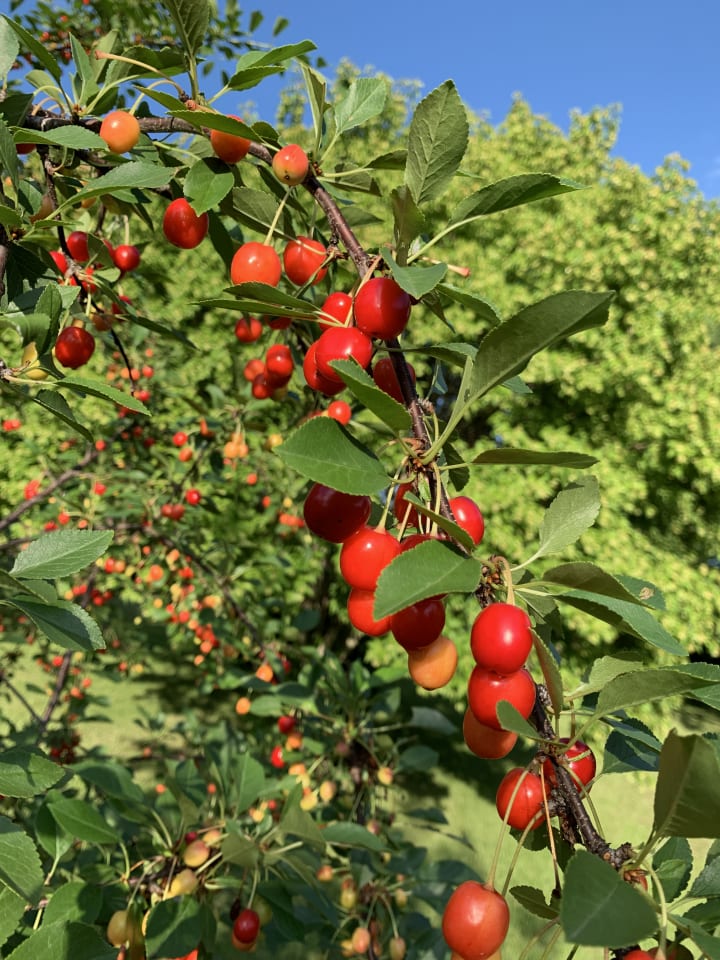 This was our first harvest of sour cherries this year and was an impressive 3.5 litres with many, many.... many more to come!
Now this is a variety that has a pit, so we have to be a little more careful before we prepare them. There were two ways I extracted the pits from the cherries.
One was right off the tree. You can tell a sour cherry is ripe when it leaves its stem attached to the tree branch it came from. However, if you pick them a little early, the stem and pit stay intact on the tree and you now have a harvested cherry that has been pitted at the same time! The only note here is that these cherries will rot faster, so if you pick, remember to process the same day for best results!
The other method I used for the perfectly ripe ones that still had a pit intact was by pushing the pit out with a stiff straw. By a stiff straw I mean a metal one, but a hard plastic straw would have been just as good if you want to try it yourself! This method allows you to remove the pit with the least amount of damage to the cherry itself, which is what we are looking for.
After pitting, washing and weighing the cherries (to make sure I had enough for the recipe) it was time to make tarts!
Ingredients
2lbs of sour cherries, pitted
1/2 cup white sugar
1 teaspoon lemon juice
1 teaspoon vanilla extract (optional)
2 teaspoons corn starch dissolved in enough water to make a runny white mixture
Directions
Mix sour cherries, sugar and lemon juice in sauce pan over medium heat.
Stir regularly until sugar is dissolved. When sugar has dissolved, add corn starch and water mix. Note to add before the cherries and sugar start to boil, otherwise you will get a clumpy mixture.
Bring cherry mix to a light boil, stirring regularly until mixture has a more warm jam-like consistency.
Remove from heat and let cool for 10 mins. After allowing to rest place, tart filling in favourite shell recipe and bake for 35 mins at 350 degrees Farenheit.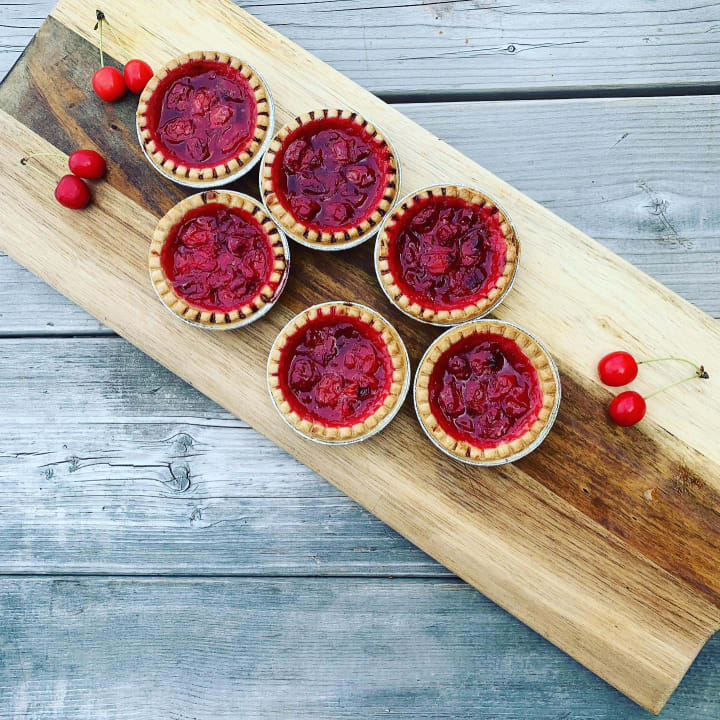 And ta-da! You have your very own yummy sour cherry tarts you can enjoy anytime! This will definitely be one of very many cherry recipes to come! I remember years of my grandma fighting with birds, raccoons and even bears just to get a small taste of the sour cherry trees. This year, with a lot of research, diligent work and a family effort, we should have more cherries than ever, which would make my grandma extremely happy 😊