French Toast Casserole Recipe
Easy and Delicious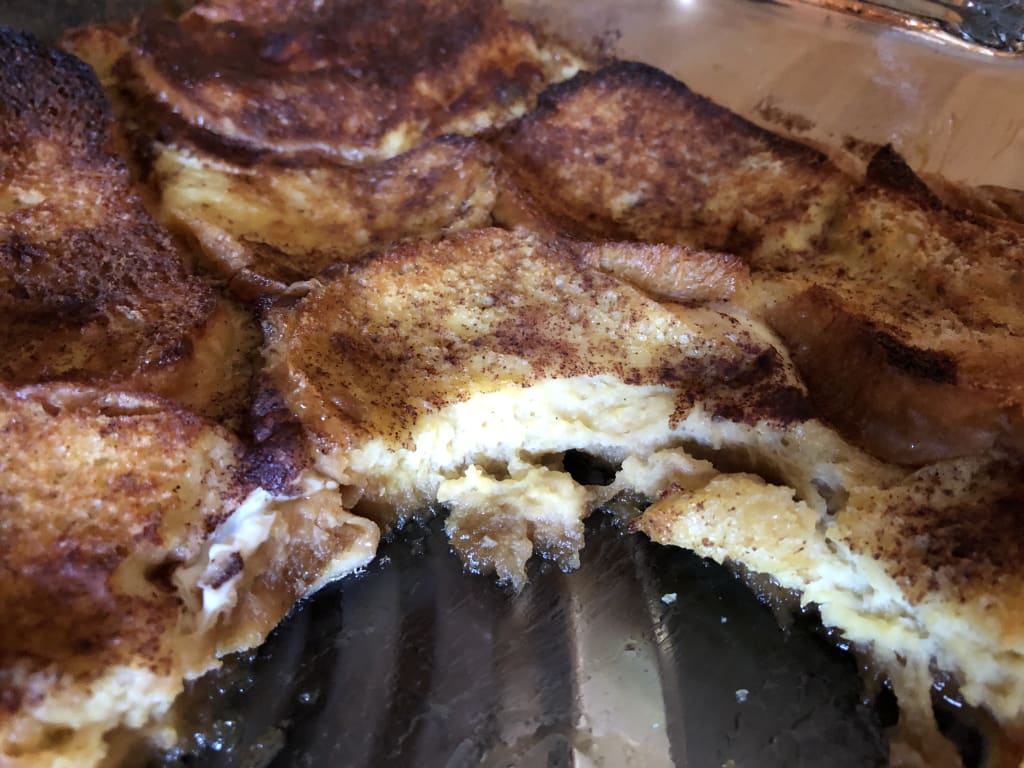 Breakfast is arguably best meal of the day. Plus scientists have claimed it is the most important meal of the day. Sure. What I do know is that it is the only meal I can eat foods that should be classified as desserts as my main course and no one will judge me (pancakes, crepes and French toast, anyone?). You can't eat a piece of cake for dinner in public and not have someone ask you if you had a rough day. So I have made it a mission to find great breakfasts and never settle for a piece of toast and orange juice again - nothing against those of you who enjoy that.
I love French toast, but to make enough of it for any sizable group requires someone to stand at the stove for the entirety of breakfast so everyone has fresh French toast, or for it to be pre-made and then kept warm. Either way, I found a better way. Prep this the night before, bake it in the morning and everyone can get fresh French toast without standing at the stove all of breakfast. I will warn you, it is supposed to sit in the fridge for eight hours before baking - you can skip that part if you like but it turns out better if you are patient enough to wait.
Plus this makes a great brunch potluck addition (or if you're like me a great dinner potluck addition). A quick disclaimer, this isn't my recipe. I got it from my mother-in-law who got it from a neighbor - I would give credit to the original writer but I haven't any idea who that is.
That being said you will need:
Grease baking dish (smaller but deeper produces a more syrupy Casserole, while a larger dish will give you more crunch).
Melt butter and brown sugar together in saucepan, stirring frequently. Be sure you use a medium to low heat setting as not to burn the mix. Once sugar has dissolved into the butter, pour the mix into the prepped baking pan and cover with bread pieces (1-1/2 in to 2 in).
Beat milk, eggs and vanilla in bowl and pour over bread pieces. Be sure the bread is covered or is in position to soak up the mixture. Sprinkle with cinnamon.
Cover and refrigerate for eight hours to overnight.
Preheat oven to 450 degrees F (230 degrees C). Remove cover from Casserole and sprinkle with brown sugar.
Bake for about 30 minutes or until top is browned and bubbling.
I have found I do not need syrup as the brown sugar mix creates a syrup for me, but you can finish it with your favorite syrup. You can also add fruit toppings before or after baking to add a colorful, delicious twist. I find this breakfast reheats well, so I can make one Sunday and keep the leftovers for my breakfast for the week.
PSA - This article contains personal opinions, affiliate links, and delicious suggestions. Check out my profile for more recipes and personal opinions.