French Onion Soup
simple soups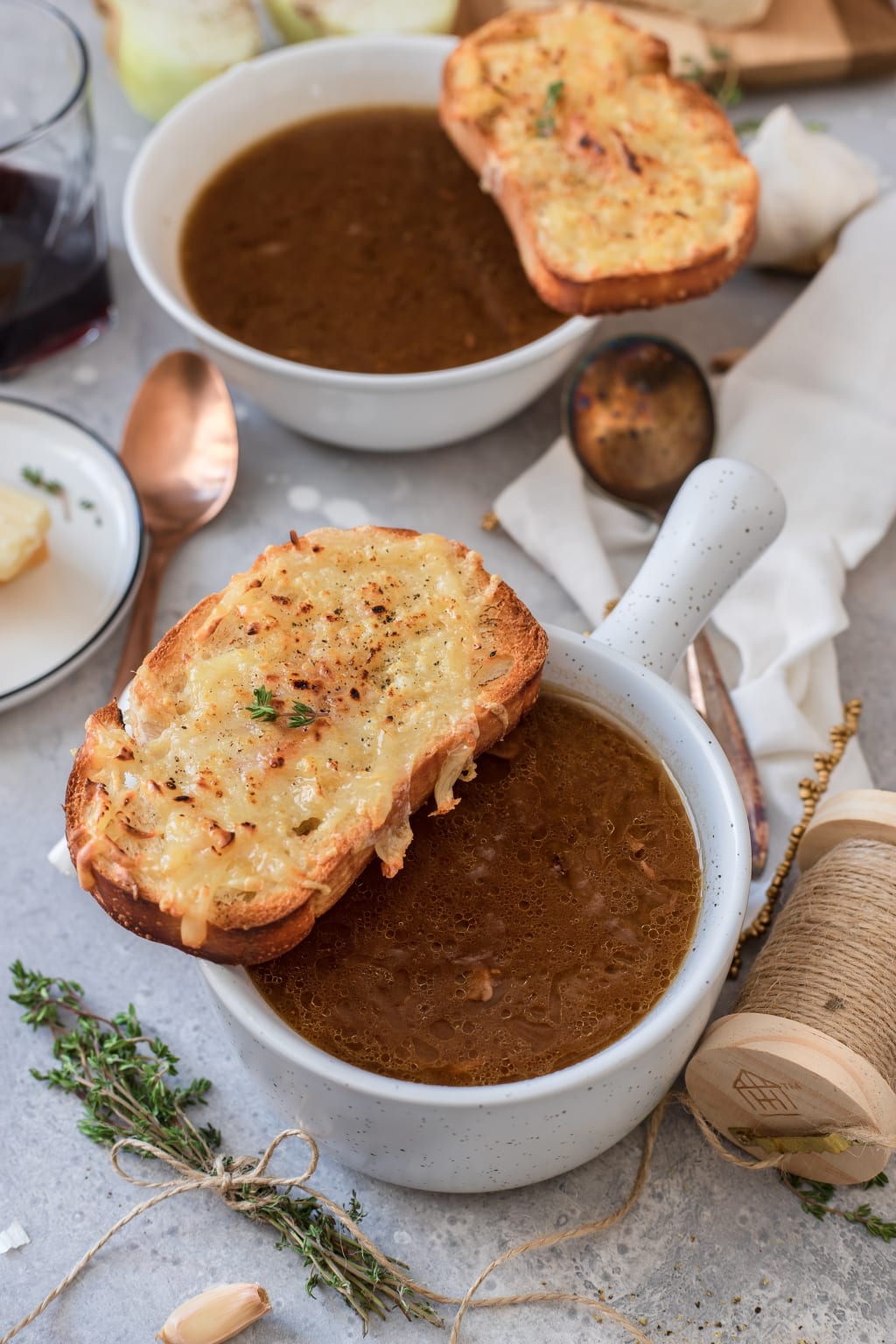 A month and a half into the Covid19 quarantine and it is with no doubt that I am not alone when it comes to bored taste buds and empty cupboards. My "doordash" w allet is beyond empty and my creative skills have been replaced by a now broken down couch and the latest binge watch on Netflix.
The pantry wasn't holding much hope for a full feeling and satisfying meal. It was the home of a few spices, nuts, cooking oils, a half box of cereal, and sitting at the bottom of the pantry, 3 large Walla Walla onions.
I had some Danish butter, some provolone cheese slices and beef bone broth to add to my few good onions and oh my gosh, 3 slices of not turning green sourdough bread slices! All the makings for French Onion Soup. Oh yea!
With my boredom of late, I was up to a challenge that not only required my full attention but patience as well. Have you ever caramelized onions? Oh my, the aroma is mouth-watering! Plan at least 1/2 hour to 45 minutes or longer for amazing melt in your mouth caramelized onions.
Ingredients:
3 large onions
1 (extra 1/2 stick optional) stick butter
8 cups beef bone broth
3 sprigs fresh thyme or 1/2 teaspoon of dry
1 bay leaf
dash of salt and pepper to taste
1 tablespoon Worcestershire sauce
1/3 cup of wine (this is optional, I use red but some may use a dry white)
Baguette or (sourdough bread to make croutons)
3 cups Gruyere cheese (I used provolone slices)
Recipe:
Slice 3 onions about a 1/4 inch thick. In a cast iron pot, melt a stick of butter and on low heat slowly start caramelizing onions. This process can take a while so your patience is needed. Don't let the butter turn brown, keep heat low. I usually caramelize for about 45 mins.
Add beef bone broth, Worcestershire sauce, wine, thyme, and bay leaf. I always add a 1/2 stick of extra butter to the broth at this time but it is optional. Bring to boil, reduce heat and let simmer for about an hour.
I diced my sourdough slices to make croutons and added some garlic and olive oil. Put in the oven at 325 for about 20 mins to give it some crisp.
Remove thyme and bay leaf, ladle into individual crock bowls (oven-safe ceramic bowls). Top with croutons or baguette slice and add cheese to top. Broil until cheese becomes golden brown and bubbly. Enjoy!
EXTRA TIPS: French onion soup is a great go-to meal year-round with limited ingredients that most find already in the pantry. An easy conversion to be Keto approved would be to omit the wine. I do not add salt as the broth, even low sodium can make the soup salty, best to add at the end for taste.
If you do not have oven-safe bowls just broil baguette slices or croutons in oven or toaster oven with butter and cheese, place on top of the ladled soup.
Caramelized onions simmered in a rich beefy broth topped with a baguette and bubbly cheese is not only filling but a very satisfying meal and a favorite of the family. It is great as a stand-alone meal, with a salad or fresh apple slices on the side or the start of the meal followed by steak and veggies. A comforting satisfying food for the soul.
NUTRITION INFORMATION
Calories: 552, Carbohydrates: 27g, Protein: 31g, Fat: 34g, Saturated Fat: 20g, Cholesterol: 103mg, Sodium: 1264mg, Potassium: 851mg, Fiber: 2g, Vitamin A: 1005IU, Vitamin C: 5.3mg, Calcium: 780mg, Iron: 1.8mg