French Dip Sliders
Homemade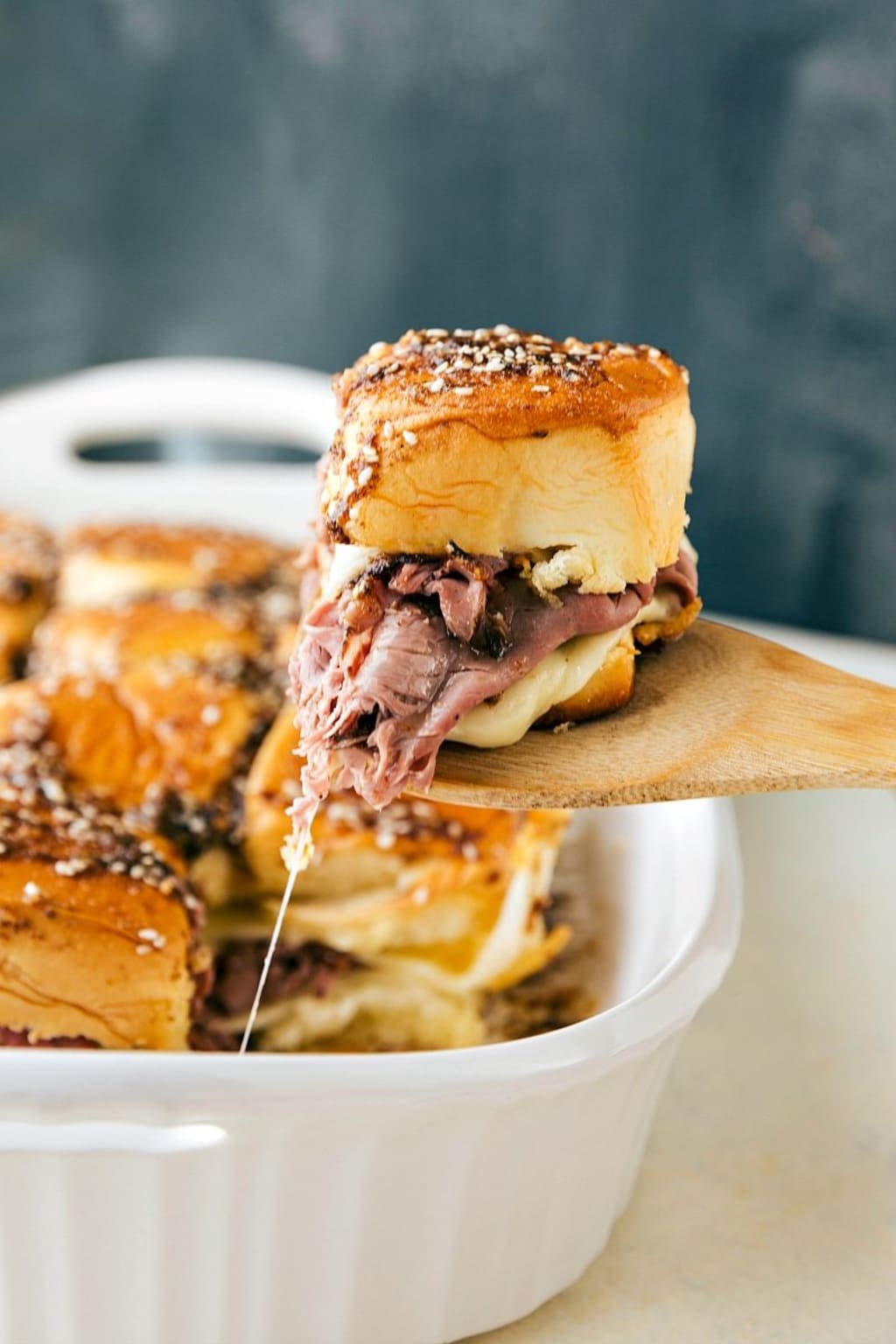 Guys. Don't even get me started with my love of French dip. I have traveled around my hometown to the best restaurants that CLAIM to have the best French dip and oh boy. Let me tell you. My mouth is drooling just thinking about the AMAZING french dips I have had!
Want just the recipe and not my stories? Just scroll on down to the recipe.
I'm honestly not sure if it's the sandwich itself that I love… or if it comes from that amazing au jus that you dip your sandwich in. For me, that dip is everything. It either makes or breaks this sandwich.
I love this recipe because that amazing au jus sauce mix is actually put ON TOP of the bread itself, and there is always enough left over for you to drench your french dip into that sauce mix.
I'm forever convinced I got this love of French dip from my mom. I mean…she was the one that went with me to all those restaurants to try them with me. My mom loves meat, and she's a sucker for that au jus as well. I made this recipe a couple times, and each time I've found her (no joke) drinking the au jus mix.
My family goes crazy over these sandwiches and I personally love them even more, because you don't have to go out and buy a huge piece of bread and a sauce already made. Trust me it's expensive. I honestly love those Hawaiian rolls so much more because they add this sweetness to the dish and it works so well.
Now, I've had my share of trying to make my own fancy French dip sandwiches, and honestly, I don't enjoy them, but THIS recipe is so incredibly easy! I can do this in my sleep, and it tastes like I had a professional come in and make it for me.
Not to mention (yet again) it's a whole lot cheaper than finding the perfect bread and the perfect sauce mix. Sometimes, less really is more.
I really love these sandwiches because you can use them for dinner, but they are small enough that you could use them as an appetizer.
If you're like me, you enjoy things being easy and fast, while still tasting amazing. This is definitely the dish for you.
12 Sliders
Ingredients:
2 TBSP unsalted butter (softened)
1 packed of Hawaiian sweet rolls
1lb of deli roast beef
12 slices of provolone cheese
Seasoning
8 TBSP unsalted butter
1 packet au jus seasoning mix
1 teaspoon worcestershire sauce
1 teaspoon toasted sesame seeds
3/4 teaspoon diced minced garlic
1/2 teaspoon onion powder
1/2 teaspoon salt (optional)
Directions:
Preheat oven to 350 degrees.
Butter the bottom of a 9X13 baking dish with the unsalted butter.
Without separating each roll individually just cut the rolls in half and place the bottom half in the pan.
Top the roll with six slices of provolone cheese and roast beef, then add another layer of provolone cheese and top with the other half of the rolls.
In a small bowl, melt the butter in the microwave mix in one tablespoon of the au jus seasoning mix, then add Worcestershire, sesame seeds, onion powder, and salt (optional).
Evenly top this seasoning on every roll (you don't have to use all of it).
Bake sliders uncovered until they are golden brown, or until the cheese has completely melted, about 15-20 minutes.
Remove and cut sliders.
Pour the remaining sauce mix into a pan on medium heat and add 2 cups of cold water and whisk. This will thicken the sauce for you to dip the sandwiches in.
Serve immediately.
recipe