For the Buffet Lovers in St. Pete
A Rare Find: The Big Apple Buffet Restaurant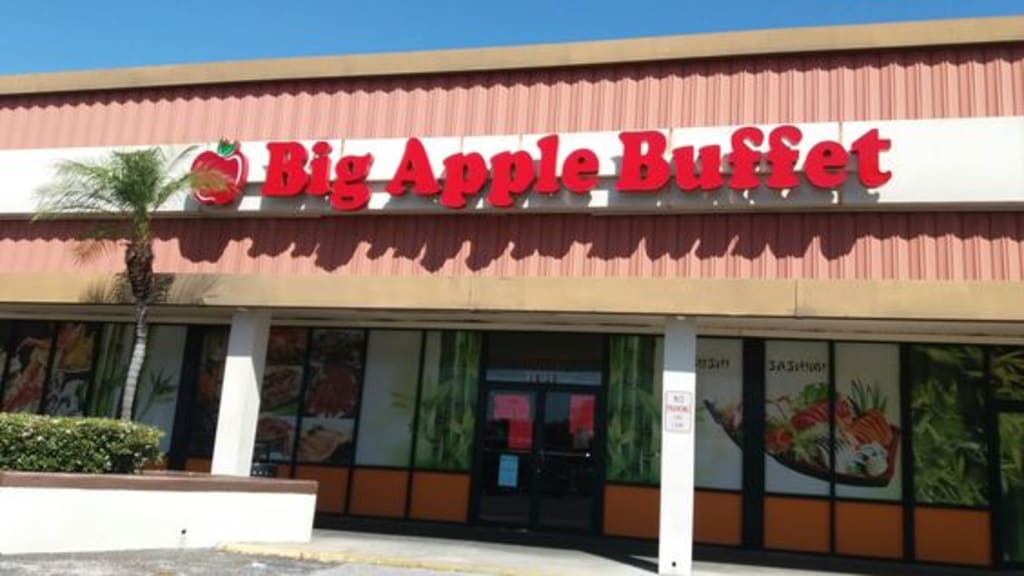 The Big Apple Buffet at Rutland Plaza, St. Petersburg, Florida
There are not many buffet restaurants in Saint Petersburg, Florida anymore. Several years ago you could enjoy the best variety of buffet at The Golden Coral restaurant, but that didn't survive. Now the only buffet restaurants are few and far between. Cici's Pizza Buffet is still around along with Country Pizza Italian Grill, so if you like an Italian buffet they will satisfy. If you're looking for Americana buffet, I don't know what to tell you. I haven't seen one around. However, I did find The Big Apple Buffet which serves a large Chinese food buffet. If you love crab and sushi, then you will fall madly in love with The Big Apple Buffet as they have a wide variety of crab dishes and sushi on their buffet tables.
The restaurant is clean and quiet. There is no waiting line because there are plenty of tables to accommodate. The servers are fast and efficient. The bathrooms are in the back and out of the way and very clean. The decorations are interesting enough. There is no music or television blaring in the background so you can enjoy the conversation of the party you are with without distractions. I think it's a great place to have lunch for a business meeting.
The buffet is very large including sushi galore. They also have different crab dishes and most of the classic Chinese dishes that you would find at any Chinese restaurant. There is a salad buffet which is the only section that had anything remotely bland and Americanized. Besides the salad bar, the only "common" food you'll find there is the dessert bar, although I thought it was better than "common". The dessert bar includes puddings, jello, cakes, cookies, Eclairs, and Chinese donuts. If you want to save room for dessert, be careful how many sushi rolls you gobble. They fill you up quick and they are hard to resist.
I thought the lighting was subdued and comfortable. It's a bit dark in there so if you need a lot of light for reading small print I would not recommend that. It's better for conversation than for reading. They have booths and regular tables with chairs. It appeared to me they could set up a table to accommodate just about any size of group.
The price of the buffet is less than $20 and that is "all you can eat" so you don't have to worry about not being able to go back for seconds or thirds. I made four trips because I was very selective. They have soda and tea and the typically ordered beverages. They have all of the Chinese soups at the buffet table in the back including Won Ton and Egg Drop. I did not try the soup, but it smelled very good.
I did try the sushi as I mentioned and it was mouth watering and addicting. I also tried the crab salad and it was creamy and tasty. I also tried the beef and broccoli and was happily impressed with the flavor and tenderness of the meat. The sweet and sour chicken was typical, but if you like that like I do, it won't disappoint. Sesame chicken was also very good.
We sat at a booth and the seating was comfortable. When we were almost finished eating the server brought us fortune cookies. I always find that to be a great way to finish eating Chinese food. I read my fortune, liked what I read, then ate the cookie. If you like the fortune, you have to eat the cookie. That's not just tradition, it's good luck, or so I've been told.
If you get tired of the DoorDash or GrubHub deliveries and want a comfortable and delicious buffet to try, then I definitely recommend you visit The Big Apple Buffet. They have two restaurant locations in Saint Petersburg, Florida: Rutland Plaza at 62nd Avenue and Tyrone Gardens at 58th Street. I think we should support the few buffet restaurants that are still around. I miss Golden Coral and I think it would be sad to see a city without any buffet restaurants to choose from. A Chinese buffet restaurant gives you the opportunity to learn about foods that you wouldn't typically order for delivery. Try something new. If you don't like it, nothing is lost when you're at the buffet.
I enjoyed my dining experience at The Big Apple Buffet and I would bring anyone who enjoys Chinese buffet there to dine with me.
restaurants
I am a graduate of USF with a degree in English Education. I worked in the food industry, office, and as a teacher. I'm now disabled and on a fixed income.
https://allpoetry.com/Galadria
https://www.avon.com/myavon/snorman?rep=snorman
.
Receive stories by Shanon Marie Norman in

your feed