State by State
Five Vegan/Vegetarian Friendly Places in Orlando
For Newbies!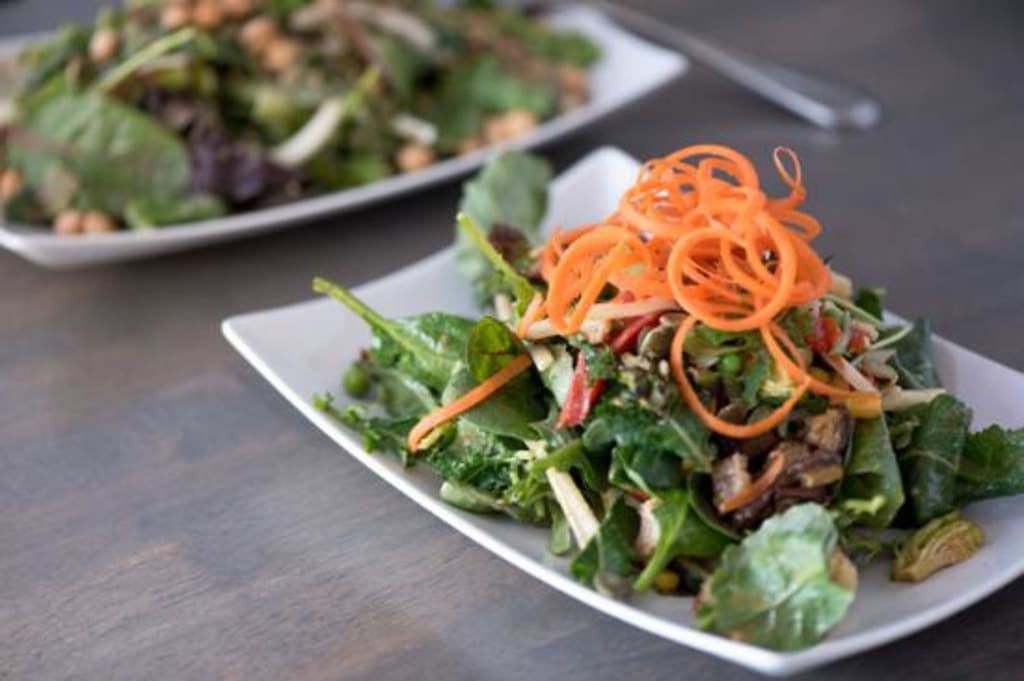 This past June I took it upon myself to become a vegan; it wasn't an immediate move, for years I had been contemplating on the necessity of animal products in my diet. The transition was a slow and meticulous process before I had given up meat altogether I had started removing certain things at a time. The first being dairy, I had already been aware of my lactose intolerance to milk, it made me have to immediately hit the toilet after consuming something like ice cream or a milkshake and replaced all my dairy products with nut-based "dairy" and I saw an immediate change in my body after only a few months of being free of everything but cheese. Next, I got rid of red meat and pork, which proved to be a challenge being that I loved bacon and burgers, so I researched and came across the Turkey alternative and stuck to that for the majority of 2016 before making the decision to cut out animal products altogether. I will elaborate on my journey in a later post, but for now, I want to focus on navigating my city for the best options in vegetarian foods. What prompted me to write this piece is that Orlando, like any other city, is a place filled with chain restaurants on every corner, from McDonald's to Kentucky Fried Chicken and in a lot of cases these places are across the street or even next door to each other. Every store offering variants of the same thing for a few cents difference and no true nutritional value to offer. The issue didn't really occur to me until I went out for dinner with friends and everything on the menu was some kind of fried meat and what they considered to be a healthy option was a bowl of lettuce, no bueno. The sad part about it is, I love going to Black-owned restaurants and they were the main culprits of offering only salads as a means of the option for people who want to eat healthier. I decided to "use my googles" and look for the best options out here, to look for restaurants I can enjoy with my friends and none of our personal food options are affected by what is available. Here are five of the best vegan and vegetarian-friendly restaurants in the greater Orlando area.
Chili's
Chili's is a popular chain restaurant most known for their baby back ribs, which was accompanied by the catchy "I want my baby back baby back" jingle many wouldn't believe that this place has some of the best go-to vegetarian alternatives to some of their meals. While the most popular and my personal favorite is the Black Bean Burger if you order any of their famous burgers you have the option of replacing the beef patty with a thick black bean patty which likes its name is comprised of mainly of black beans along with onions, peppers, onions, and parsley. However, this option is not completely vegan as it does contain eggs as a bonding agent so if you're not completely animal free or like I who has a cheat day every now and then this option is a great choice for you. Not only are they offering black bean burgers, but Chili's is one of the few restaurants that offers a completely vegetarian menu for their customers, ranging from things like tacos, salads, and more.
Mark's Caribbean Cuisine
Becoming vegan, the one thing I knew I was going to miss was curry chicken, it has to my absolute favorite meal is that a good friend of mine was an expert in preparing it. I had tried to make a vegan version of it myself at home but it couldn't hold a candle to the real thing, I couldn't find any Jamaican restaurant in the area that had some kind of curry without the meat until one day another friend of mine was over in the UCF area and both were craving some good Jamaican food. He had remembered this spot he used to go to called Mark's Caribbean Cuisine and upon looking at the menu I saw the soy plate which came with the soy either being curried or stewed and I'm sure you know which one I chose. When I tell you I haven't had curry so good in so long, I nearly left my body and ascended to the heavens. The only downside of this is that Mark's only has one location and it's near UCF so getting this shouldn't be a daily thing unless you live in that area.
Bento Cafe
Bento Cafe is a chain of Asian kitchen restaurants in the state Florida with over 9 locations in Gainesville, Orlando, Tallahassee, and South Florida. A popular spot for college kids looking for some fast Asian inspired food. The design of the restaurant is a build your own meal platform, which allows you to pick the type of rice or noodle and then you pick the entree to go with it. On my first visit, I picked a noodle bowl and for my entree, I chose the red curry tofu with carrots, snow peas, baby corn, bamboo shoots, and spicy coconut curry. They also offer things like stir fry veggies and other delectable vegetarian-friendly options. Also for your meat eater friends, all of their animal products are 100% antibiotic free and 100% all natural. To get a better look at the menu check it out here.
Bistro Paradise
A relatively new spot in Orlando, Bistro Paradise is my go-to spot for authentic Haitian food, arguably the best spot for those looking for a Caribbean flair to their food. Like I stated earlier about Mark's Caribbean Cuisine, it's rare to find a Caribbean restaurant in the area that offers quality vegetarian options that aren't just limited to a bowl of lettuce. At Bistro Paradise my favorite choice to get there is their homemade black bean burger, which is much cheaper and just a bit tastier than Chili's version. Not only do they have that but there is also a plethora of other ready-made options like steamed veggies, eggplant entrees, and stews. You can get a better look at their menu over on their website.
Chipotle
My first meal becoming a vegetarian was from Chipotle, the first time I caught wind of vegetarian food being easily accessible was going their one day and replacing my regular protein (chicken) with Sofritas (soy) and I haven't had it any other way since. Possibly the best way that I have seen someone prepares tofu has to be there. The meal can be customizable from vegan and vegetarian by taking out the soy replacement and just getting a veggie meal with cheese and sour cream or not. It is the perfect and most affordable option for those that are starting their transition into a plant-based lifestyle.