Explain To Me, Pokeweed...
An American Green & A Double-Edged Sword...
Photo credit: The Sacramento Bee
When I first heard about pokeweed, it was referred to as "polk salad". My neighbor brought knowledge to me about the leafy green.
As my neighbor continues to fill my mind with details about pokeweed, my intuition intrigued me to learn more. Boasted and forewarned to be poisonous improperly cooked, this double-edged sword was even more interesting.
Though pokeweed isn't grown in the city areas of the Carolinas [where I reside], but the leafy green grows in various areas in North America in [like California, Mexico and Florida] grasslands [like oak woodlands, parks, orchards and vineyards].
A single pokeweed seed can produce upwards to 7,000 seeds annually. Shockingly, pokeweed seeds can grow in the soil for up to 50 years. The leafy green can grow up to 10 feet tall and upwards to five feet wide.
Also known as "polk salad" or "polk sallet", is very nutritious being high in Vitamin A, C, iron and calcium.
The best time to pull pokeweed is prior to growing about knee length.
Pokeweed has green smooth textured leaves with stalks. Pokeweed looks similar to turnip greens with the taste like spinach or asparagus.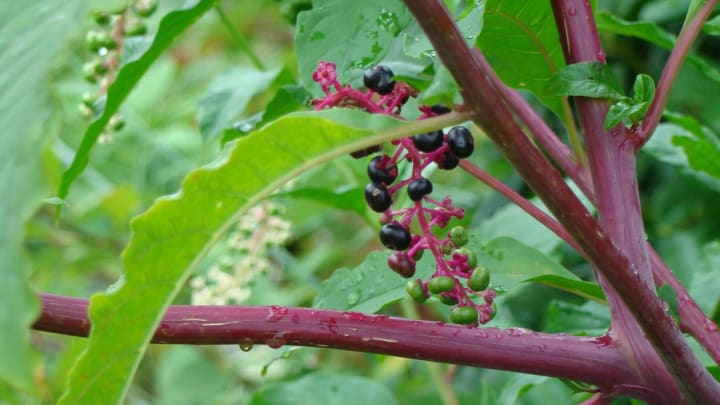 Pokeweed's History
This leafy green has quite a history!!
Known by aliases, like pigeon berry and cancer root, polkweed was used for food and medicine in North America, the Midwest and the Gulf Coast.
The versatile leafy green was used in traditional Appalachian cuisine.
In traditional Chinese medicine, pokeweed is referred to as chui xu shang lu.
Traditional cultures considered pokeweed to be a natural body cleanser.
Native Americans used pokeweed for bowel movements and vomiting.
Pokeweed has antiviral properties.
Pokeweed contains antiviral proteins, also known as PAP. Antiviral proteins help prevent or treat viral infections.
According to Memorial Sloan Kettering Cancer Center, pokeweed can reduce the risk of growth of some herpes viruses and HIV.
According to Very Well Health, the multi named leafy green has been used to treat skin problems like eczema and psoriasis.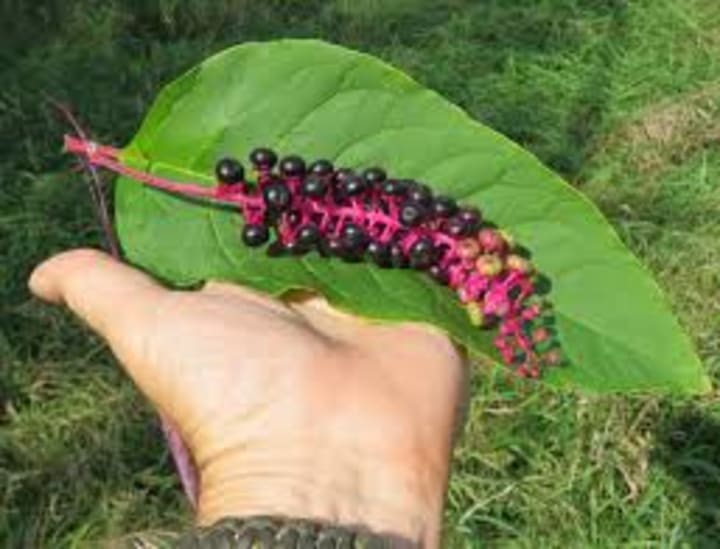 What makes pokeweed poisonous?
Pokeweed contains saponins and oxalates that can kill [or harm] humans and animals if consumed raw or prematurely cooked.
When you're gathering pokeweed, do not cut below ground level of the plant. This will help you avoid poisonous roots and the red colored stems and leaves.
According to Very Well Health, every part of the pokeweed plant is poisonous. Pokeweed can cause bloody diarrhea or vomiting.
Pokeweed contains phytolaccatoxin and phytolaccigenin. Phytolaccatoxin is a resin whereas phytolaccigenin is known as a saponin. The toxins reside within the berries, stems and leaves.
Should you try polkweed?
In my opinion, NO. Consuming polkweed is poisonous although thoroughly cooking the greens in two boils of water, then adding spices of desire isn't enough for me to trust I'm eating the polkweed correctly.
I cannot enjoy foods that can poison me at my kitchen table.
For example, the berries atop of the leafy green are considered to poisonous to humans. It's suggested to cut the polkweed prior to the berries blossoming. Once the berries blossom, the birds eat them. On the other hand, Wildflower Organization states cooked berries [from the pokeweed] are safe for making pies.
Again, the entire plant is to be poisonous and causing critical reactions like diarrhea, vomiting, fevers and worse - convulsions.
As much as I enjoy healthy greens, this will be a green I pass over.
I'll stay loyal to my love for collard greens, cabbage, broccoli and so forth.
Aren't convinced to keep polk salet greens off your dinner table? Don't feel like finding the grasslands to cut polk salets?
What are your thoughts about pokeweed?
List them with a tip below! I would love to hear them!