Enough About Spicy Chicken Sandwiches in 2021
Let's keep the "Spicy Chicken Wars" in 2020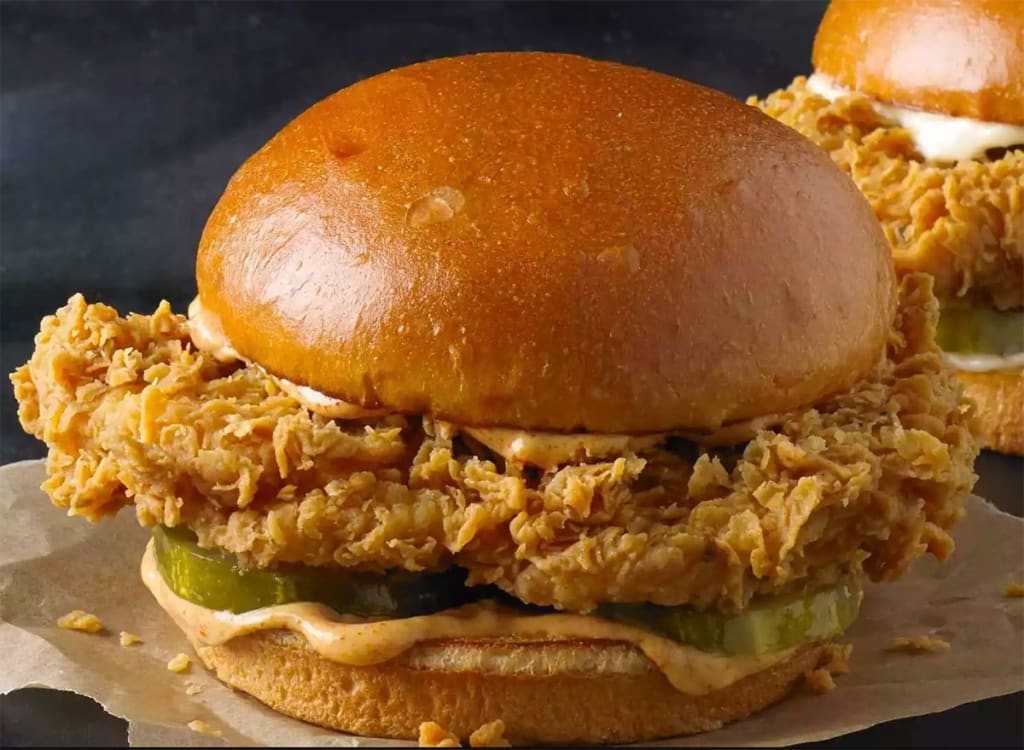 (Courtesy of EatThis.com)
New year, new trends, am I right? No. I am not right. For some reason, we as a culture are more divisive than ever, and I am not talking about politics, I am talking about this stupid spicy chicken sandwich war that was originated when people were ACTUALLY murdered over a Popeyes Spicy Chicken Sandwich. No seriously, that happened.
Since the inception of that fateful sandwich, every single fast food chain has rushed to be the next viral spicy chicken sandwich hit. In 2020, we were flooded with commercials and advertisements about how THEY won the wars with THEIR sandwich. It's just a chicken sandwich. I don't know if people have ever eaten food in their life, but the commercials that are pumped out revolving around this simple sandwich makes it feel like the sandwich is an experience unlike any other in each and every way possible.
Oh wait, people do actually feel this way.
Then you have commercials like these scattered throughout 2020 from the likes of Wendy's.
Are we really this dumb? This is what the major fast food conglomerates thinks of us. We are so bound by brand loyalty that companies are invoking pop culture conversation over whose is better. To be honest, I don't really care, for me it's convenience. Whichever is closer is what I am most likely going to get. Never have I thought,
"Oh man, check out this Wendy's commercial where they just declared the chicken wars is now over with their new sandwich! I guess I must denounce my Popeyes citizenship and apply for a visa at Wendy's."
It's just so shocking that this trend took the world by storm in 2020 and people STILL swear by these dumb sandwiches. I don't want to burst everyone's bubble but Chick-Fil-A has been doing this since Day 1. And to be quite honest, their restaurants are cleaner and their staff is friendlier. I don't know why, but when my food is handed to me by courteous staff members, I go into the meal already in a good mood. The same cannot always be said by other chains.
But back to the point, I really hope 2021 doesn't have some inane "food trend" that isn't really a food trend at all. These aren't trends, its just food. We are making it a trend by being so forthright about our opinions on something so inconsequential. I will show my hypocrisy by saying however, Chipotle is far superior to Moes and Qdoba and no one can tell me otherwise.
What's next for food trends in 2021? The next spicy fish sandwich? The next smashburger? The next crunchwrap supreme? Oh wait.
It has already started. There is no escaping these trends. The moment someone "hacks" food is when the internet loses it's mind. Air frying is voodoo mumbo jumbo that also has the internet world abuzz where they can pretty much hack any starchy food and have it prepared as if it was restaurant quality. Don't get me wrong, I love bread and cheese as much as the next person, but if I ever get an air fryer, I would die due to lack of vegetables. Everything would be fried to a crisp and I as a human would have 0 nutritional value.
But the air fryer will also die down just as insta-pots did and then crock-pots did before that. Who knows what the next insane food craze will be. Spiked seltzer had a beautiful moment in the sun and now has just become another option in the carousel of rotating alcoholic beverages. These I do not mind, but this whole clout over chicken sandwiches has gotten way too big and I hope that we are on the decline of these aggressive commercials, party lines and name bashing for the sake of a meal that frankly, is just okay. I know I can get hate for this, but chicken sandwich wars deserve to die in 2020.
Reader insights
Be the first to share your insights about this piece.
Add your insights