Eggstravagant Vegtables! A New Take on Some Old Favorites
Easy over eggs, served atop baked broccoli, cauliflower and mushrooms.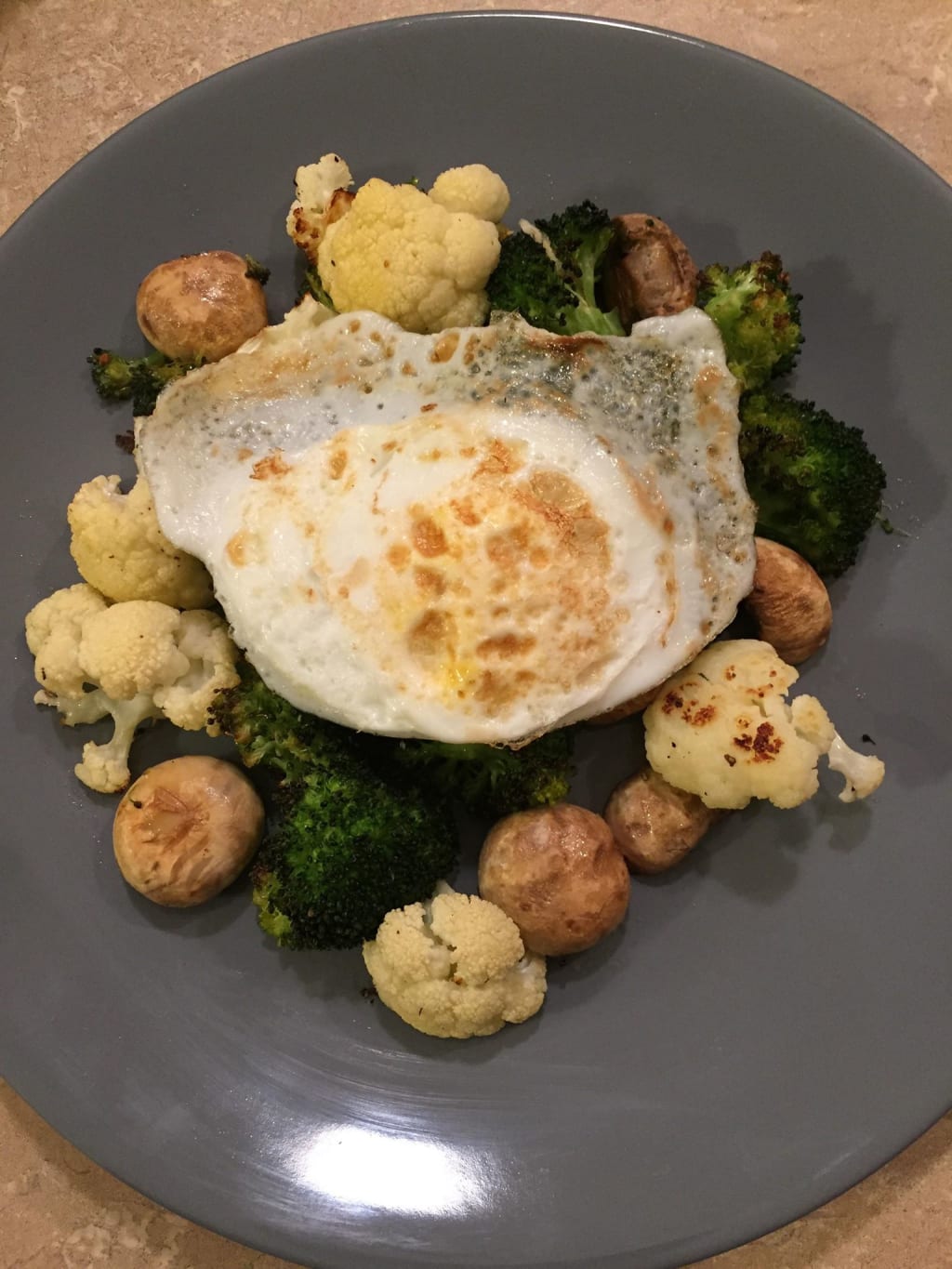 Always the same old things...
I am sure there are many foods that have become a routine part of everyone's meals. We fall into the habit of "going with the sure thing," everyone does it, even those of us who are not dieting or have special diet requirements.
Well, I, myself, in particular have certain foods I have to avoid and others I prefer, just because. Recently I have decided to start eating better and having some fun with it! I have been really enjoying the selection process and discovering new vegetables I never thought of using. But I had made a select few items staples of my diet, and finally it was becoming a routine of the same old recipes and food made the same way each time. So yes, I am guilty of this as well.
Time to make some changes...
To mix things up a bit, I decided to try and find new ways to make some of the items and also try different combinations of them all. I have been adding new items randomly. So to get started, one day, instead of the usual eggs and toast, or eggs and sausage, I decided to try something different. Adding vegetables instead of meat or bread.
Trying to avoid bread as much as possible, I have found that it can be substituted and replaced with a variety of other items. I have experimented with tortillas but for this recipe, I decided to go with just vegetables.
I decided to cook the vegetables and then the eggs, as the vegetables would take longer. The main change I made was baking the vegetables, instead of using the crock pot, frying, or boiling them like I usually do. I was impressed with how well they turned out! The broccoli and cauliflower were crispy and perfectly cooked.
With this recipe I first tried the broccoli, carrots and eggs. But the next change was adding some mushrooms to the mix! Much better indeed, I did not prefer the carrots with this idea. So the mushrooms really added something it was missing.
I did not include them in the photos, but I did add them for the finished result.
Some of my favorite staples...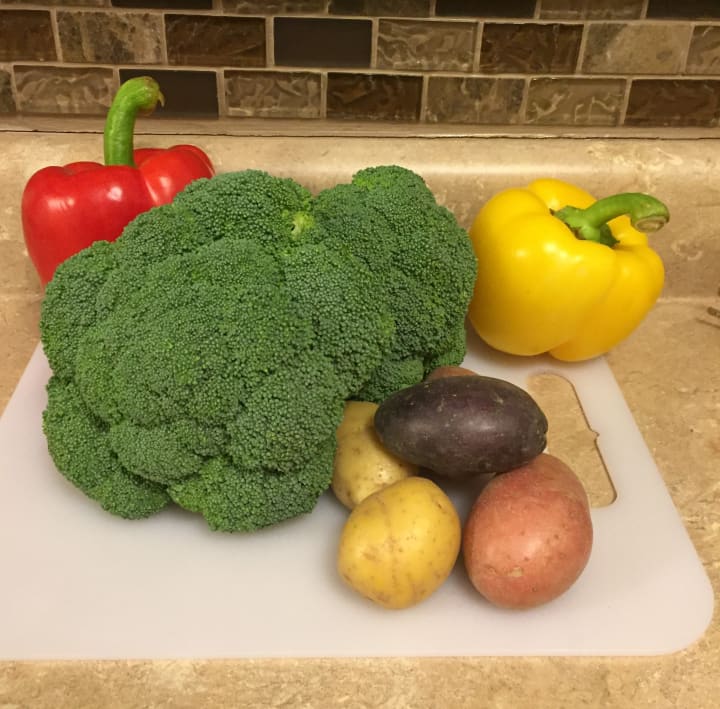 I use a lot of broccoli, potatoes, and peppers in my dishes. These items tend to save well, are relatively cheap and have a variety of options for cooking and for combining with additional items. Also, these foods are packed with plenty of vitamins and minerals, with a low fat content, for those worried about that. These are a good start for staples, but you can always add whatever vegetables you like of course.
And do not forget the eggs!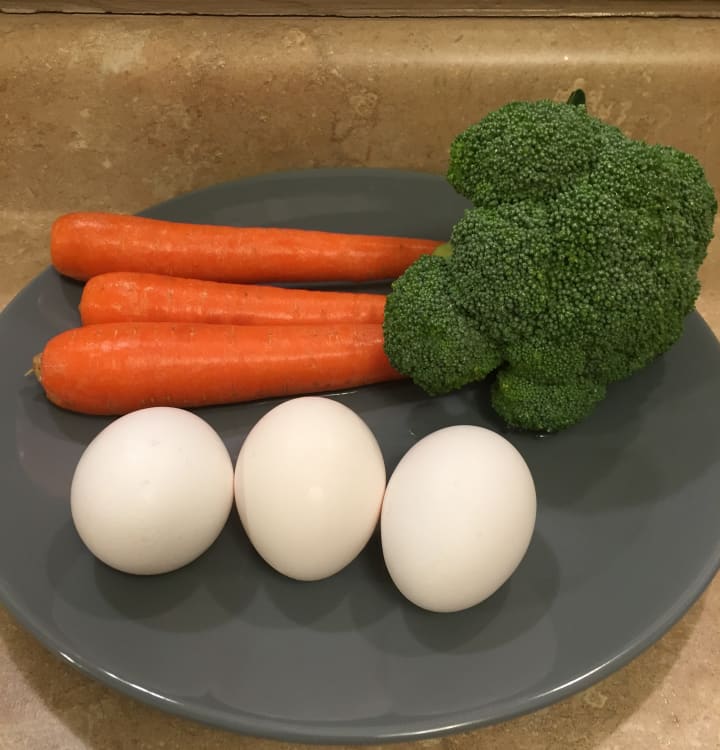 Of course there are numerous ways to prepare eggs, I do not have a favorite myself, but for this recipe I prefer the fried version. I prefer using olive oil for baking and frying. Olive oil is healthier and also smokes less than other oils, which is good depending on what you're cooking.
Recipe for my Eggstravagant Vegetables!
1. Preheat oven to 400*
Wash and cut vegetables into small pieces
3. Cover pan in tin foil (section out if needed)
4. Place vegetables on foiled pan.
(can spray with olive oil if desired, keep from sticking)
5. Cook vegetables about 20 mins in oven.
*optional-
Make marinade for vegetables. I use some olive oil mixed with rosemary, garlic, thyme, and salt and pepper. Can be brushed on vegetables before cooking.
7. Cook eggs in desired way (fried for this recipe).
Place vegetables on plate and add eggs. Can be topped with your favorite hot sauce, cheese, or salsa. I use Cholula Sauce. Be creative!
Hope you enjoy this recipe!