Edible Masterpiece
Baking myself into a business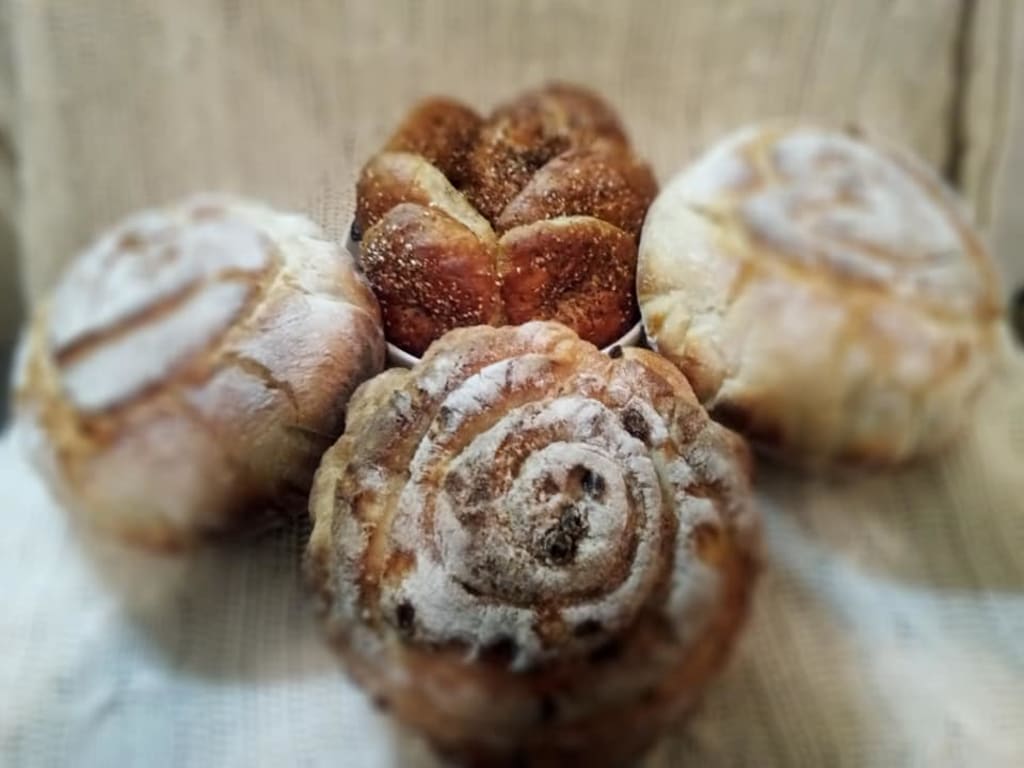 Bread is a work of Art!
"I'm not creative! I can't paint! I can barely draw a stick figure correctly!"
Does that sound familiar? As a child with siblings that were very artistic, I
struggled with this kind of thinking. But then learned later on that there
is more than one way to be "creative". I had a very vivid imagination
growing up and used to come up with the wildest stories! Truth be told,
as an adult, I have lost that and working to get back into that.
This is also an example of other ways that one can be "creative".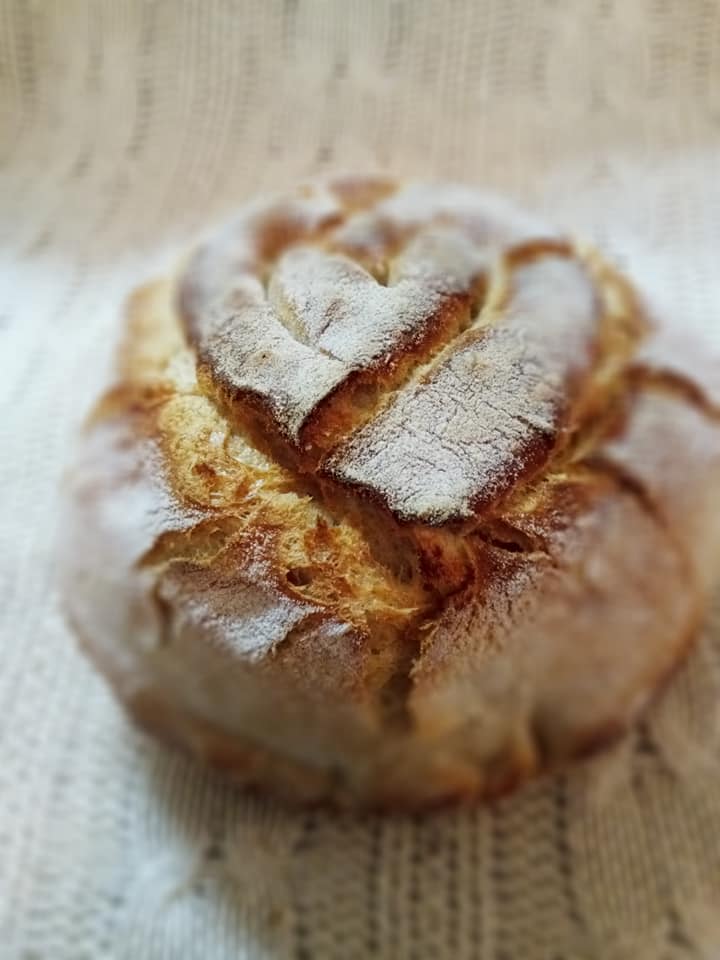 Everyone can agree that 2020 was a wild year and many people have gotten
back into the kitchen and baking things from scratch like the good ol' days
from centuries past. I was one of those people.
My husband also has a gluten allergy and with flour and finances limited I
followed suit with others and learned how to make a sourdough starter.
What is sourdough you ask?
Sourdough is simply water and flour that goes through a
fermenting stage. It is fermented so that the "good bacteria" (the
probiotics) breaks down the gluten to make it easier to digest. When it is
time to make a loaf, you take some starter and add it to some more flour
and water, and salt and wait for it to ferment and slow rise on the counter.
So it is actually is one of the most "healthiest" loaves of bread out there.
It is also how bread was made before you could get the store-bought yeast
packets.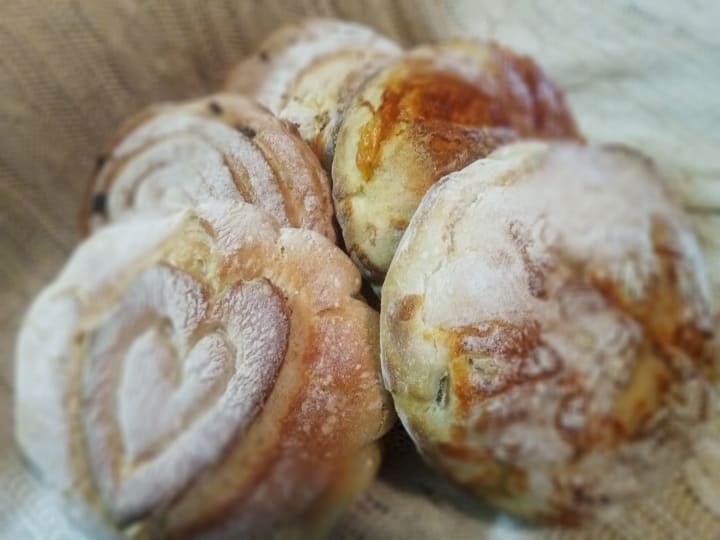 As soon as I started, I learned that a new passion had been found and that I
was indeed creative! Not only is it creative but also very therapeutic and
soothing to my soul.
It would help alleviate stress and a form of mediation in a way.
While I may not be an artist with pen and paper and or even with a
paintbrush, I have become an artist that creates edible art. I have found
that I can in fact be creative with a knife and homemade fresh bread.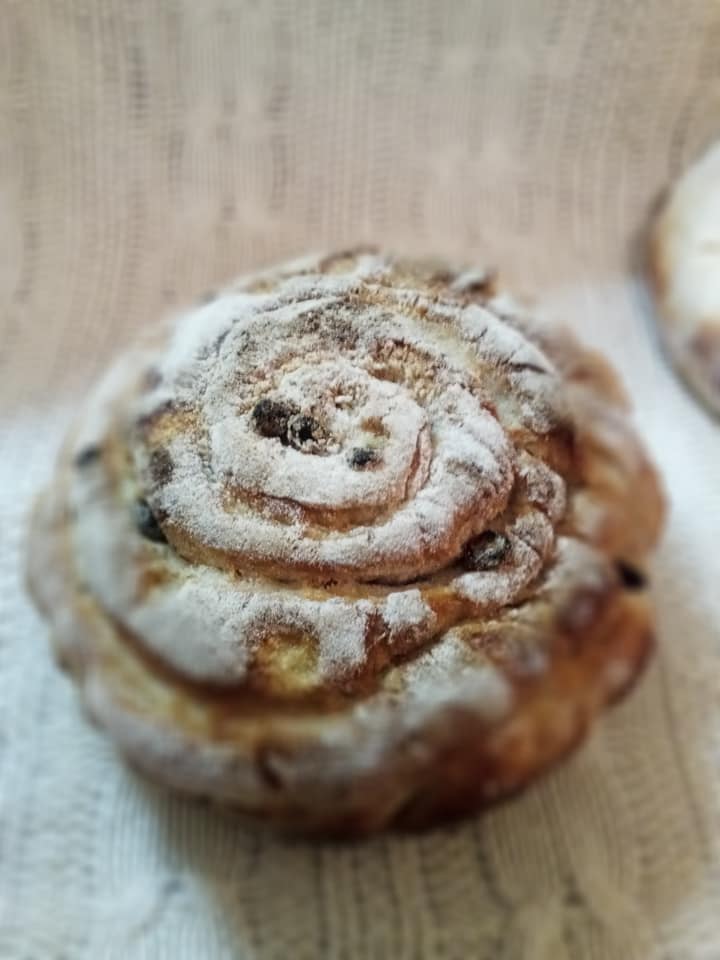 Not only are they Masterpieces, but they also taste good! My husband loved
it and couldn't stop raving about it! For you gluten-free people- my
husband does not have any issues with sourdough bread. I will say though,
it is not for people who have celiac disease as there is still but a small trace
of gluten in it. Also, the kind you find in the grocery store is not the real
deal! That is why you find it so cheap in the store. To make sure it is the
long-fermented kind, it is best to buy at farmer's markets or bakeries.
Next, I started to give bread to friends and family and it was a hit. Then an
idea of creating a business from this started. On March 1, 2021, Mary's
Bread Box was created and opened. We are an online bread bakery
specializing in sourdough bread. We are currently offline due to some
technical issues but will be back online and in business hopefully soon but
most definitely in the fall. In the meantime, we are working on some new
creations!
Each flavor has its own scoring pattern. The Artisan Sourdough is the
original "plain" sourdough has a heart. I chose the heart because I believe
in spreading love and kindness and boy do we
need more love and kindness in our world! I think you can agree with that.
There is so much hate out there and if I can bring joy and little kindness
through my hearts on my bread to my customers, then I will keep doing it!
Our bestseller by far is the one that looks like a giant cinnamon roll! It is
actually, our sourdough cinnamon raisin bread scored to look like a giant
cinnamon roll. Our customers can not get enough of it!
We also have several other flavors of our sourdough bread and many
flavors of our sourdough bagels.
This is how I learn to be creative and relax and thought outside of the box
to stay home yet create a way to earn some extra money for my family!
cuisine
Aspiring writer. Bakery Owner. Always tries to see the good in people and situations as much as possible.